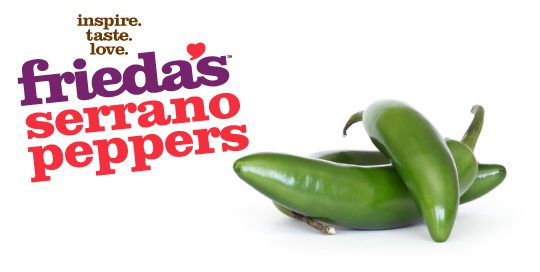 Overview
What is a Serrano pepper?
The Serrano is the most widely used fresh pepper in Mexico and the Southwest United States. It is most commonly seen in its green, fresh form, although red Serranos are sometimes available. It is thought to have originated in the mountain ridges or "serranias," in Mexico. Serrano Chiles have thin skins and are not as meaty as a Jalapeño Peppers. On a heat scale of 1 to 10, Serranos rank about a 7.
How to Eat
Use to flavor Latin dishes, sauces, relishes, and chili; good for pickling and roasting.
Health Benefits
Good source of vitamin C.
How to Choose
Choose peppers with smooth, firm skins.
How to Store
Store refrigerated, unwrapped up to 2 weeks.
When are they in season?
Where are they grown?
Product of Mexico and U.S.A.
Recipes
Thai Beef Green Curry Original recipe and photo by Mira Borvornsin / The High Heel Gourmet ingredients 3 to 6 tablespoons Green Curry Paste (recipe below) 1 pound beef shank, short ribs, or stew beef 2 cups coconut cream, divided … Continue reading →
Nutrition