All four of my grandparents were born in Ukraine. In fact, up until February of this year, my distant cousin Vicki still lived there. She was fortunate enough to escape to rendezvous with her sister in Crete. She is in her mid-70s and will likely never be able to return to her homeland.
While my maternal grandfather Solomon was alive, I recall him traveling to Kiev (now Kyiv), and later showing us photos of a family gathering that was held during his visit. I still have those photos and planned many times of going to visit my cousin there … but alas, that will likely never happen.
So, you can imagine how helpless and heartbroken I feel when I watch the news about the war in Ukraine. For the last three months I have been thinking, what can I do?
Three things happened to me in the last few weeks that have made me feel that I can help.
First, I learned there is an International Committee of the Red Cross, based in Switzerland, and I made a financial contribution. ICRC has been working in Ukraine since 2014, so they were already in place on the ground when the conflict escalated. If you want to learn more and/or make a contribution, check it out:  www.icrc.org
Second, when I visited a dear friend of mine two weeks ago, he had a Ukrainian flag flying outside his house. When I inquired about it, he offered to give me one—along with a flagpole—and earlier this week I mounted it on our house. To me, it is a sign of solidarity of support and caring for our friends in Ukraine.
Third, I received an email from a dear food friend, cookbook author Joan Nathan. She is an award-winning author, food activist and influencer. Here is her email, entitled, "Neighbors for Ukraine Dinners":
Friends, we hope you will be as excited by this opportunity to host a
"Neighbors For Ukraine Dinner" as our neighbors were. Read on!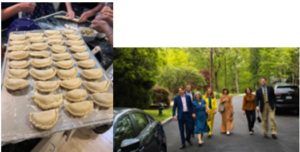 The Ukraine crisis has made so many of us realize how lucky we are and how quickly our comfortable lives can change. 
The war in Ukraine has touched every person and every institution in that country. Since February 24th more than 4 million Ukrainians have fled their homes. Eastern Europe is overwhelmed with refugees—mainly women and children—who have little means to support their basic needs. Food and water are hard to obtain, especially in smaller towns and in the eastern part of the country that has borne the brunt of Russia's brutal attacks. The fighting will not end. Violence will continue, but we can offer help by supporting organizations working in the field that provide a wide range of services to Ukraine in its hour of need.
In our neighborhoods, a few of us got together to brainstorm how to raise funds for the Ukrainian people by organizing cocktail receptions and dinners. 
Last week, we had our first neighborhood gathering—a progressive dinner where we raised over $25,000, mostly for World Central Kitchen, but also for International Center for Journalists, and Tikva Children's Home, an orphanage in Odessa. Below are suggestions for other charities. We envision "Neighbors for Ukraine Dinners" all over the country—and even the world. It is our hope that you might do this in your own way and most of all, have some fun while doing good.
Here is how we did it. 
Invitations: Invite a few neighbors to brainstorm over a drink, dessert, or nothing but a glass of water. At the meeting decide date, time, hosts, charities, menu, and volunteers to help. Send out an email invitation … we used Paperless Post and one person handled responses. (See ours below.)
Locations: One neighborhood decided to have a progressive dinner where each course was hosted by a different person. Our menu included Ukrainian dishes: chicken kyiv, varenyky, and Ukrainian honey cake. We had so many wonderful neighbors participate that the main course had to be served at two houses. Johanna's neighborhood had one dinner and a lower-level-donor cocktail party at another house.
Planning and cooking the meals: We all know people who love to cook and help, so finding volunteers was no challenge. A couple of days in advance, we prepped dumplings and chicken kyiv together—with Ukrainian immigrants—the most fun of the whole process for many of us. (Joan will give you recipes and menus if you want.) We managed to find local chefs, businesses, and entrepreneurs to donate time and resources to our event. (We hope to arrange for a couple of large companies who have stores nationally to continue to donate resources for other neighborhood dinners.) Sharing as we did not only strengthened our already terrific neighborhoods, but made it simple to execute and we all got to meet new people.
Donations: We asked everyone to donate at least $500 to the charity of their choice helping Ukraine. You pick a charity and set the minimum donation at any amount that you like. We used the honor system; you could also ask guests to tell you the amount they donated so you can announce and celebrate the total at your event.
It is important to note that whatever type of fundraiser you choose doesn't have to be a three-course dinner. You could do a potluck, organize a meal swap, or offer to do meal delivery or pick up. Whatever you offer, the goal is to raise funds for a great cause.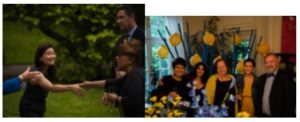 The list of refugee and journalist organizations working in UKRAINE in alphabetical order you also might consider. These organizations have been vetted by individuals we trust—among others Nick Kristof, formerly of The New York Times.
HIAS, Hebrew Immigrant Aid Society 
Institute for War & Peace Reporting
International Center for Journalists. ICFJ
International Rescue Committee, IRC
KIND (Kids in Need of Defense)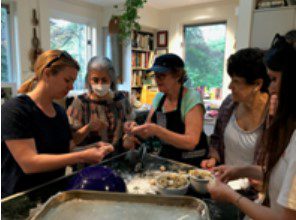 It seems as if everyone I talk with here in the U.S. and around the world is saddened and horrified by this war. I hope to inspire you to take some kind of action—whether it is flying a Ukranian flag or making a donation to provide relief to Ukranian refugees and survivors. Anything will help.
Thank you!
Karen