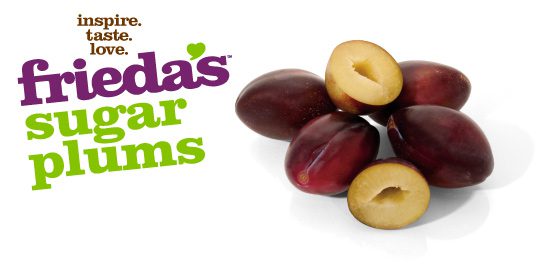 Overview
What is a Sugar Plum?
Sugar Plums are exceptionally sweet California-grown plums. Unlike the common round (or Japanese-style) plums, Sugar Plums are a special European plum hybrid with an oval shape and a super-sweet flesh. European plums also have much less acid in them, particularly in the skin, which gives them a sweeter taste than the sweet-tart skin of a Japanese plum. What makes them even better is their pits are easy to remove. After one luscious bite of this special plum, you'll wonder why you've never tasted them before!
How to Eat
Enjoy fresh out of hand or use for baking cobblers, cakes and pies.
Health Benefits
Excellent source of vitamins A and C.
How to Choose
Choose fruit with a firm texture
How to Store
Refrigerate ripe fruit. Consume fruit within 1 to 3 days of purchase.
When are they in season?
Where are they grown?
Recipes
Sugar Plum Salad Ingredients 2 sugar plums, halved 2 large carrots, cut in half, then halved lengthwise 1 large green bell pepper, quartered 1/4 cup Sauvignon blanc 1 teaspoon olive oil 2 teaspoons mustard 1 teaspoon honey Salt and pepper, … Continue reading →
Sugar Plum Cobbler Ingredients: 4 cups fresh, unpeeled Sugar Plums ½ cup brown sugar 1 cup flour ½ cup granulated sugar ½ teaspoon salt ½ teaspoon cinnamon 1 beaten egg ½ cup melted butter Steps: In a 10-x-10 inch casserole, … Continue reading →