I like to think of myself as a trendsetter. But TikTok is one trend that's eluded me. I admit it. I have never created a Tik Tok (video), and I have not downloaded the app.
TikTok, an app started in China in 2016 (then called Douyin), is a video-focused social network service owned by Chinese company ByteDance Ltd. It's used for creating, sharing and discovering short videos. It's no secret that people enjoy it as an outlet to express themselves through singing, dancing, comedy and lip-syncing—they create videos and share them across a community. Videos are usually from 15 seconds to 10 minutes long.
In researching TikTok, I found that its initial user base was young people between the ages of 12-13 years old. As with most social media platforms, TikTok began with early adopters who were young teens and then suddenly spread to anyone who wanted to be hip, trendy and influential. The fact that TikTok was a video platform caused it to go viral.
Each social media platform has a cohort that finds it especially appealing. LinkedIn is for business networking. Facebook is popular with baby boomers (and has probably reduced the need for high school reunions). Instagram is a must-have for millennials.
YouTube afforded a way to share videos. I recall the first YouTube video I ever saw, probably in 2010, was sent by a friend to view a tractor moving through a field in Indiana. My first impression was "who is going to watch that?" I never could have predicted how YouTube would change the way we solve everyday problems. Have a clogged toilet? You can go on YouTube to find out how to fix it. Want to know how to make your eye makeup and hair look a certain way? YouTube has the answer.
To understand TikTok, think YouTube and Instagram had a baby.
So, earlier this week one of my coworkers ran into my office to show me a TikTok that featured one of our most unique fruits—the Kahuna® Jackfruit. I was mildly interested in seeing it … until she played it for me.
It was not a TikTok produced by a 13-year-old—it was from the account of an adult woman named Deven Karpelman (@tequilaanddonuts is her handle). Oh yeah, and she has 850,000 followers. The TikTok below has 2.4 million views so far! Yes, 2.4 million.
Spoiler alert: She goes into a Costco in search of "adopting" a jackfruit and treats it as if it is a new member of her family. She straps it into her shopping cart, buys it some clothes (estimating it is a size 3T), and then buckles it into her car for the trip home.
You can see for yourself what is so hilarious and genuine about this TikTok. Click here to see how to Adopt a Jackfruit.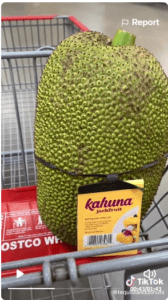 So, thank you Deven, aka @tequilaanddonuts for adopting a Frieda's Kahuna® Jackfruit. And as she highlights, it's "the original party fruit." I think a jackfruit party may be in my future.
Karen