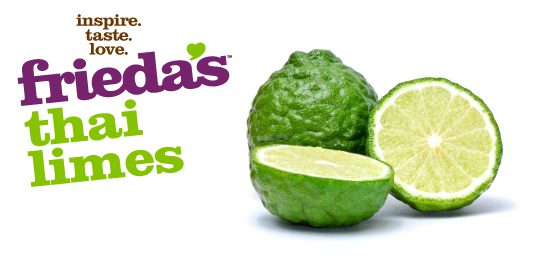 Overview
What is a THAI Lime?
The Thai Lime (also known as kaffir lime) has a pebbly skin that is mostly used for its zest, as the bitter juice inside can be extremely overpowering. It has an extreme and intense fragrance that is especially used in Thai and Lao cuisine, and cannot be matched by any other citrus or spice. The Thai lime leaves are more commonly used than the fruit itself, and can be dried or frozen.
How to Eat
Use the zest and leaves sparingly in curries, soups and stir-fry dishes.
Health Benefits
Has soothing properties that is believed to relieve the symptoms of influenza and coughing.
How to Choose
Choose fairly firm, fragrant limes.
How to Store
Store at room temperature for 1 to 2 weeks, or store in the refrigerator or freezer for a month.
Instagram Video
Internet Explorer users may not be able to view this video.
Recipes
Thai Beef Green Curry Original recipe and photo by Mira Borvornsin / The High Heel Gourmet ingredients 3 to 6 tablespoons Green Curry Paste (recipe below) 1 pound beef shank, short ribs, or stew beef 2 cups coconut cream, divided … Continue reading →
Save