This past weekend we took a trip to wine country in northern California. Spending a few days in Napa Valley and staying in a B&B, visiting wineries and taking long hike/walks each morning was a nice break from the back-to-back Zoom meetings of my regular work week.
First, let me answer the obvious questions and concerns.
Yes, we wore masks everywhere we went, including at the airport, on the one-hour flight, while renting the car, at the B&B and at the wineries and restaurants.
Some wineries provided hand-washing stations or hand sanitizer when we arrived.
All wine tastings were by appointment only, which allowed venues to properly limit and space out the number of people.
All wine tastings and meals were outdoors—thank goodness for the temperate weather we have in California!
Even with these potential obstacles, we had a really lovely time and enjoyed the wines and wineries.
What was surprising, however, was that even with all the protocols for COVID, the human factor still played a significant role in our experience.
One of our favorite wineries is Silver Oak—considered a premiere producer of Cabernet Sauvignon. The owner David Duncan is a serial entrepreneur and has expanded his portfolio by adding other wine labels, including Twomey—known for its Pinot Noir. On this trip, we booked in-person wine tastings at both Twomey in St. Helena and at the mothership, Silver Oak, on Oakville Cross Road near Napa. A few years ago, the wine tasting room at Silver Oak experienced a fire, so the wine tasting room and winery were rebuilt and they are state of the art and quite beautiful.
So on Thursday we drove up to Twomey, and were immediately seated at our appointment time at an outdoor table. Our wine guide Max (wearing a mask) was filled with enthusiasm. He asked us questions about where we were from, our experience and likes of wine varietals and seemed genuinely excited about sharing his wine expertise. His eyes showed how excited he was to tell us the story of the vineyards and every few minutes he would lean in (from 10 feet away) and ask, "Would you like to try a different vintage of Pinot Noir? I have something in mind for you—and I'll be right back."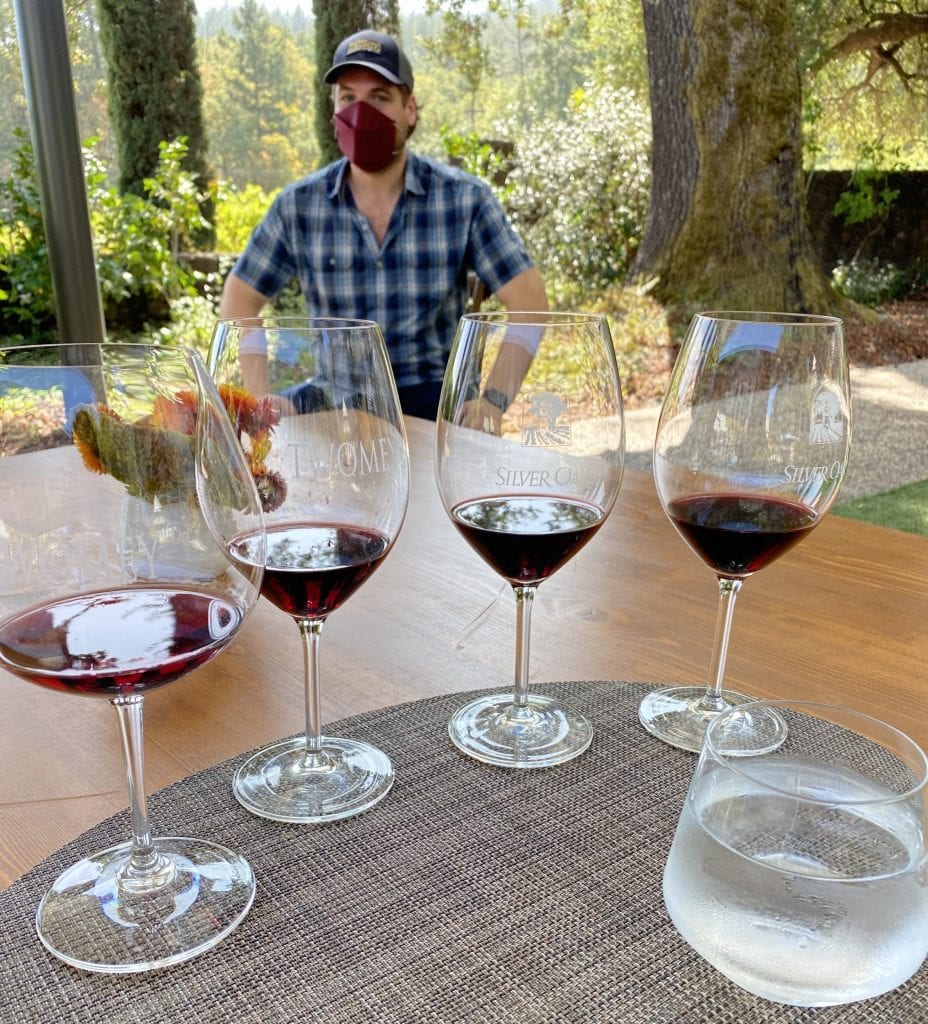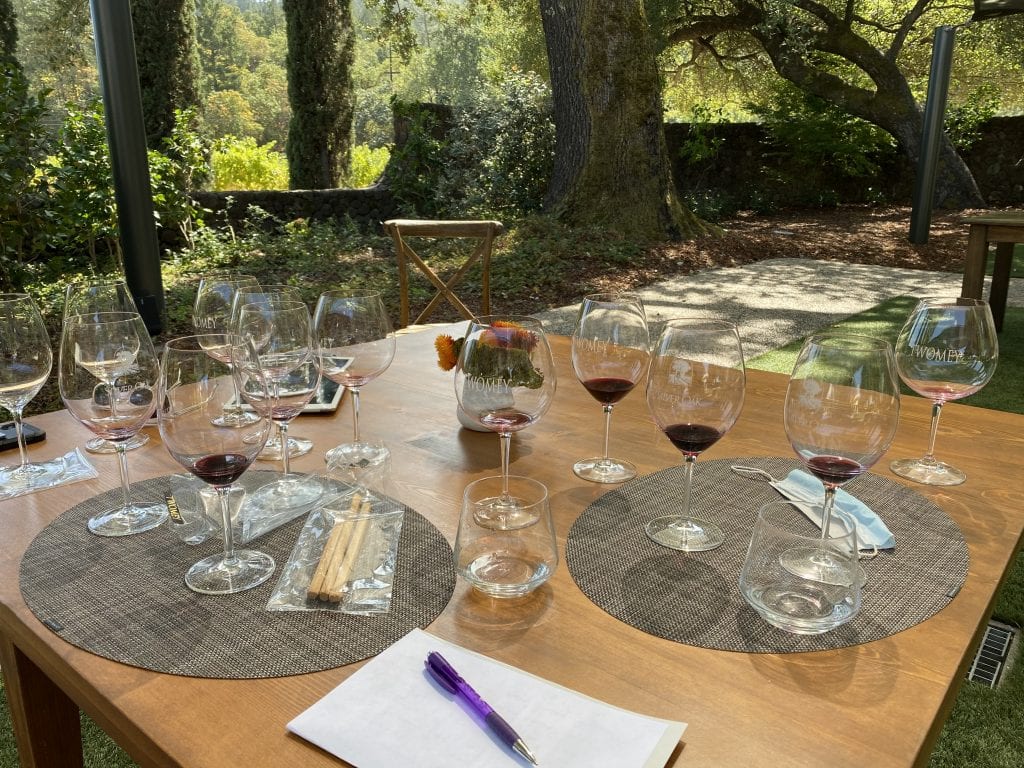 He would disappear into the winery and would reappear with another new bottle that was not part of the "standard tasting" and excitedly told us about the grapes, the winemaker, etc. Even with all the limitations with spacing, timing, etc., Max made us feel as if we were his only clients and there was no rush. The standard tasting was four different wines—and I'm guessing we ended up tasting seven or eight wines. After 45 minutes or so, he gently apologized and said he needed to assist another table, but assured us there was no rush, to enjoy ourselves and that he would be back shortly. We leisurely enjoyed the wine, the view, took photos of the gorgeous grounds and spent another 30 minutes or so relaxing. As we were leaving, Max assisted us with a purchase, and we wished each other well (he had shared with us that he was recently engaged to be married and where he was attending college, so we felt a genuine connection to him)
As we left, we both commented that the experience was amazing, but we were sure that it was nothing compared to what we would experience the next day at Silver Oak Winery in Napa.
We arrived at Silver Oak on time the next day and had to wait just a few moments before our wine guide David appeared for our 1 p.m. tasting. The first thing he said to us as we were seated was, "I have another tasting at 2 p.m." (Wow, not the best opening line for a guest!)
For the next 45 minutes or so, we tasted the four wines that were poured for us. When we would ask a question to engage David and learn more about the winery, he would say, "I will get to that later on in my presentation." We were immediately discouraged from asking any questions for fear of going off script. I think he brought us an additional wine to taste, but frankly, we were so disconnected by his approach and his lack of genuineness that we found ourselves hurrying to leave before his next 2 p.m. appointment. It's hard to remember anything about his presentation.
As we left the Silver Oak grounds, we looked at each other in amazement. Here we were at potentially the most well-known and respected winemaker in the entire Napa Valley—whose Cabernet Sauvignon wines are world class and top-rated—and we felt underwhelmed and disappointed.
The wines were still awesome, but the experience we had with our "sales rep" was less than.
Isn't it interesting that the way we were treated affected our experience? Think about it. The same owner—who is passionate about his craft—is behind both wineries, they have virtually the same geography, offer the same wine glasses and in some cases the same wine. But the person who we interacted with was the difference.
Have you ever had that experience? Same store, different sales reps, polar opposite experience? One person turned you on and engaged you and made you feel like you were the only person in the place; the other one was simply going through the motions just to get through their day.
If you are a business owner or leader, you may want to see if your vision is alive and well with everyone on your team. Most especially, gauge how they interact with clients or new employees: do they show the same care and enthusiasm that you do? Or are they just going through the motions?
It's amazing the difference one person can make, isn't it?
Karen
P.S. Our purchase at Twomey was four figures, but we passed on making a purchase at Silver Oak. Think about it—the power a single person can make to both the top line and the bottom line of a company!