Let me start by saying I don't watch (much) television. It's probably because I've always gotten up early (5:00 a.m.) to go to work, and when I get home in the late afternoon, I usually spend my time exercising, doing a little catch up work and then hit the sack, so I can get my 8 hours of sleep. That—combined with the 24-hour news cycle of negative and bad news that makes me crazy—is probably why the only things I will occasionally watch on weekends are the Food Network (think "Chopped") or HGTV (to watch others remodel their homes).
That was until my niece Heather sent me a text four weeks ago. It said, "Do you have Amazon Prime Video? I'm watching something called 'World's Toughest Race—The Eco Challenge.' They advertise it as a race that eats Ironmen for lunch. Jack might be interested in watching."
I didn't think anything of it, until my partner Jack brought up the show a couple of weeks later (fun fact: Jack has completed 15 full Ironman challenges!). He wanted to watch it one night (it's a 10-show series). I agreed because, after all, my niece had recommended it.
I want to add that I have never had any interest in watching the "Survivor" series, and I am not an outdoorsy person. But after watching the first night of "The Eco Challenge," I was shocked to find myself completely hooked and potentially obsessed with it.
A quick synopsis: the challenge consisted of 66 teams of four people (each team had members of both sexes). Their goal was an 11-day "dash" over 400 miles of the rugged mountains, rivers and jungles of Fiji. Participants came from 30 countries and the 10-part series followed eight teams of endurance athletes 24 hours a day (they slept very little) from the beginning to the very end of this dangerous trek.
Cycling, hiking in the jungle, rowing, riding the rapids, swimming in a 55-degree river for hours, stand-up paddle boarding—they did it all!
Each night, I found myself rushing through dinner so we could turn on "The Eco Challenge" to watch the latest installment of this incredible and exhilarating human experience. Not only did the 700-person camera crew follow the teams into the jungle, they interviewed them and got a lens into their personal life, pre-Eco.
Of all the teams that were profiled, one from Spain really caught my eye. Team Summit was made up of a group who have a broad experience in expedition races. They were friends and had a deep personal connection before they came together for "The Eco Challenge." The team captain was Emma Roca from Barcelona and there was something about her that caught my eye.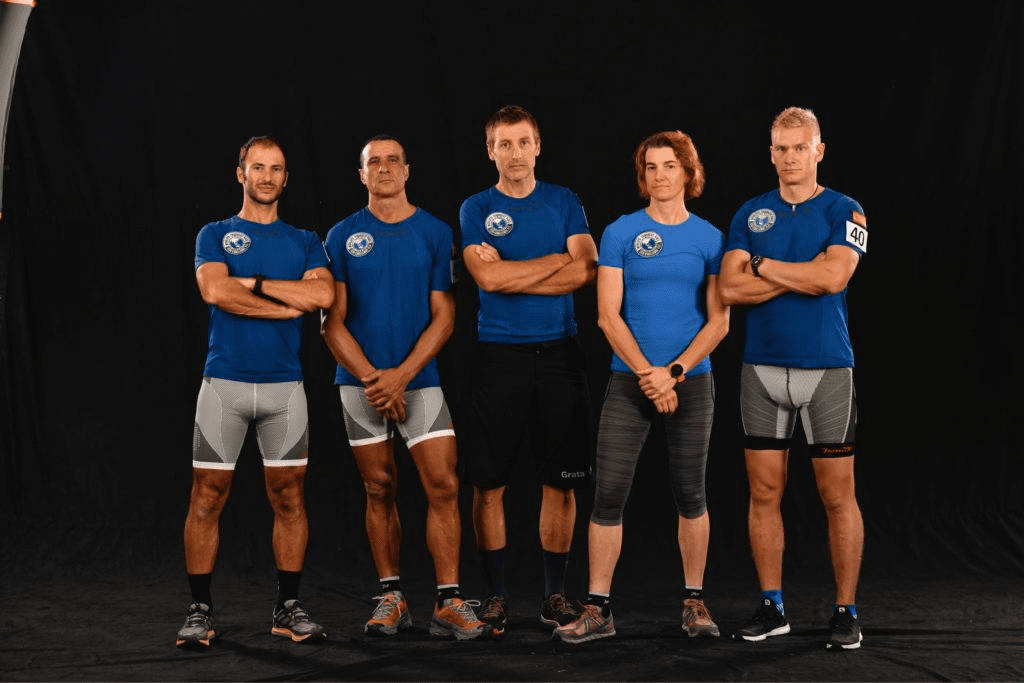 (Emma and the three other members of TEAM SUMMIT, plus one additional team member as the support person who kept them fed, clothed and rested at each checkpoint.)
So after watching the series, I googled her and found her website Emma Roca. Not only was she a world-class elite athlete—she has a PhD in biomedical engineering! She currently is a firefighter and she and her husband have three young children.
To quote her website (thank you google for translating from Catalan):
"Between putting out fires, being a mother, competing all over the world and enjoying as much as I can, I was able to finish my PhD in Biomedical Engineering and co-found several companies related to health and sports. I combine being a mother, a scientist, an entrepreneur, a professional firefighter and an ultra-background athlete squaring a minute-by-minute agenda. They call me a multi-tasking woman, but I keep the secret with the great team I have behind me!"
As I read further on her website, I learned that 18 months ago she was diagnosed with a vulvar carcinoma (cancer of the vulva). It usually appears in women over the age of 70. Emma has taken on the fight by having surgery and is now having radiation treatments. She is incredibly optimistic and inspiring.
So, I looked her up on LinkedIn, found her Messenger account and sent her a message. Then I crossed my fingers. I asked myself, would she write back to a total stranger from California, who was obsessed with her leadership and accomplishments from "The Eco Challenge"?
She wrote back the next day!
"Thanks Karen! Just doing treatment and very motivated to compete again!" And she sent me this photo.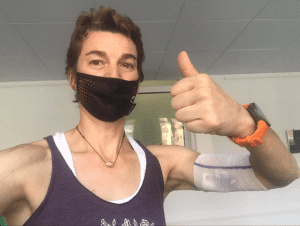 All I can say is Wow! Even if you are like me, and not really into outdoorsy or sports challenge shows, I suggest you check out "The Eco Challenge." It immediately fired me up and inspired me to step up my fitness game—big time.
After watching these teams compete 24 hours a day for up to 11 days straight, I found myself really driven to push myself a little harder. Instead of 30 minutes on the Peloton®, I did 45 minutes. Instead of a three-mile walk at the beach, I did five miles at 6 a.m. on a Sunday. I find myself visualizing my goal and being even more determined to get there.
How about you? Looking for a little motivation?  "ECO" "ECO" "ECO" is my new mantra!
Karen