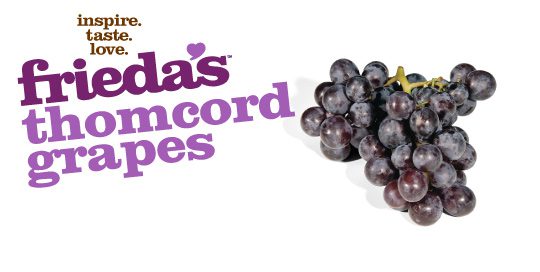 Overview
What are Thomcord Grapes?
Plump, juicy, virtually seedless grapes with thin, dark-purple skin and a mild, sweet flavor. It is a hybrid of the popular Concord and Thompson grapes, developed in 1983 by California grape breeders.
How to Eat
Enjoy fresh out of hand or use to decorate cheese or fruit platters. Also perfect for making jams and jellies.
How to Choose
Choose grapes that are smooth, plump, firm, and consistent in color. Avoid damaged fruit, or fruit with bruises or decay.
How to Store
Store refrigerated up to 7 days.
When are they in season?
July through mid-September
Where are they grown?
Recipes
Thomcord Grape Pie Ingredients 4 cups Frieda's Thomcord Grapes, washed and stemmed 1 recipe double crust pastry 1/4 cup sugar 1 tablespoon lemon juice 2 1/2 tablespoons cornstarch Coarse or sanding sugar Steps In medium bowl, combine grapes, sugar, and … Continue reading →