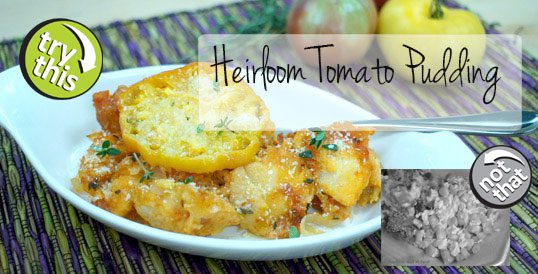 There is absolutely nothing wrong with the corn pudding you've made for Thanksgiving every year. But don't you want to try something new this holiday season?
With Heirloom Tomatoes available year-round from Frieda's, make an Heirloom Tomato Pudding that will surely please and delight the crowd with the fresh taste of summer done up in as a cozy fall dish.
That's right! Heirloom Tomatoes are available year round along with other Frieda's 5 Flavor Essentials: Fingerling Potato, Shallot, Ginger, and Jicama.
Why eat the same old things when you can try something new? Try This, Not That® is a campaign to encourage you to challenge your palates and explore a whole new world of fresh produce. It's the dish you used to know…with a twist!