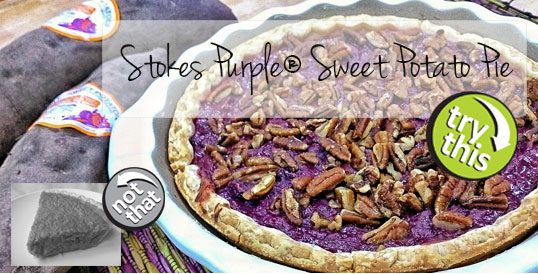 Your stomach is ready to burst after a great Thanksgiving meal. And then someone brings out the sweet potato pie. Just thinking about how cloyingly sweet that pie usually is, you choose to pass on the orange goop. But what if you could have a sweet potato pie with the right amount of sweetness and perfect texture?
Surprise your dinner party by presenting the Stokes Purple® Sweet Potato Pie for dessert. The Stokes Purple® Sweet Potato itself is bright purple and not cloyingly sweet. With just the right zip from the plain yogurt and a drizzle of maple syrup on top, your party guests will be impressed and grateful for this perfect note to end the meal.
Why eat the same old things when you can try something new? Try This, Not That® is a campaign to encourage you to challenge your palates and explore a whole new world of fresh produce. It's the dish you used to know…with a twist!