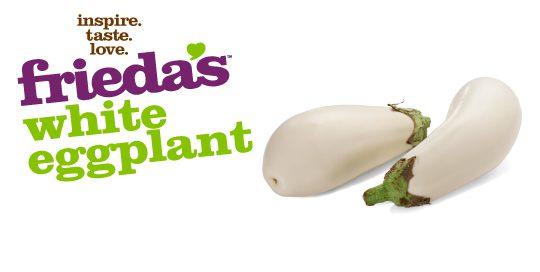 Overview
What is a White Eggplant?
A member of the nightshade family, which includes tomatoes, peppers and potatoes, the eggplant is technically a fruit but is commonly considered a vegetable. While purple is the most common color for eggplant, white-skinned varieties provide a beautiful and striking contrast. Although the flavor is essentially the same, whether purple or white, some say the white varieties have a more tender, slightly sweeter flesh, but with a tougher skin.
How to Eat
Stuff, bake, broil, marinate and sauté. Eggplant makes a good meat substitute in Italian dishes.
Health Benefits
How to Choose
Choose eggplant that feels firm and heavy.
How to Store
Refrigerate up to 1 week.
Recipes
Eggplant Rellenos Ingredients: 1 Frieda's® Eggplant ½ cup jack cheese ½ cup green chile, diced 6 eggs separated whites & yolks 1 teaspoon salt 2 tablespoons flour ½ cup cooking oil Steps: Cut off ends of eggplant, and cook in … Continue reading →
Skewerd Japanese Eggplant Ingredients: 1 Frieda's Japanese Eggplant 1 bag of Frieda's Pearl Onions 1 pint of cherry tomatoes 1 green bell pepper Teriyaki or soy sauce Steps: Cut Frieda's Japanese Eggplant into 1-inch slices. On bar-b-que skewers, place cubes of … Continue reading →