Did you know there is a National Women's Hall of Fame? It is in Seneca Falls, N.Y., in the middle of the Finger Lakes region—a rustic, agricultural area. I had no idea!
So, when my friend Eileen told me she was attending the bi-annual Women's Hall of Fame induction ceremony last weekend and invited me to come along, I jumped at the chance.
Seneca Falls is a teeny, tiny town of less than 9,000 people about 45 minutes from Rochester. For the first time, all the celebratory weekend events including the induction ceremony were slated to take place at a venue in Waterloo, NY, a 10-minute drive from Seneca Falls. A friend told me that Seneca Falls' setting inspired the movie "It's a Wonderful Life," and the town actually celebrates it every year. It is quaint, to say the least.
As it turns out, there were 11 women being inducted in this cohort. Well-known women like Jane Fonda (actress, entrepreneur, activist), Angela Davis (activist and professor), Gloria Allred (attorney and pioneer for women's and minority rights), Diane von Furstenberg (fashion designer who invented and made famous the "wrap dress"), and Supreme Court Justice Sonia Sotomayor. Plus retired Air Force Colonel Nicole Malachowski (first woman pilot for the "Thunderbirds" Air Demonstration Squadron). You can see the entire list here.
There were many amazing moments during the weekend. During the luncheon on Saturday, I had a chance to chat with journalist Gloria Steinem. I met her about five years ago at another event; it's hard to believe that she is now 85. She has the energy of someone 30 years younger, and it was fun to tell her what I learned from reading her book "My Life on the Road." (I learned the term "listening circles," which I now use at my company.)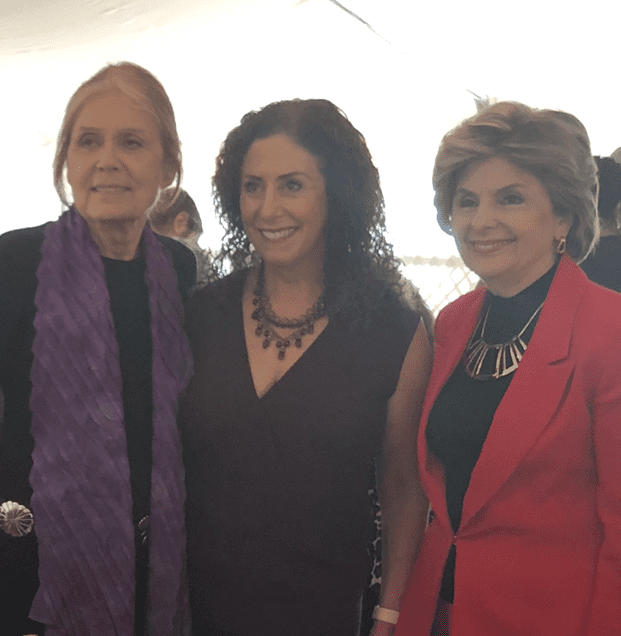 When Supreme Court Justice Sonia Sotomayor entered the luncheon venue, there was an impromptu standing ovation. It was kind of surreal to realize I was sitting 10 feet from a Supreme Court Justice who radiated such humbleness and authenticity.
The induction ceremony was in the theater that afternoon, and the two-and-a-half-hour event just flew by, as each inductee was introduced by a previous inductee. Each of their five-minute acceptance speeches was unique and from a different point of view. When inductee Dr. Flossie Wong-Staal got up, it blew my mind to learn that it was her pioneering work as a molecular biologist that prompted the discovery that the HIV virus causes AIDS. Dang it – she is the one who discovered the HIV virus! I had actually run into her in the elevator earlier that morning and asked what she was doing currently. She told me she was enjoying ballroom dancing during her retirement in San Diego. From molecular biologist to ballroom dancer! Quite a journey.
On Sunday, Eileen and I made our way to the actual Women's Hall of Fame. Frankly, it was small and underwhelming.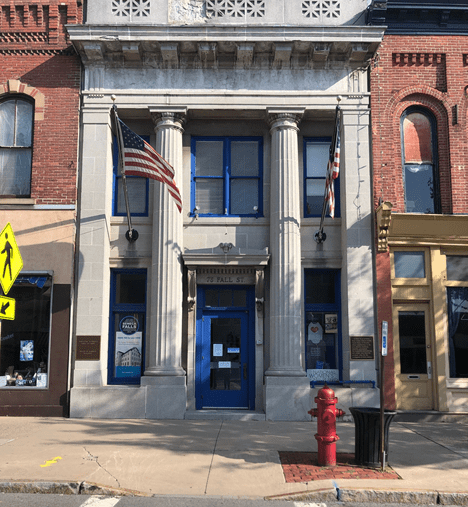 We learned from the Board president that morning in a few months the Hall of Fame was moving to the former Seneca Falls Mill, a huge brick building on the river. It would be a larger facility and allow more opportunities for interactive digital exhibits, etc.
But, I was still perplexed as to why the National Women's Hall of Fame had come to be in Seneca Falls.
Finally, it was when we went to the nearby visitors' center, we learned the American Women's Rights Movement began with a meeting of both men and women reformers in Seneca Falls in 1848. Out of that first convention came a historic document, the "Declaration of Sentiments," which demanded equal social status and legal rights for women, including the right to vote. So, Seneca Falls is the home of women's suffrage! And it's hard to believe that just 99 years ago (in 1920), women earned the right to vote in the U.S. and the 19th amendment was ratified.
And 50 years ago, a group of Seneca Falls residents decided to create a way to honor great American women and raised money to establish the National Women's Hall of Fame.
So, the next time you are thinking of taking a road trip through some beautiful countryside in the Northeast, I encourage you to stop in Seneca Falls. The roads are modern, the towns are quaint. And the inspiration is amazing!