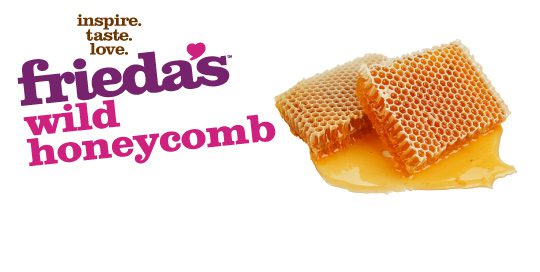 Overview
What is Wild Honeycomb?
Eating honey directly from the beeswax comb dates back to prehistoric times. Frieda's honeycomb is filled with raw, unprocessed honey that is sweet and rich with a light, golden-brown color.
How to Eat
The honeycomb itself is edible, although many prefer to discard the wax as they enjoy the delicious honey within. You can also cut away portions and drain the honey from the comb to use on toast, tea, or in recipes. Honeycomb makes a beautiful addition to a gourmet fruit and cheese platter for entertaining.
Health Benefits
Honey has been used to treat ailments since the ancient time to soothe coughs, relieve allergy symptoms, and treat cuts and burns.
How to Store
Store at room temperature up to 2 years; honey really lasts for a quite a while. After time, some crystallization is normal.
When are they in season?
Where are they grown?
Product of New Zealand or U.S.A.
Recipes