Besides COVID (and our new work-from-home, self-isolating, temperature-taking and no-handshaking lifestyle) and climate change (exemplified by the raging fires in Northern California, fires in Southern California, flooding in Iowa, high winds and overcast skies/poor air quality), I'm guessing we all have the same thing at the top of our minds—the election.
Every time an election rolls around (whether it's in a Presidential election year like this year, or every two years when we elect congressional representatives, state officials or local community leaders), I oftentimes get a sense of apathy from many people. Apathy sounds like: "My vote doesn't matter. I don't know which candidate is better. I don't understand what the (California) propositions really mean. I'm not registered. I've never voted before."
Well, this year I am channeling my inner "Frieda Caplan"—my mom. When we held her celebration of life in February, we shared her favorite quote from the commencement speech she gave in 2014 at Cal Poly-San Luis Obispo when she was awarded an Honorary PhD. On that Saturday morning, she spoke to thousands of newly graduated students who were embarking on the next step in their life journey. Here was her advice:
"Never badmouth others. Always listen to the whole story.
Be a voice in your community. Be politically active, VOTE, speak up."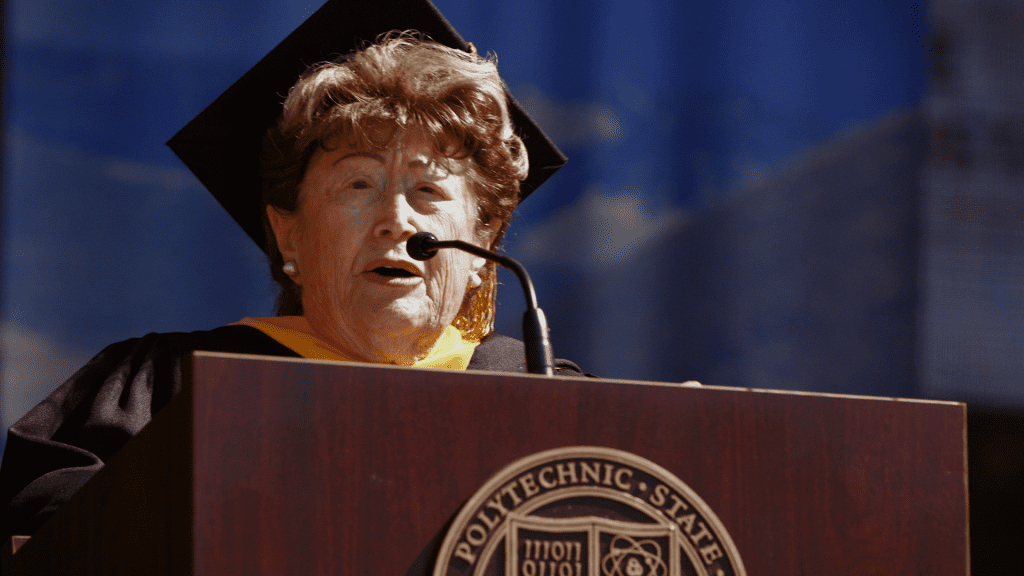 This week, millions of Americans will be receiving their ballots at home. Many of us have signed up for or are eligible to vote by mail, making it incredibly easy to cast your vote in the comfort of your home. But, as you know, there has been a lot of controversy about the U.S. Postal Service and its ability to handle the anticipated surge in mail volume and to safely ensure the delivery of ballots to secure ballot-counting locations.
I am personally thrilled that there is so much publicity about the ease of voting and the ability for most everyone to vote by mail. So many of our citizens take our right to vote for granted. In fact, it has only been 100 years since female citizens in the United States have had the right to vote! [That one is personally shocking to me!]
Did you know that Chile, Ecuador, Australia and more than 15 other countries require compulsory voting (if you don't vote, you can be fined and, in fact, in Bolivia you can be denied your salary if you cannot show proof of voting within three months after the election!)?
So, if you are one of those people who doesn't think your vote matters, or you feel you don't have time to go to the polls, or can't make a decision on who or what to vote for … you have one month to do your research! Time to get on it!
Here in California, the land of "propositions" (where citizens and groups can petition to put issues on the ballot for a direct vote of citizens, therefore bypassing the regular legislative process), voting for or against an item can be tremendously confusing. I was just introduced to www.CalMatters.Org — a nonpartisan, non political organization that explains the real meaning of items on the ballot. If you live in California, check it out: The CalMatters 2020 Elections Guide.
In closing, I want to say this. We live in a democracy where we have the ability and the responsibility to be active citizens. We may not all agree with each other as to who should be elected to represent us. But, as citizens, and responsible members of humanity, we should take advantage of the right we have to vote and have our voice heard.
If you own a company, encourage your employees to vote; remind them that it is their hard-earned right. Give them time off to vote if they didn't vote by mail.
If you're not an owner, then as you talk with your friends, family and coworkers—without politicizing the conversation—encourage them to vote. If they want more information, help them find it. In California, our Secretary of State sends out an Official Voter Information Guide. Read it!
Wear red, white and blue every day until the election to remind people that being patriotic is being an active citizen. It does not indicate whether you are Republican or Democrat. It says you care.
As my mother said, "Be a voice in your community. Be politically active. VOTE. Silence is not an option."
 Karen