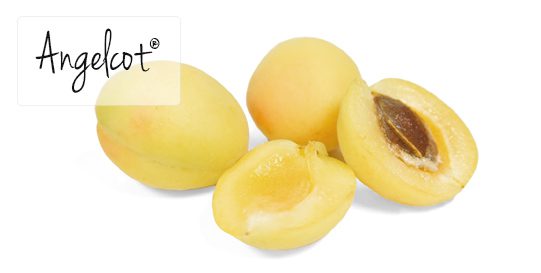 Overview
Where to buy
Angelcots® are available at Trader Joe's nationwide and at many supermarkets across the country. 2015 list coming soon.
Description
Angelcots® are a special, limited white-flesh apricot grown in California. They have the juiciness of the ripest nectarine with the delicate texture and aroma of an apricot. Angelcots have the perfect balance of acid and sugar with a buttery, perfume-like sweetness.
Quick Usage Ideas
Enjoy out of hand or use in fruit salads and cobblers.
Healthy Highlight
Rich in vitamin C and a source of fiber.
Selection & Storage
Ripe fruit will give slightly to the touch. Enjoy within 1 to 3 days of purchase. Only refrigerate after ripening.
Availability
Mid-June through beginning of July. Product of U.S.A.
Instagram Video
Internet Explorer users may not be able to view this video.
Nutrition