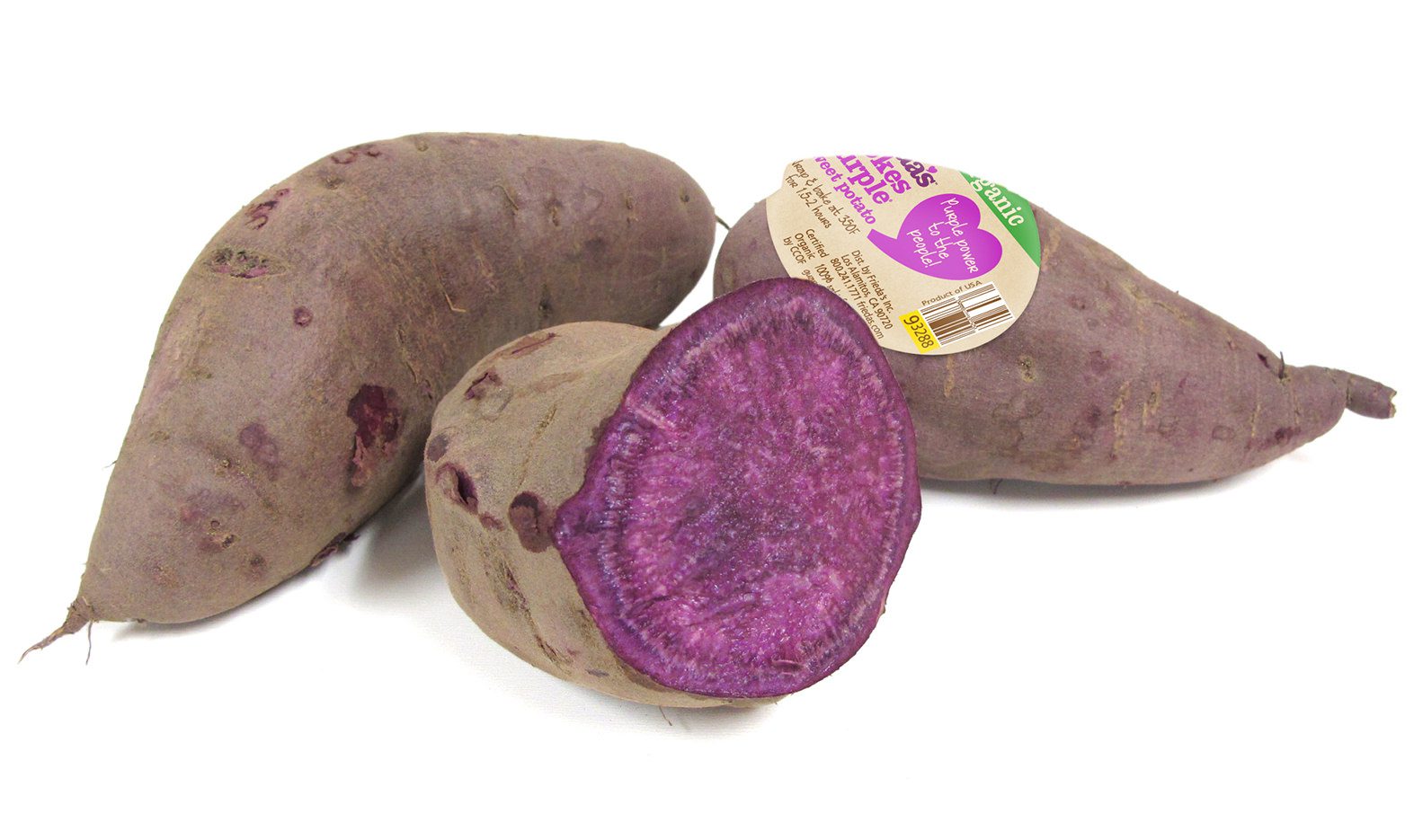 Organic Stokes Purple® Sweet Potato
Special sweet potato variety with purple skin and bold purple flesh that intensifies when cooked. Aside from its unique bold color, the Stokes Purple® Sweet Potato differs from other sweet potatoes and yams is in its flavor and texture, offering a favorably dryer, denser, and richer taste with well-balanced sweetness. The Stokes Purple®Sweet Potato is grown in California and is non-GMO.
Conventional Stokes Purple® Sweet Potatoes are also available.
Serving Size: 110g
Calories: 130
Total Fat 0g

0%

Saturated Fat 0g

0%

Trans Fat 0g

0%

Choelesterol 0mg

0%

Sodium 0mg

0%

Total Carbohydrate 28g

9%

Dietary Fiber 4g

16%

Sugars 4g

Protein 2g
Vitamin A

2%

Vitamin C

20%

Calcium

4%

Iron

6%
trending now
Normal is boring...try one of these unique products for an inspiring new food experience.
[tab:Overview]
How to Eat
Scrub external skin and wrap potatoes in aluminum foil. (Rub with olive oil prior to wrapping for extra moist results.) Place wrapped potatoes on a baking tray and bake at 350 degrees for 1 1/2 to 2 hours. The dense flesh of this potato takes a bit longer to cook than most other sweet potatoes, but it's worth the wait!
Health Benefits
Unusually high in antioxidants, such as those found in blueberries. Like most sweet potatoes, The Stokes Purple® has a low glycemic index, essential for weight watchers and diabetics.
How to Store
Keep in a cool dry place and use within 2 weeks.
Season
Where grown?
[tab:Recipes]
[associated_posts]
[tab:Nutrition]
[tab:Stores]
[tab:Buy Now]
Purchase Stokes Purple Sweet Potatoes direct from Frieda's! One 15lb box is available for purchase. Click the Buy Now button to check out and proceed with payment.
[tab:END]