Overview
What is a Dragon Fruit?
Dragon Fruit, also known as Pitaya, is a beautiful tropical fruit in the cactus family with bright magenta or white flesh speckled with small, edible seeds. The flavor is mild with a slight earthy flavor. The texture of Dragon Fruit is often compared to kiwifruit. Although it is the fruit of a cactus, it does not have any spines or needles on the outer skin (unlike its cousin, the Cactus Pear).
How to Eat
Peel and enjoy alone, or add to salsa, fruit salads, smoothies, or cocktails. The mild flavor also pairs well with stronger flavors like pineapples and strawberries. Can also be used as a garnish for cocktails or decoration.
Use caution when cutting Red Dragon Fruit: it will stain your fingers!
Watch this!
Health Benefits
Excellent source of vitamin C.
A low-FODMAP fruit.
How to Choose
Select bruise-free fruits. Scarring is normal.
Green tips on Red Dragon Fruit may look discolored but that's normal.
Store refrigerated, wrapped in plastic, for up to 1 week.
How to Store
Store refrigerated, wrapped in plastic, for up to 1 week.
When are they in season?
White flesh fruits are in season year round. Red Dragon Fruit are available from June through October.
Where are they grown?
White flesh fruits are grown in the U.S.A and Vietnam. Red Dragon Fruits are grown in Nicaragua and Vietnam.
Recipes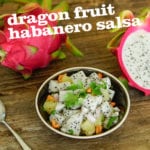 Dragon Fruit Habanero Salsa Ingredients 1 to 2 Dragon Fruit (white, red, or both), peeled and cut into small cubes (about 2 cups) 1 cup small cubes of Baby Pineapple or regular pineapple 1 small Shallot, peeled and finely chopped … Continue reading →
Extras
Recipes from friends
Instagram
Internet Explorer users may not be able to view below content.
Save