Overview
What is a Lychee?
Also known as "Lychee Nuts," these small, unmistakably sweet fruit have rough, bumpy rinds that vary from red to pale-green blush. Inside, lychees have a perfumy, juicy grape-like flesh that surrounds a single large seed.
How to Eat
Peel and enjoy alone or add to fruit salads, desserts or chicken and fish dishes. The seed is not edible.
Health Benefits
Good source of vitamin C.
How to Choose
Choose fruits with in-tact skin and no leaks.
How to Store
Keep refrigerated in a plastic bag and use within 2 weeks.
When are they in season?
Where are they grown?
Product of Mexico, Guatemala, and China
Recipes
Lemon Mousse Pudding with Lychees Ingredients: 1 tablespoon butter 1 envelope unflavored gelatin 1/4 cup water 3 egg yolks 1 cup sugar 1 teaspoon vanilla 1/3 cup lemon juice Grated peel of 1 lemon 24 Fresh Frieda's Lychees 1 cup … Continue reading →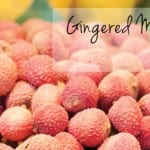 Gingered Mandarin Lychees Ingredients: 1 pound Lychees 1  11-ounce can mandarin oranges, drained 2 tablespoons orange juice 2 teaspoons lemon juice 1/2 teaspoon Fresh Ginger, minced Fresh Mint (optional) Steps: With a paring knife, peel and seed lychees, and add … Continue reading →
Nutrition