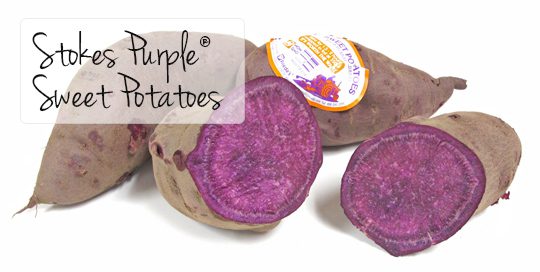 Overview
Description
Special new sweet potato variety with purple skin and bold purple flesh that intensifies when cooked. Aside from its unique bold color, The Stokes Purple® Sweet Potato differs from other sweet potatoes and yams is in its flavor and texture, offering a favorably dryer, denser and richer taste with well-balanced sweetness. The Stokes Purple® Sweet Potato is grown in California and is non-GMO.
Where to buy? Sprouts and select stores nationwide [PDF].
Video
Quick Usage Ideas
Scrub external skin and wrap potatoes in aluminum foil. (Rub with olive oil prior to wrapping for extra moist results.) Place wrapped potatoes on a baking tray and bake at 350 degrees for 1.5 to 2 hours. The dense flesh of this potato takes a bit longer to cook than most other sweet potatoes, but it's worth the wait!
Healthy Highlight
Unusually high in antioxidants, such as those found in blueberries. Like most sweet potatoes, The Stokes Purple® has a low glycemic index, essential for weight watchers and diabetics.
Selection & Storage
Keep in a cool dry place and use within 2 weeks.
Availability
Year-round with limited supply. Product of USA.
More Info
Pinterest
Nutrition