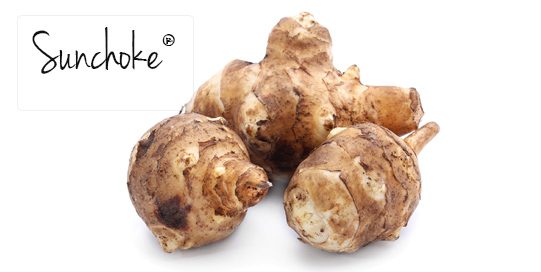 Overview
Description
Also known as Jerusalem Artichokes, Sunchokes® are actually the edible roots of a special North American sunflower plant. They have a crisp, water chestnut-like texture when eaten raw, or a rich, starchy  texture when cooked and puréed. The flavor is nutty and slightly sweet with a hint of artichoke flavor.
Quick Usage Ideas
Scrub clean, then peel and slice. Enjoy raw or boil and mash for soups and starch-based side dishes.
Video
Healthy Highlight
Excellent source of iron and provides potassium
Sunchokes have a low glycemic index which is essential for weight watchers and diabetics.  They are high in protein and the natural fiber called inulin that is considered a "pre-biotic," which helps good bacteria grow in the digestive tract. Studies also show that Sunchokes may also help lower blood pressure and decrease cholesterol.
Selection & Storage
Keep refrigerated and wrapped to maintain moisture content. Use within 5 to 7 days of purchase.
Availability
September through May. Product of USA.
Nutrition