Have you ever gotten a call or email from a friend offering to introduce you to one of THEIR friends who is coming to your city? Or how about when you are traveling to another city on vacation and a friend says their relative lives there … hinting that you should meet up with them?
As I look back over the last year, I realize this has happened to me multiple times. Initially I was a bit put off with the offers. I mean, would it be fun for me to meet someone's sister while I am on vacation?
But, I'd like to share what happened to me on some recent trips:
Last October I was heading to Florence, Italy, for a 2-week culinary vacation through Tuscany. As usual, as I was departing Los Angeles International Airport I posted on Facebook that I was headed to Florence, Italy. One of my dear produce industry friends sent me a message that her younger sister lived in Florence. At first I had no interest, but then thought, "What the heck?  Kathryn is super fun, so her sister Sarah would probably be a great person to meet up with!" Sara and I ended up meeting for dinner my last night there, and we had a fabulous conversation. I learned what it was like being an American living and working in Italy with an Italian husband and son. New friend made = check!
In March, I was attending the UC Davis Agribusiness Executive Seminar in Newport Beach, Calif., and as I was reviewing the registration list, I noticed there was someone attending from Spain. Spain? That seemed odd to me since we were in California, so when I ran into him at a reception, I struck up a conversation. It turns out he lives in Barcelona! Coincidentally, I was headed to Barcelona on vacation the next month! So, just before I left on my trip, I emailed Pablo and he offered to pick me up on Sunday for lunch. As it turns out, he and his wife Sonia took me to the most amazing museum I have ever been to: La Pedrera (also known as Casa Milá), featuring the amazing work of Catalan artist Antoni Gaudi. We then went to the seaside town of Sitges, where we had a relaxing, beautiful lunch. Two new friends made = check!
And just last week I received an unsolicited email from two women from Miami, Fla., who were vacationing in Newport Beach. They happen to belong to the same international professional women's group that I do, and they were interested in meeting some Southern California members while they were in town. None of our other members was available, so I offered to meet them for lunch. After all, I knew from personal experience how nice it was to have a "local" show you around while in an unfamiliar city! We discovered that we know several of the same people, and one of the women is on the board of a public supermarket chain in Canada … so we actually had a business connection! We had a completely delightful conversation and meal, and we're planning to meet up again in November. Two more new friends made = check!
So, the next time you receive an offer or suggestion to meet up with a stranger, I encourage you to consider taking the chance. Who knows, you might make a new friend!
Karen
Let me start by saying that I have no near-term plan to retire. But I would like to share what my 96-year-old mother thinks about retirement.
Most of you have heard of my mom, Dr. Frieda Rapoport Caplan. And that up until 2019, my mom was coming into our office four days a week (she cut back a few years ago from five days a week).
It was only in late December that she chose to work from home because the trek up our two flights of stairs had gotten to be a bit much for her. But believe me, she is still on her computer from her home office, monitoring the important activities of "her baby," Frieda's Specialty Produce, the company she founded in 1962.
I have to be honest that at times during my career, I have been annoyed with my mom's continuing interest in every detail of the business. She closely monitored the Accounts Receivables, sometimes volunteering to call overdue customers to ask for our money (she always got a quick response). She frequently would send emails to some of our sales reps when they made a big sale or her email might ask why a client hadn't purchased in a few weeks. I'd be thinking, "Mom, can't you let it go?"
And then I had the opportunity to hear Dan Buettner, the National Geographic Fellow and author of "The Blue Zones," last month at a produce conference. It's the second time I've heard Dan and for some reason, this time one part of his message really resonated with me.
When sharing the details of the five or six communities around the world where a high concentration of people live past 100 years of age, one characteristic stood out. It wasn't their primarily plant-based diet, not their sleeping patterns of seven to eight hours a night or the involvement in a spiritual practice or religion. It wasn't the natural amounts of exercise they get or their close-knit community of friends.
It was that they had a purpose. A reason to get up in the morning!
And it was when he was talking about having that purpose, that raison d'etre, that I realized why my mom is so vibrant. So relevant. So alive! It's because she is still connected with, interested in and passionate about our business.
As we celebrated her 96th birthday last Saturday, she peppered my daughters, Alex and Sophia, and me with questions about work, our clients and our growers. I realized that perhaps retirement may not be the best solution for everyone. I have read many articles that talk about people who retired and then got ill or passed away shortly after they stopped working. I've even had close friends who this has happened to. One of my friends recommends if you are considering retiring that you have a plan for a slow transition from your current work life to something else (a hobby, volunteer work or a Chapter 2 or 3 in your life).
As for me, as long as my mom is calling me daily asking for a recap of "what great thing happened at work today," I plan to be working passionately.
How about you? Have you thought about what you would do if you weren't working? Would you have a purpose, a reason to get up in the morning?
Karen
P.S. If you want to send Frieda a Happy Birthday message, please click here.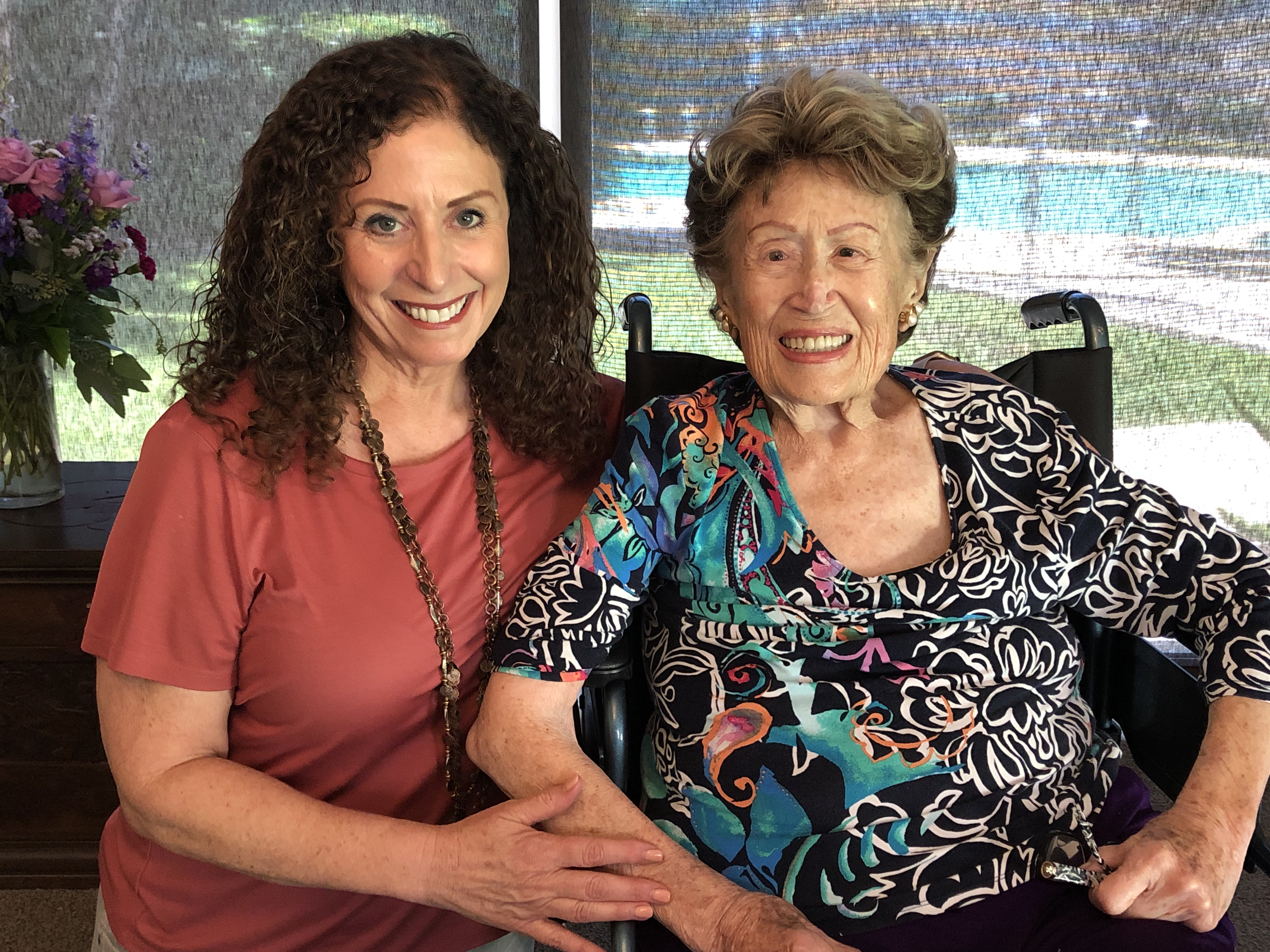 This is not a blog about shopping. This is a blog about removing roadblocks.
This past weekend, I needed to restock on a few things, so I headed to my local mall. Even though I went into Nordstrom only to purchase their special liquid laundry soap, I couldn't resist taking a stroll around the store. And as you might have guessed, that little stroll ended up with me finding a few things to try on.
I have been a Nordstrom shopper since the company opened its first stores in southern California over 30 years ago. I know that in order to get access to a dressing room, you need to find a sales associate, as the dressing rooms are locked. Only the sales associates have the keys.
So, you can imagine my shock when the sales associate told me that the dressing room doors were all open, so pick whichever room I wanted!
When I went to purchase my items at the cash register, I asked the cashier, "So, when did Nordstrom unlock the dressing room doors?"
She told me that they got a new store manager about four months ago (the previous manager went on maternity leave), and the first thing the new manager did was tell the sales associates to unlock the dressing room doors.
Even though the locking practice had come into being to reduce theft, it also helped engage the salespeople with shoppers by personally escorting them to the dressing rooms. The new manager realized that it actually had become a huge inconvenience for shoppers. It interfered with their ease of shopping. And I'm guessing, she realized that it was not sending a positive message in alignment with the Nordstrom brand.
So, I asked the obvious question of the cashier, "Did theft go up after you unlocked the doors?" She told me she had not heard anything more about it, so she assumed it had not.
That made me wonder: How many "locked dressing room doors" do you have in your business? If you have an automated voicemail for your business, do you start your message with, "To speak with someone immediately, press "0" for operator," then proceed with the directory of names? Or do you force callers to go through the directory by entering the first three letters of the person's first or last name?
On your website, do you feature your best selling items on your home page? Or do you force customers to search through your entire website to find what they're looking for?
When you have a visitor to your building, do you immediately offer them water or directions to the restroom? Or do you wait for them to ask?
When you give new employees your company handbook, do you give them a cheat sheet of the FAQs (such as company holidays, benefits info and payroll info)? Or do you hand them the 100-page handbook and say, "Good luck! Everything is in here."
How many roadblocks do we naturally put up in our businesses? And if we replaced them with something easier and more convenient, would we have a better result?
If you want to "unlock the doors" in your company, know that most of them are super easy to change. The challenge may be that they are habits, with unknown origins, e.g., "We've always done it that way."
It took only a bit of adjustment at our company to change our company voicemail, website, visitor-welcoming process and employee handbook.
What should you change?
Karen
Los Alamitos, CA (August 2019) – With the new school season fast approaching, parents are stocking up on notebooks and school supplies. While they're at the grocery store, encourage them to stop in the produce department for tasty, healthy lunch box items.
"Frieda's Chilean kumquats are the perfect school snack because they are bite-sized, delicious and ready to eat," says Alex Berkley, director of sales at Frieda's Specialty Produce. "With their convenient packaging, it is easy to merchandise them with other common snacking produce like apples or oranges for a back-to-school destination set." Retailers can also add Frieda's cape gooseberries, jicama and watermelon radishes to their display as shoppers are always looking for new, healthy and delicious treats to add to their kids' lunch.
"This year, we are trying something new with our two young kids," says Cindy Sherman, director of marketing at Frieda's. "I picked up bento boxes that make packing lunches a breeze! It's easy to fill the compartments with kumquats, jicama sticks, cheese and whole grain pretzels."
To help inspire parents, Frieda's will host a social media campaign on Instagram and Facebook dedicated to sharing what parents are putting in their kids' lunch as they head back to school. It's all about #WhatsForLunch. This campaign is a perfect way for parents to share and receive lunch box inspiration. Look for the campaign kicking off in August and don't forget to share #WhatsForLunch.
To fill your back-to-school destination display, call your Frieda's account manager today.
About Frieda's Inc.
Frieda's Specialty Produce has been inspiring new food experiences for friends, families and food lovers everywhere since 1962. From kiwifruit and dragon fruit, to Stokes Purple® sweet potatoes and habanero peppers, Frieda's has introduced more than 200 unique fruits and vegetables to the U.S. marketplace. Founded by produce industry trailblazer Dr. Frieda Rapoport Caplan, subject of the 2015 documentary "Fear No Fruit," the family company is owned and operated by Frieda's daughters, Karen Caplan and Jackie Caplan Wiggins, in Orange County, California. Find Frieda's on Facebook, @FriedasProduce and Friedas.com. Inspire. Taste. Love.
I'm guessing I am not the only person who gets a hard knot in their lower neck-shoulder region. It feels so tense. Last week while I was out of town at a produce conference, it got really bad. It was like I couldn't even turn my head without feeling the strain of my tight muscles. Does that ever happen to you?
My first angle of attack was to take an Advil and go to bed early.
I did sleep well, but unfortunately that knot in my neck was still there the next morning.
Second strategy was to get a neck massage on Monday afternoon. It felt better for a short while, but that knot returned.
So, yesterday when I went to work out with my strength coach, Yas, I let him know about my sore shoulder muscles. He looked at me and commented, "So, you sit on your **s all day at a desk, right? Typing on your computer." And he held out his forearms and imitated my daily position, which included having my shoulders tensed up. "Yep, you're right," I answered.
And that's when it dawned on me.
Why am I not using my stand-up desk?
A few years ago, a couple of our employees mentioned to me that they heard having a stand-up desk helps reduce lower back pain and shoulder tension, and actually stimulates better productivity. So we did a beta test with those two employees by purchasing units that would retrofit our current cubicles for less than $300 each. We did nothing more than give them the stand-up desks with comfort mats to go under their feet. And we waited to see what happened.
Guess what? As other employees noticed, they, too, asked for stand-up units, and everyone personally commented on how much better they felt physically during the day. It's as if the cobwebs get cleaned out when you stand up and work. And they all have less low-back tension and it creates more energy in the office.
So this morning I came into work, and after our entire floor did stretching at 9 a.m. as part of our newly launched employee well-being program, I raised my stand-up desk. Sure enough, my shoulders felt less tense. My legs and lower back felt better. And as I looked around my office, I saw four other co-workers had raised their desks too.
Does your company offer this option? More and more companies offer these ergonomically friendly stand-up desks. But there are still some that don't; they must not be aware that it's an easy $300 retrofit for an existing desk. And that $300 investment is a good hedge against increased absenteeism and injury.
So if your neck and shoulders are usually tight during the work day, you might want to arrange to get a stand-up unit. It will make a world of difference.
Karen