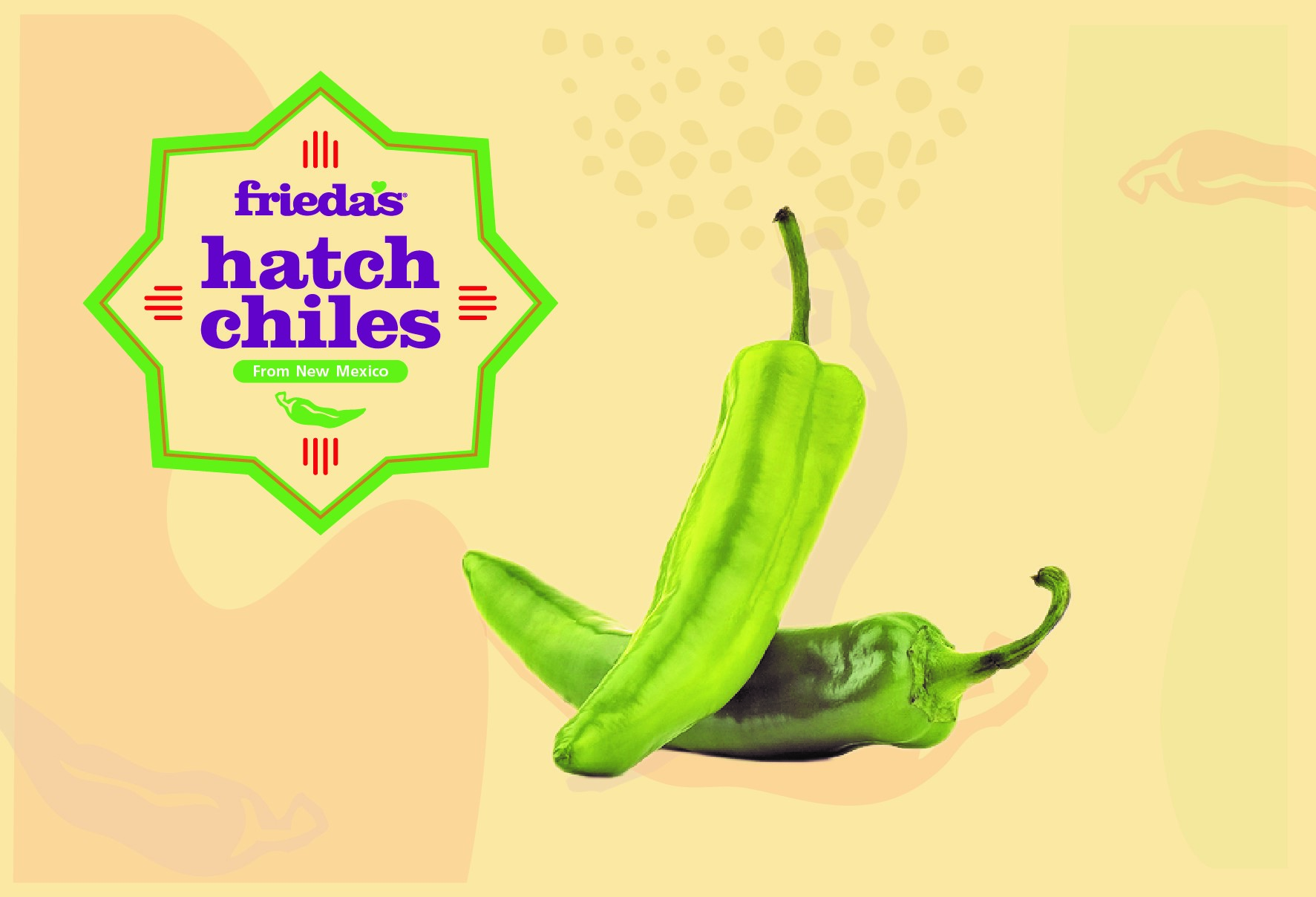 Los Alamitos, CA (July 2020) – The famous, flavorful Hatch chile pepper is back! Frieda's sources these tasty chiles directly from Hatch, New Mexico—and they are certified authentic. Hatch chile season started in late July and is expected to continue through the end of summer.
While COVID-19 has prevented many retailers from doing their annual Hatch roasting events in-store, you can still bring the hatch experience to life and draw in-store traffic this August.
"We recommend you feature POS and stanchion signs to inform shoppers about the limited-time availability of the peppers, as well as how easy it is to roast them at home," says Alex Berkley, director of sales at Frieda's. "We also suggest integrating Hatch peppers into grab-and-go foods like Hatch enchiladas and Hatch mac and cheese to drive hatch excitement in other parts of the store."
The limited-time availability of this special zesty pepper plays into the phenomenon of FOMO— the fear of missing out. Research by Eventbrite suggests that when faced with an exclusive item being consumed by their peers, over 60 percent of millennials will experience FOMO and make their way to stores to purchase an item. This means increased sales for your store from this highly desirable demographic. And remember, there is an entire community of "chile heads" who wait all year to buy fresh Hatch chiles so they can roast them and freeze them for year-round use.
Frieda's offers Hatch chiles in a branded 25-pound case, which can be used for side-stack displays, and in 2-pound retail pouches in mild, medium and hot heat levels.
Frieda's works closely with its grower partners to ensure excellent quality and strong supply until the end of the season. Call your Frieda's account manager today to receive samples and learn how to make a hatch splash in your store this year!
About Frieda's Inc.
Frieda's Specialty Produce has been inspiring new food experiences for friends, families, and food lovers everywhere since 1962. From kiwifruit and dragon fruit, to Stokes Purple® sweet potatoes and habanero peppers, Frieda's has introduced more than 200 unique fruits and vegetables to the U.S. marketplace. Founded by produce industry trailblazer Dr. Frieda Rapoport Caplan, subject of the 2015 documentary "Fear No Fruit," the family company is owned and operated by Frieda's daughters, Karen Caplan and Jackie Caplan Wiggins, in Orange County, California. Find Frieda's on Facebook, @FriedasProduce, and Friedas.com. Inspire. Taste. Love.
Several decades ago, my mother Frieda went to a spa in Ojai, Calif. It was called "The Oaks at Ojai" and was founded and owned by Sheila Cluff. If you have ever heard of Ojai, you know it is a small, sleepy town nestled into the inland hills just east of Ventura. It's hot and dry and somewhat remote. (It's also the home of Pixie Mandarins!)
I'm thinking it was in 1986, the month after I was named President of Frieda's, when my mother took her first two-week vacation away from the business. She went to The Oaks at Ojai to rest, relax and lose a few pounds. She left me in charge of the business for the first time. I have so many vivid memories of those two weeks.
When my mom came back from her trip, she told me that each night at the spa, there were guest speakers talking about everything from books to exercise to proper eating. One of the speakers who she found most fascinating was a dermatologist. Her name was Dr. Cheryl Effron and she had an office in Anaheim Hills, not too far from my mom's home. My mom was so impressed with Dr. Effron that she started seeing her regularly to have her skin checked. Dr. Effron and my mom developed an amazing and long friendship, and when mom came back to the Frieda's office after each visit, she would start talking about Dr. Effron's daughter, Jessica Koslow.
According to my mom, Jessica was apparently a child prodigy (isn't every doctor's only child a prodigy?) and a world-class ice skater. My mom would get the update on Jessica's ice skating career after each appointment. And, typical of my mom, they all became friends—Dr. Effron, Jessica and my mom.
Fifteen years ago, after Dr. Effron found a malignant melanoma on the back of my mom's leg (and arranged for her to have surgery to remove it), my mom announced to my sister Jackie and me that we needed to start going to see Dr. Effron every six months, since we could be at risk for skin cancer, too. And being the obedient daughters we were, we both started seeing Dr. Effron every six months … and still do to this day.
Fast forward to about 10 years ago, when our company forager Mary was walking the Santa Monica Farmers Market. Mary noticed this dark, curly haired woman was kind of following her from stand to stand, tasting the various peaches, plums, and other fresh fruits. Finally, Mary turned to the girl and introduced herself, "Hi, I'm Mary from Frieda's. So, who are you?" And the girl answered, "You work for Frieda's? My mom is Frieda's dermatologist!" As it turns out, Jessica Koslow, the ice skater, had pivoted in her career to become a jam maker.
She started a jam-making company that she named SQIRL, and she would purchase fresh, in-season fruit weekly to process her jams and create delicious flavors like Raspberry Rhubarb and Blood Orange and Hibiscus Marmalade.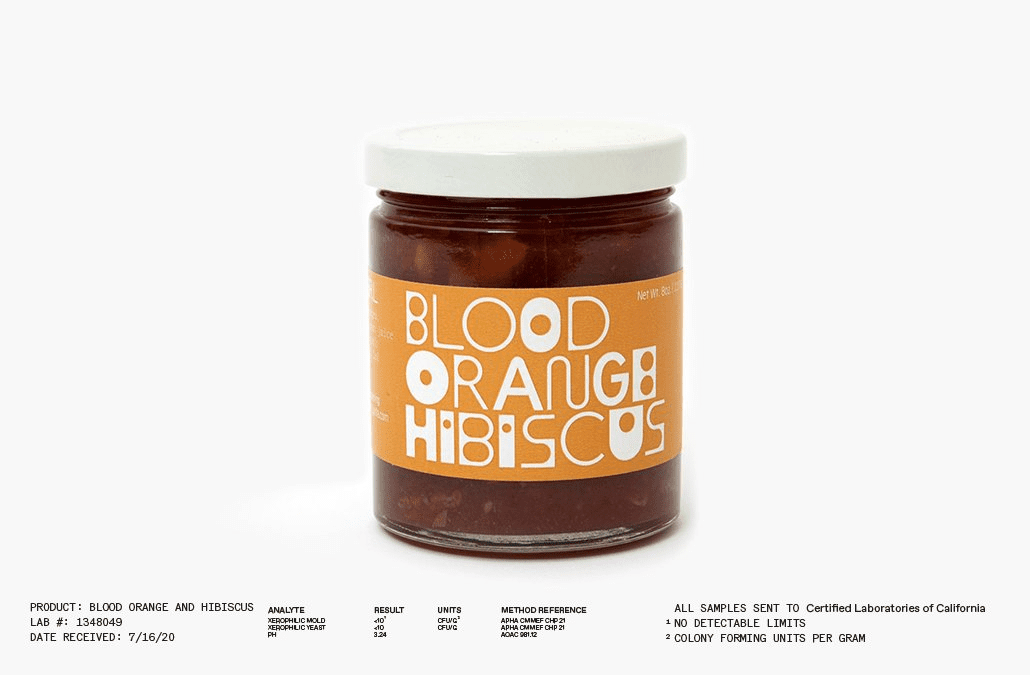 When I learned this, I called my mom and she said, "Of course, Jessica makes the best and tastiest jams in the world. Literally, Karen, she has become so famous, people order her jams from all over the country!" Hey mom, you never told me that Jessica stopped ice skating.
When I would go see Dr. Effron for my twice-yearly appointments, I always asked about Jessica. I hadn't met her, but after she and Mary met up at the farmer's market, it piqued my interest. One day when I was in the Silver Lake area of Los Angeles—where SQIRL LA is located (Jessica expanded from being just a jam company to a restaurant that served breakfast, brunch and lunch)—I stopped in there to smell the heavenly pastries they served and view the chalkboard where they had their menu and the teeny tiny seating area. SQIRL seemed bigger than life when I read about it, and to visit it in person was like making a trek to a mecca.
Sometimes Jessica would send jars of jam to my mom. She knew that my mom had a bit of a sweet tooth, so her jam was a perfect gift. Honestly, the jam was soooo delicious, so addictive, that I ate almost a whole jar once while I was visiting my mom's house (that was one of the few times my mom got mad at me, and I had to call and order replacement jars for her).
My daughter Alex proclaimed to me last week: "Jessica Koslow and SQIRL put Silver Lake on the map. Before SQIRL, it was a sleepy, unknown neighborhood. Jessica made it a destination!"
So, last week, I did something that made me very happy … I ordered two copies of Jessica's second cookbook, The Sqirl (Jelly, Fruit Butter, and Others) Book. It was published and first available for orders on July 22.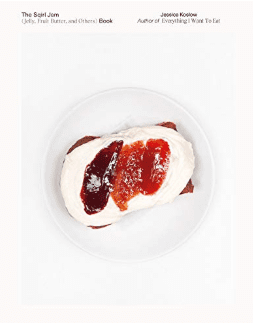 I received an autographed copy of Jessica's first book, Everything I Want to Eat: Sqirl and the New California Cooking when it came out in October 2016. Her mother Dr. Effron hand-delivered it to me during one of my regular appointments! Jessica's first book was named Eater L.A.'s 2016 Cookbook of the Year.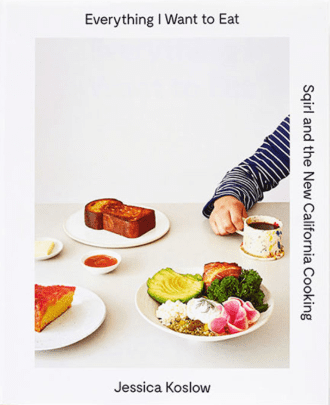 I am salivating as I look at the photos in the cookbook and am thinking when citrus season starts up again that I may try my hand at the Kumquat–Mandarinquat–Limequats Marmalade recipe on page 238.
No wonder The New York Times called her "The Genius of Jam." I think I will always call her Dr. Effron's daughter, the ice skater.
Karen
Los Alamitos, CA (July 2020) – Spending a summer largely stuck at home, shoppers are looking for little escapes—aka #microescapes—to flee the mundane aspects of everyday life. Give your shoppers a perfect way to escape by offering a top-selling tropical fruit—Dragon Fruit—straight from the fields of Ecuador and Nicaragua.
Have you noticed that tropical fruits are trending? Coffee chains like Starbucks have ramped up their assortment of tropical beverages, including the highly coveted Dragon Drink. At Dunkin Donuts, shoppers can order a Strawberry Dragonfruit Refresher to quench their summer thirst.
According to a recent survey, 44% of shoppers say they think enjoying exotic tropical fruit, like dragon fruit1, would help make it feel more like summer. In fact, Frieda's supply of dragon fruit is looking better than ever, featuring red dragon fruit grown in the lush volcanic soil of Nicaragua and yellow dragon fruit sourced directly from the Amazon rainforest in Ecuador.
"With such high demand and strong supply, now is the perfect time to build inviting dragon fruit displays which showcase all three varieties in order to make your store the preferred shopping destination," says Alex Berkley, director of sales at Frieda's Specialty Produce.
"POS signage is an easy way to show the flesh and highlight the differences. We suggest featuring yellow dragon fruit, which we call the gateway dragon fruit because it is so sweet," Berkley says.
Call Frieda's today to jump on the #microescape trend and make your store THE dragon fruit destination.
Source:
1 May 2020. C+R Research Omnibus Survey. Sample size of 1,000 people. Representative of total U.S. demographics.
About Frieda's Inc.
Frieda's Specialty Produce has been inspiring new food experiences for friends, families, and food lovers everywhere since 1962. From kiwifruit and dragon fruit, to Stokes Purple® sweet potatoes and habanero peppers, Frieda's has introduced more than 200 unique fruits and vegetables to the U.S. marketplace. Founded by produce industry trailblazer Dr. Frieda Rapoport Caplan, subject of the 2015 documentary "Fear No Fruit," the family company is owned and operated by Frieda's daughters, Karen Caplan and Jackie Caplan Wiggins, in Orange County, California. Find Frieda's on Facebook, @FriedasProduce, and Friedas.com. Inspire. Taste. Love.
Have you ever gotten up quickly and felt a little dizzy or turned over in bed and had the room start spinning? Well, that's exactly what has been happening to me intermittently since March. It's a pretty helpless feeling when it comes on suddenly. And it is especially confusing and frustrating when it disappears as quickly as it comes on.
But about two weeks ago, the day after I hiked the Grand Canyon, I had a terrible bout of vertigo. It included nausea, a complete feeling of being unbalanced and it was all around yucky. I had a hard time standing up from a seated position and had to avoid any quick head or neck movements.
I couldn't even drive to work the next day, so I attended our morning meeting via Zoom. One of my coworkers said, "You need to go to Dizziland."
"Ha! Ha!" I thought. But then I remembered that this coworker Leslie had had a weeklong bout of vertigo along with migraines last year and had found a specialist who treated and cured her. So, after our Zoom meeting, I called her. She told me that there are only two places in the United States that have an extensive treatment center to treat vertigo and one happens to be in Newport Beach—about 20 miles from our offices (the other one is in Florida). She told me to check out their website www.dizziland.com.
I immediately went on the website and filled out the inquiry form and within a day I received a phone call. After I described my symptoms, it was as if the universe was working on my behalf, as she said, "Wow—we have an opening at 8 a.m. on Tuesday. Are you available?" "Of course I am!" was my answer. She told me I would come in for a consultation with the doctor and would then go through a battery of tests for four hours.
I was advised to wear loose clothing and to not eat a lot, as during the testing, some patients have gotten nauseous. So, I opted for no food in the morning (thank goodness).
When I walked in to meet the doctor, I got a smile on my face. His name is Dr. Howard Mango. Mango! So immediately I told him that I sell mangoes and we started talking about the produce business. What a small world. When he was a student at the University of Southern California, he used to work at the 32nd Street Market near downtown LA—in the produce department! Talk about establishing immediate rapport!
I asked him how he got into the audiology field—he told me that his real passion was acting, but he also loved the sciences. He said that John Ritter (famed actor) was in one of his early acting classes at USC. Well, Dr. Mango realized that John was really good … so thought maybe he should pursue a career in science!
Back to the assessment of my vertigo. I spent more than four solid hours being tested. Two separate times, my complete torso was strapped into a chair (looks like an astronaut's seat on a space capsule) and was turned in every possible direction.
One of the tests involved being spun at what felt like a really high speed, in the dark, and having to focus on various shapes and bright spots. Another test involved lying on a table with blackout goggles on, then they put a long, thin balloon in each of my ears—one with warm water and one filled with cold water.I stood on a platform, and below my feet the floor would jerk or move, and they were recording how I reacted and whether I lost my balance. I never felt terrible or anxious during the four hours of testing, but it was comforting that the three separate technicians who guided me through the morning (actually medical students doing their training), were kind and nurturing. I'm guessing that my vertigo challenges were mild compared to some of the people who came for treatment. It made me laugh as during one test (when I was strapped into a chair in the dark and spinning very fast), the technician was asking me to list things. It's a great distraction technique. She asked me to name all kinds of animals. I said, "Hey, I sell fruits and veggies for a living—can I just name them for you?!" The whole idea was to distract me from getting anxious about being spun around.
So this week, I got my diagnosis. During the testing, I figured out that the issue was probably on my left side and, in fact, Dr. Mango told me that it is my left ear that is "sick." The diagnosis is called "Vestibular Neuritis and Labyrinthitis"—a disorder resulting from a viral infection that inflames the inner ear. This has caused Benign Paroxysmal Positional Vertigo (sounds awful, but really means: not life-threatening, sudden and caused by certain head positions). It was fascinating to learn about how the eyes, the ears and the brain really do work together to keep us balanced.
The treatment is Advanced Vestibular Treatment™ which is solely directed by doctors of audiology. The Dizziland Institute and one other facility in St. Louis are the only practices in the country using it. This treatment is performed at the doctors' office twice a week and at home (on my computer) on all other days of the week, to retrain my eyes, brain and ears. The doctor also confirmed that part of the treatment is to take at least 2000 mg of Vitamin D3 a day and to eat a diet of healthy (non-junk) foods. I am relieved that he was able to quickly pinpoint the cause of my vertigo, and in six weeks of physical therapy I should be well on my way to being vertigo-free!
If you know someone who has experienced vertigo, and they are willing to see an audiologist/specialist who specializes in vertigo treatment, please pass this website along to them:  www.dizziland.com. My insurance covered everything except the copay.
It will be a life-changer!
Karen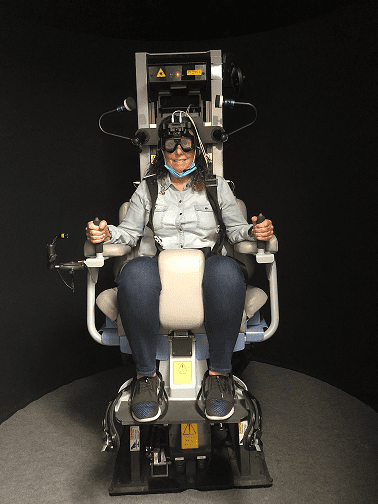 I have always heard about the Grand Canyon and that seeing photos of it, versus being there in person, is no comparison. I recall that it was one of the Original Seven Wonders of the World.
After a lot of juggling of calendars, and working around COVID-19 travel restrictions, we were able to squeeze in my first trip to see the Grand Canyon about two weeks ago.
This visit seemed like a bit of a tease, as we flew into Las Vegas on a Friday morning, drove four hours to the Canyon, and only hiked for a few hours (Friday night and again early Saturday), before heading back to Las Vegas the next morning.
We entered the South entrance of Grand Canyon National Park, and I came to a strikingly swift realization—that you could be within 20 yards of the rim of the canyon and not even know it was there! It's true! We pulled into the parking lot near the entrance and as we got out of the car, I had no idea how close we were to the rim. We literally walked down a short asphalt path, with small plantings of trees and bushes interspersed between the pathways, and all of a sudden—there it was. It was breathtaking! And huge.
Actually, it IS huge, but it doesn't necessarily appear that way when you are standing on the rim. The Grand Canyon itself is a mile (1.6 km) deep and up to 18 miles (29 km) wide. But if you drive the circumference, from the South Rim entrance to the North Rim entrance—it takes more than five hours! So, to drive completely around it would take more than 10 hours.
We decided to hike down at Bright Angel Trailhead late Friday afternoon. As you might imagine, it was pretty hot in the Arizona sun. The trail didn't look that difficult to me, especially since I saw at least a dozen people who were also hiking down that path.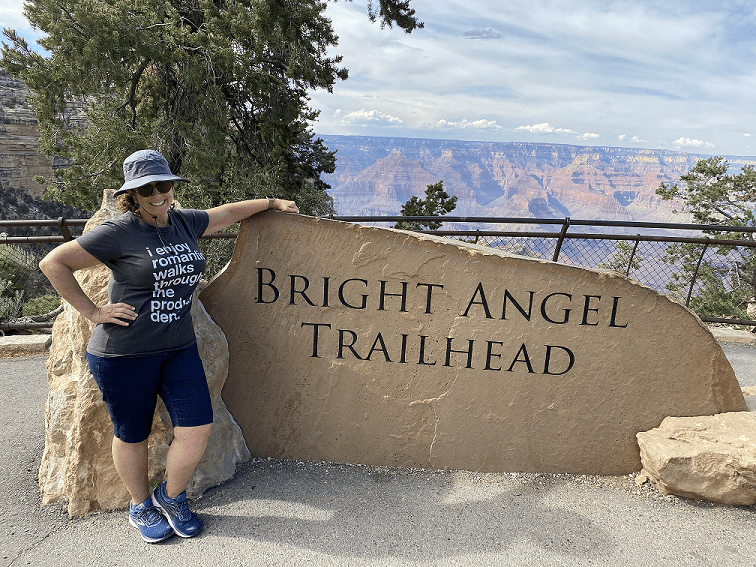 But, when we met the first hikers who were coming UP the trail, after a day of hiking and saw the look on their faces, I knew this was a serious hike. In fact, we asked two women hikers if they would take our photo for us … and they refused. They were so exhausted from their three-mile return hike, they were afraid if they stopped moving, that they would not be able to start walking again to return to the rim. That's serious!
We ended up hiking one mile down Bright Angel and turned around and hiked a mile back to the entrance. With all the switchbacks on the trail that we had to take during that mile, I realized it didn't even take us very far down the canyon.
That's when I finally understood why to hike "Rim2Rim" (that's the official name of the hike from the top of the South Rim down across the canyon up to the North Rim, or the reverse course) takes at least 12 hours. And because it is treacherous to hike in the dark, many groups choose to do the Rim2Rim in June or July, because that is when the days are the longest and you have the most sunlight. Needless to say, that is also when it is the hottest. Today the temperature at the Grand Canyon is over 90 degrees (which means it is probably over 110 degrees on the floor of the canyon, where there is no breeze). So, that two-mile hike on Friday evening was just fine for my first venture.
We got up at 6:00 a.m. the next morning to do a four-mile walk around the rim, as there is a lot of historical information and an educational pathway along the South Rim which demonstrates the 2-billion-year timeline of Grand Canyon geology.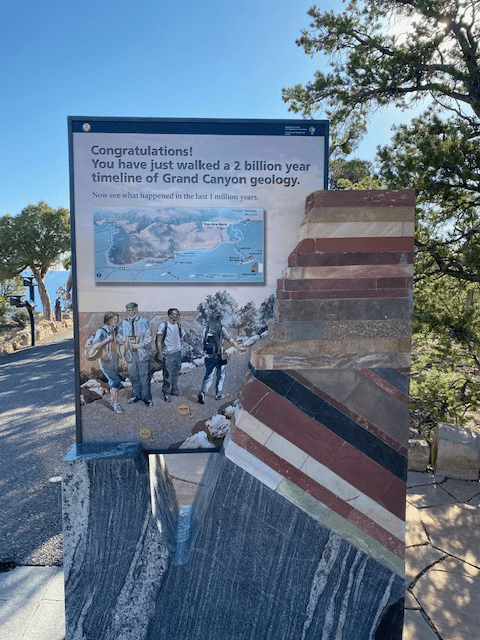 With all this being said, I highly encourage you to visit the Grand Canyon. Know that you do not need to be an elite athlete to experience the amazing vistas, the history, and the beauty of Northern Arizona. You can take it at your own pace.
But, let me tell you what I learned during my time at the Grand Canyon.
During the morning walk around a small part of the rim, on the path there were signs that said "take one large step—about 3 feet—and you will have traveled a Million Years."
Let me repeat that: 3 feet = 1 million years.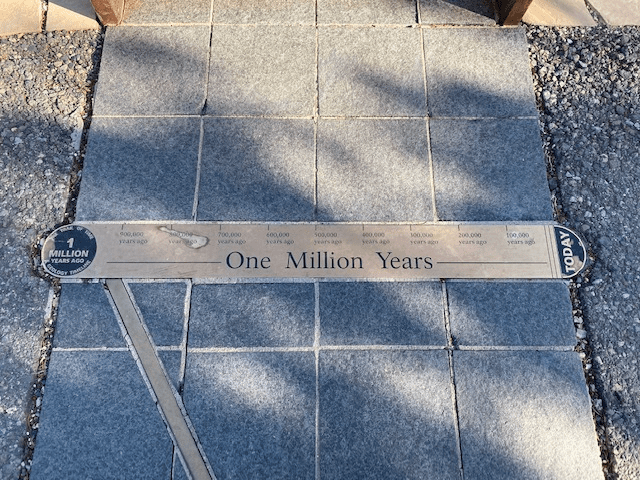 That means, this freaky year we are in right now—2020—won't even show up in the Grand Canyon.
And that bad day you had? It's not even a blip on the geological timeline.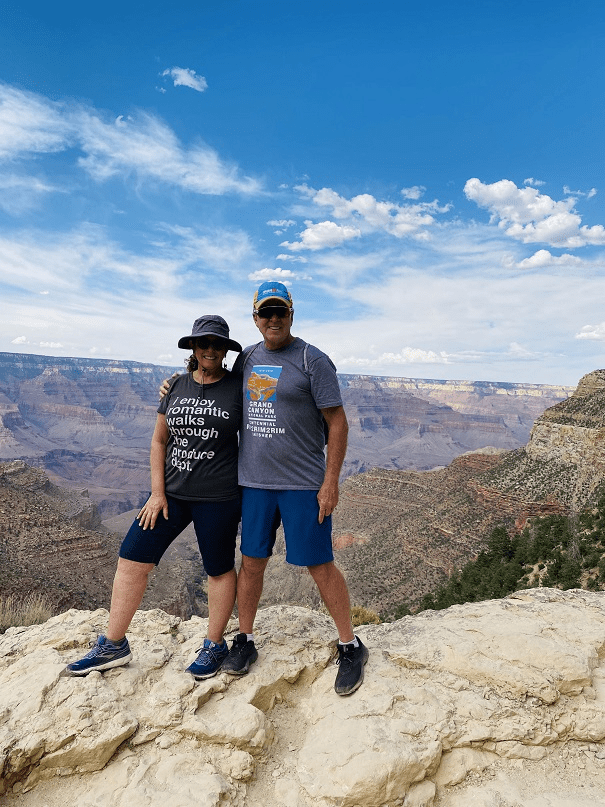 It really put things in perspective for me. I find that when I am having a rough day, a rough week, or even a rough few months, that all I have to say to myself is "GC"—Grand Canyon. It puts it into perspective.
And that's why I recommend you make time to go visit the Grand Canyon. Go with at least one person who you can share the experience with. And allow some time for you to walk slowly, to meditate, to journal if you want. I was not surprised that we came across a robed monk seated cross-legged on a rock meditating in the early morning hours.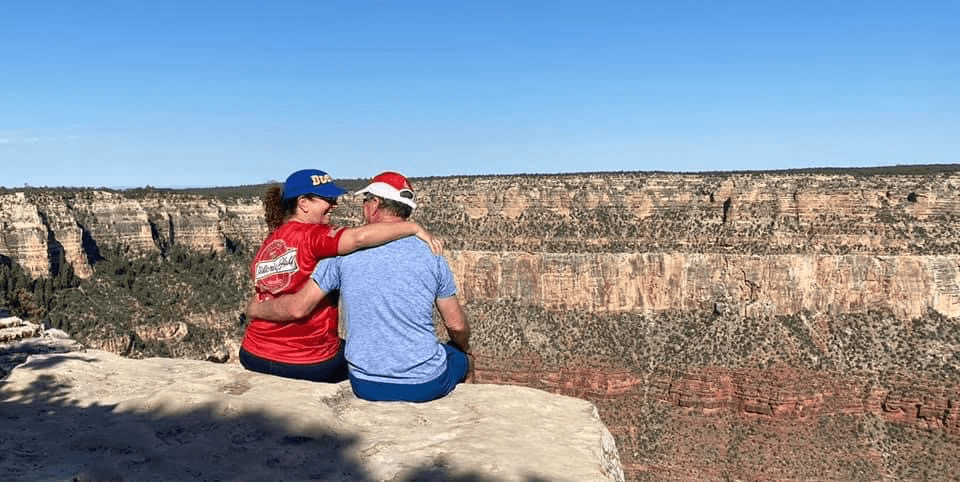 It is truly a heavenly place.
Karen