Los Alamitos, CA (September 2020) – October 1 marks the 43rd annual World Vegetarian Day. World Vegetarian Day was started in 1977 and serves to kick off Vegetarian Awareness Month, a month-long celebration of plant-based foods.
More and more people are embracing a plant-based lifestyle, and the emergence of COVID-19 has only accelerated that movement. Healthy, plant-based eating is fast emerging as a way for shoppers to feel in control of their health, while also giving their bodies the best chance of fighting off disease. According to IRI, fresh produce sales are up over 10% compared to last year, versus flat growth at the start of the pandemic1.
"The pandemic has resulted in what we like to call a 'health trigger moment," which is the point where consumers start to rethink their approach to diet and lifestyle. Right now consumers are making shifts in how they eat fueled by the quest for immunity, which is why World Vegetarian Month is the perfect opportunity to plug into the immunity-boosting benefits produce shoppers are looking for," says Cindy Sherman, director of marketing & insights at Frieda's.
How can your produce department capitalize on this movement and capture the shoppers' attention? We suggest focusing on plant-based, immunity-boosting items, including the  Stokes Purple® Sweet Potatoes (with almost 4 times the vitamin C of an orange sweet potato); Turmeric, known for its immunity-boosting, inflammation-fighting properties; and Ginger with its antioxidant, antimicrobial, and anti-inflammatory properties.
This World Vegetarian Day, be sure to have the fruit and vegetable variety shoppers are seeking for their health and wellness. Call your Frieda's account manager today for ideas on how to make your store a vegetarian destination all month long!
Source:
1IRI, 210 Analytics, Produce Marketing Association data 8/23/20
About Frieda's Inc.
Frieda's Specialty Produce has been inspiring new food experiences for friends, families, and food lovers everywhere since 1962. From kiwifruit and dragon fruit to Stokes Purple® sweet potatoes and habanero peppers, Frieda's has introduced more than 200 unique fruits and vegetables to the U.S. marketplace. Founded by produce industry trailblazer Dr. Frieda Rapoport Caplan, subject of the 2015 documentary "Fear No Fruit," the family company is owned and operated by Frieda's daughters, Karen Caplan and Jackie Caplan Wiggins, in Orange County, California. Find Frieda's on Facebook, @FriedasProduce, and Friedas.com. Inspire. Taste. Love.
This past weekend we took a trip to wine country in northern California. Spending a few days in Napa Valley and staying in a B&B, visiting wineries and taking long hike/walks each morning was a nice break from the back-to-back Zoom meetings of my regular work week.
First, let me answer the obvious questions and concerns.
Yes, we wore masks everywhere we went, including at the airport, on the one-hour flight, while renting the car, at the B&B and at the wineries and restaurants.
Some wineries provided hand-washing stations or hand sanitizer when we arrived.
All wine tastings were by appointment only, which allowed venues to properly limit and space out the number of people.
All wine tastings and meals were outdoors—thank goodness for the temperate weather we have in California!
Even with these potential obstacles, we had a really lovely time and enjoyed the wines and wineries.
What was surprising, however, was that even with all the protocols for COVID, the human factor still played a significant role in our experience.
One of our favorite wineries is Silver Oak—considered a premiere producer of Cabernet Sauvignon. The owner David Duncan is a serial entrepreneur and has expanded his portfolio by adding other wine labels, including Twomey—known for its Pinot Noir. On this trip, we booked in-person wine tastings at both Twomey in St. Helena and at the mothership, Silver Oak, on Oakville Cross Road near Napa. A few years ago, the wine tasting room at Silver Oak experienced a fire, so the wine tasting room and winery were rebuilt and they are state of the art and quite beautiful.
So on Thursday we drove up to Twomey, and were immediately seated at our appointment time at an outdoor table. Our wine guide Max (wearing a mask) was filled with enthusiasm. He asked us questions about where we were from, our experience and likes of wine varietals and seemed genuinely excited about sharing his wine expertise. His eyes showed how excited he was to tell us the story of the vineyards and every few minutes he would lean in (from 10 feet away) and ask, "Would you like to try a different vintage of Pinot Noir? I have something in mind for you—and I'll be right back."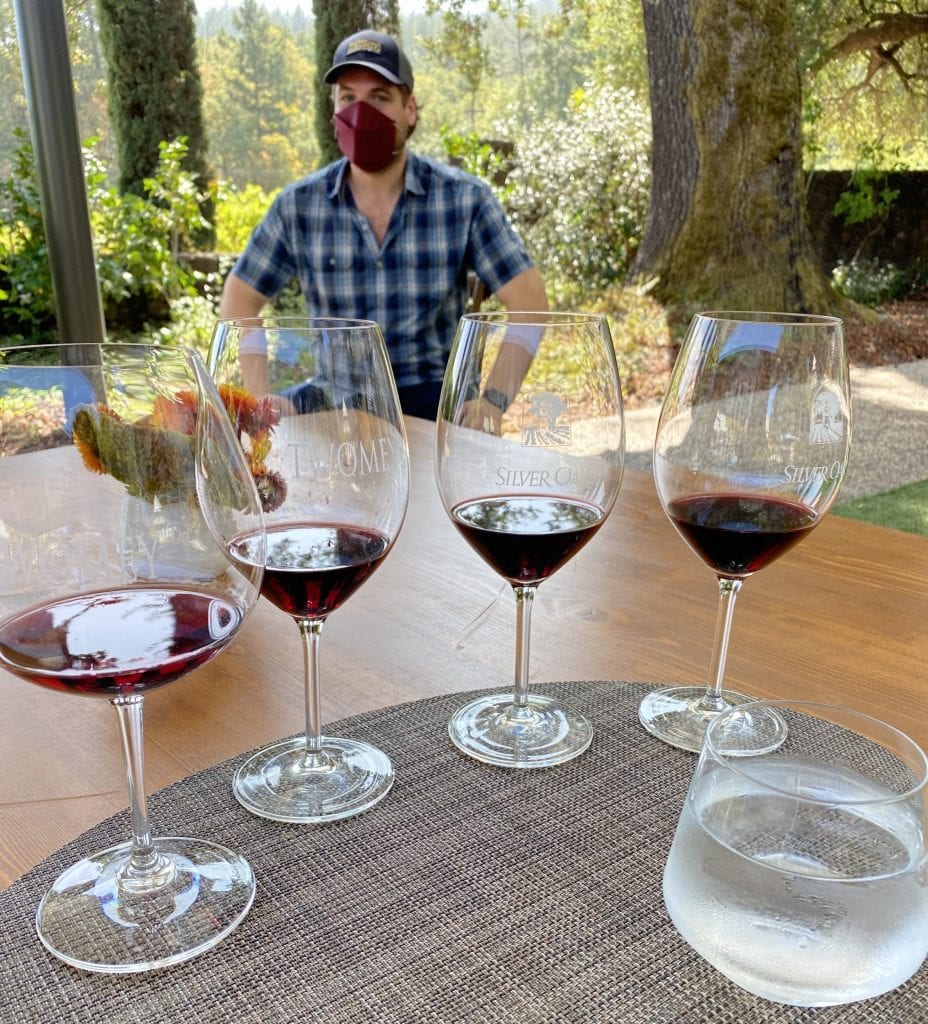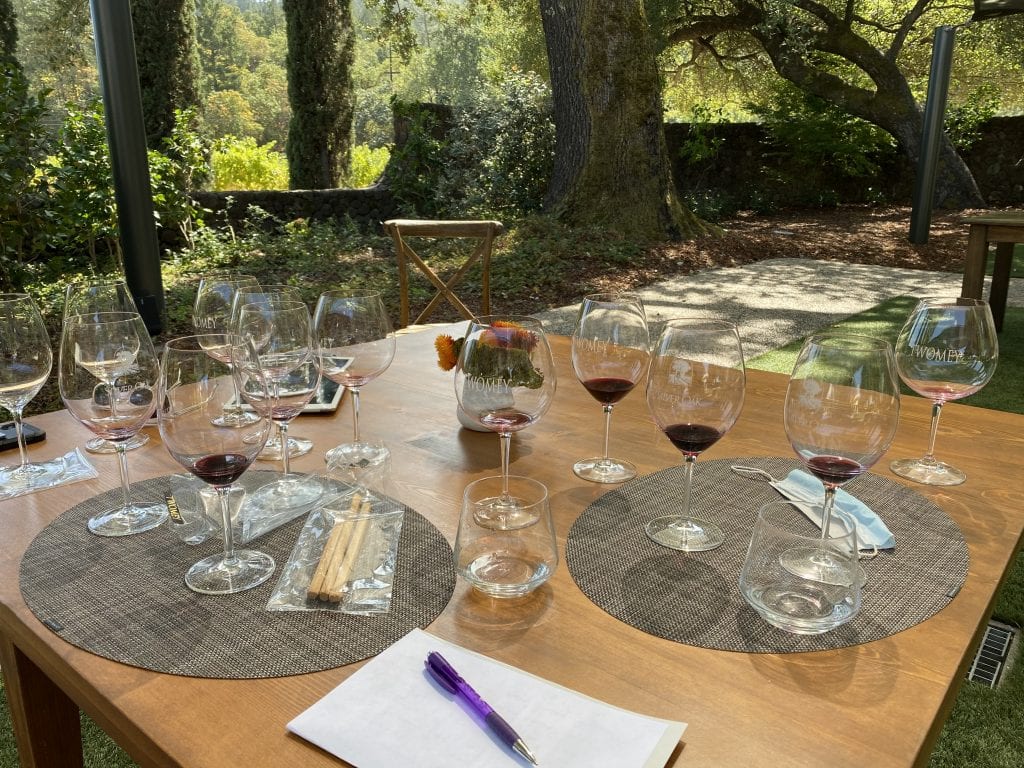 He would disappear into the winery and would reappear with another new bottle that was not part of the "standard tasting" and excitedly told us about the grapes, the winemaker, etc. Even with all the limitations with spacing, timing, etc., Max made us feel as if we were his only clients and there was no rush. The standard tasting was four different wines—and I'm guessing we ended up tasting seven or eight wines. After 45 minutes or so, he gently apologized and said he needed to assist another table, but assured us there was no rush, to enjoy ourselves and that he would be back shortly. We leisurely enjoyed the wine, the view, took photos of the gorgeous grounds and spent another 30 minutes or so relaxing. As we were leaving, Max assisted us with a purchase, and we wished each other well (he had shared with us that he was recently engaged to be married and where he was attending college, so we felt a genuine connection to him)
As we left, we both commented that the experience was amazing, but we were sure that it was nothing compared to what we would experience the next day at Silver Oak Winery in Napa.
We arrived at Silver Oak on time the next day and had to wait just a few moments before our wine guide David appeared for our 1 p.m. tasting. The first thing he said to us as we were seated was, "I have another tasting at 2 p.m." (Wow, not the best opening line for a guest!)
For the next 45 minutes or so, we tasted the four wines that were poured for us. When we would ask a question to engage David and learn more about the winery, he would say, "I will get to that later on in my presentation." We were immediately discouraged from asking any questions for fear of going off script. I think he brought us an additional wine to taste, but frankly, we were so disconnected by his approach and his lack of genuineness that we found ourselves hurrying to leave before his next 2 p.m. appointment. It's hard to remember anything about his presentation.
As we left the Silver Oak grounds, we looked at each other in amazement. Here we were at potentially the most well-known and respected winemaker in the entire Napa Valley—whose Cabernet Sauvignon wines are world class and top-rated—and we felt underwhelmed and disappointed.
The wines were still awesome, but the experience we had with our "sales rep" was less than.
Isn't it interesting that the way we were treated affected our experience? Think about it. The same owner—who is passionate about his craft—is behind both wineries, they have virtually the same geography, offer the same wine glasses and in some cases the same wine. But the person who we interacted with was the difference.
Have you ever had that experience? Same store, different sales reps, polar opposite experience? One person turned you on and engaged you and made you feel like you were the only person in the place; the other one was simply going through the motions just to get through their day.
If you are a business owner or leader, you may want to see if your vision is alive and well with everyone on your team. Most especially, gauge how they interact with clients or new employees: do they show the same care and enthusiasm that you do? Or are they just going through the motions?
It's amazing the difference one person can make, isn't it?
Karen
P.S. Our purchase at Twomey was four figures, but we passed on making a purchase at Silver Oak. Think about it—the power a single person can make to both the top line and the bottom line of a company!
Los Alamitos, CA (September 2020) –  Stokes Purple® sweet potatoes are back in season and shoppers are ready for them now more than ever.  So get ready for holiday demand with shippers only available from Frieda's.
Research shows that rich-hued purple vegetables are hot sellers. In fact, retailers carrying Frieda's exclusive Stokes Purple® sweet potatoes are seeing as much as 20% increases in weekly dollar same-store sales on this item vs. prior years' sales, according to Nielson data1. These purple sweet potatoes are flying off the shelves!
Why you might ask? It's the nation's focus on functional foods, which is peaking now. According to the Mayo Clinic, functional foods are nutrient-dense items that promote optimal health while reducing the risk of disease. Examples include items like oatmeal, nuts, berries, and purple sweet potatoes. The Hartman Group research firm is predicting that functional foods will hit a high this year as COVID-concerned, health-oriented shoppers look to empower themselves and power up their diets with antioxidants.
Frieda's suggests creating superfood displays that combine items like Stokes Purple® sweet potatoes, fresh turmeric, ginger root, and citrus. Tout the nutrition benefits of these fruits & vegetables and turn your produce department into a fresh, functional foods destination.
"Stokes are in high demand this year as we anticipate that holiday cooking will have a functional spin," says Alex Berkley, Frieda's director of sales. "Stokes Purple® sweet potatoes are ideal to promote for Thanksgiving and Christmas, and our display shipper is a great way to showcase them and add incremental shelf space. We recommend using signage to suggest that shoppers create healthy holiday favorites like Stokes Purple® sweet potato pie."
Organic and conventional Stokes Purple® sweet potatoes are available now through May in 15-lb. and 40-lb. cartons. Every potato is labeled to reduce front-end checker error. An organic 12/3-lb. bag option is also available.
Call your Frieda's account manager today for help in planning your ads now and pre-booking supply.
Source:
1 Nielsen Data xAOC, regional retailer in the NE. 52 weeks ending 7/11/20
About Frieda's Inc.
Frieda's Specialty Produce has been inspiring new food experiences for friends, families, and food lovers everywhere since 1962. From kiwifruit and dragon fruit to Stokes Purple® sweet potatoes and habanero peppers, Frieda's has introduced more than 200 unique fruits and vegetables to the U.S. marketplace. Founded by produce industry trailblazer Dr. Frieda Rapoport Caplan, subject of the 2015 documentary "Fear No Fruit," the family company is owned and operated by Frieda's daughters, Karen Caplan and Jackie Caplan Wiggins, in Orange County, California. Find Frieda's on Facebook, @FriedasProduce, and Friedas.com. Inspire. Taste. Love.
Let me start by saying I don't watch (much) television. It's probably because I've always gotten up early (5:00 a.m.) to go to work, and when I get home in the late afternoon, I usually spend my time exercising, doing a little catch up work and then hit the sack, so I can get my 8 hours of sleep. That—combined with the 24-hour news cycle of negative and bad news that makes me crazy—is probably why the only things I will occasionally watch on weekends are the Food Network (think "Chopped") or HGTV (to watch others remodel their homes).
That was until my niece Heather sent me a text four weeks ago. It said, "Do you have Amazon Prime Video? I'm watching something called 'World's Toughest Race—The Eco Challenge.' They advertise it as a race that eats Ironmen for lunch. Jack might be interested in watching."
I didn't think anything of it, until my partner Jack brought up the show a couple of weeks later (fun fact: Jack has completed 15 full Ironman challenges!). He wanted to watch it one night (it's a 10-show series). I agreed because, after all, my niece had recommended it.
I want to add that I have never had any interest in watching the "Survivor" series, and I am not an outdoorsy person. But after watching the first night of "The Eco Challenge," I was shocked to find myself completely hooked and potentially obsessed with it.
A quick synopsis: the challenge consisted of 66 teams of four people (each team had members of both sexes). Their goal was an 11-day "dash" over 400 miles of the rugged mountains, rivers and jungles of Fiji. Participants came from 30 countries and the 10-part series followed eight teams of endurance athletes 24 hours a day (they slept very little) from the beginning to the very end of this dangerous trek.
Cycling, hiking in the jungle, rowing, riding the rapids, swimming in a 55-degree river for hours, stand-up paddle boarding—they did it all!
Each night, I found myself rushing through dinner so we could turn on "The Eco Challenge" to watch the latest installment of this incredible and exhilarating human experience. Not only did the 700-person camera crew follow the teams into the jungle, they interviewed them and got a lens into their personal life, pre-Eco.
Of all the teams that were profiled, one from Spain really caught my eye. Team Summit was made up of a group who have a broad experience in expedition races. They were friends and had a deep personal connection before they came together for "The Eco Challenge." The team captain was Emma Roca from Barcelona and there was something about her that caught my eye.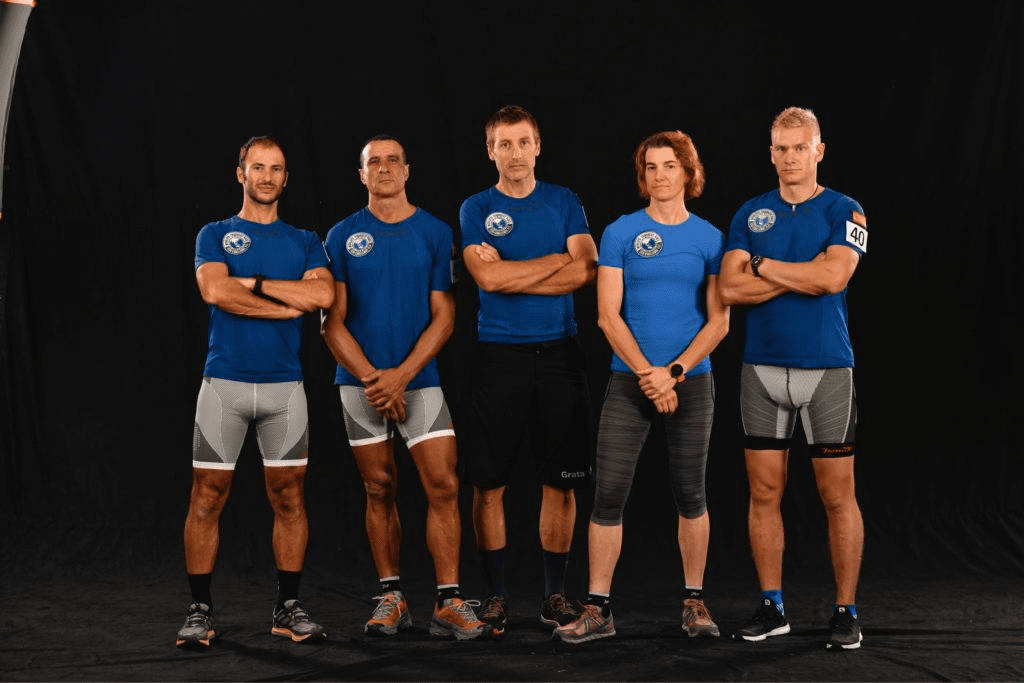 (Emma and the three other members of TEAM SUMMIT, plus one additional team member as the support person who kept them fed, clothed and rested at each checkpoint.)
So after watching the series, I googled her and found her website Emma Roca. Not only was she a world-class elite athlete—she has a PhD in biomedical engineering! She currently is a firefighter and she and her husband have three young children.
To quote her website (thank you google for translating from Catalan):
"Between putting out fires, being a mother, competing all over the world and enjoying as much as I can, I was able to finish my PhD in Biomedical Engineering and co-found several companies related to health and sports. I combine being a mother, a scientist, an entrepreneur, a professional firefighter and an ultra-background athlete squaring a minute-by-minute agenda. They call me a multi-tasking woman, but I keep the secret with the great team I have behind me!"
As I read further on her website, I learned that 18 months ago she was diagnosed with a vulvar carcinoma (cancer of the vulva). It usually appears in women over the age of 70. Emma has taken on the fight by having surgery and is now having radiation treatments. She is incredibly optimistic and inspiring.
So, I looked her up on LinkedIn, found her Messenger account and sent her a message. Then I crossed my fingers. I asked myself, would she write back to a total stranger from California, who was obsessed with her leadership and accomplishments from "The Eco Challenge"?
She wrote back the next day!
"Thanks Karen! Just doing treatment and very motivated to compete again!" And she sent me this photo.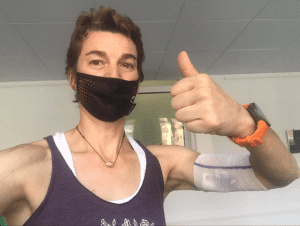 All I can say is Wow! Even if you are like me, and not really into outdoorsy or sports challenge shows, I suggest you check out "The Eco Challenge." It immediately fired me up and inspired me to step up my fitness game—big time.
After watching these teams compete 24 hours a day for up to 11 days straight, I found myself really driven to push myself a little harder. Instead of 30 minutes on the Peloton®, I did 45 minutes. Instead of a three-mile walk at the beach, I did five miles at 6 a.m. on a Sunday. I find myself visualizing my goal and being even more determined to get there.
How about you? Looking for a little motivation?  "ECO" "ECO" "ECO" is my new mantra!
Karen
When I was a sophomore in college, I attended Mills College in Oakland, California. It was only for one year, but that one year really changed my life. It's a women's college, so I didn't have the distractions of guys in my classes. But that's not what changed my life. What changed my life was their swimming pool.
Right in the middle of campus, next to the bookstore and coffee shop was a pool, with lap lanes. It wasn't a large pool, but something about it attracted me. So I bought a black Speedo bathing suit and started swimming laps every day. The pool couldn't have been too long (maybe 15 or 20 yards), because I could hold my breath the entire length of the pool. Between swimming daily laps, and cutting my food consumption down to 1,000 calories a day, I lost about 25 pounds my last semester and gained a ton of self-esteem.
Even when I came to work on the L.A. produce market with my mom that summer, I had someone come up to me to ask me where my sister was? The one who had been working there the summer before? Well, that "sister" was me! I looked transformed.
And that was the last time I swam laps. Until about three months ago.
Thanks to COVID, I have had to be creative about my exercise routine. We quit our gym membership, bought a Peloton® to do indoor cycling, have been doing running and taking 5–10 mile fast walks. Because I can't go to Orangetheory® for my cardio, I have been using the Concept2® Rower my partner Jack had at home (as a Triathlete/Ironman, of course he has a rower at home). And three months ago, the community pools in our development opened up.
I told Jack that I loved to swim, but it had been years. Literally more than 40 years since I swam laps. But I pulled out my swimming suit and we headed to the pool one day. Man, was it long. Way longer than I recall that pool at Mills College was. I was told it was 25 yards. So four lengths (two laps) was 100 yards.
Right away, in my head, I'm thinking that I am going to get side cramps. And that my sore right shoulder is going to make it difficult to swim more than a lap or two before I have to rest. So, I swam two lengths of the pool. Not too bad. I didn't push it and I noticed that my shoulder liked me being in the water and I did not get one single side cramp.
We were swimming in adjacent lanes, and every few days Jack would suggest a new "twist" on my swimming.  He would shoot a video so I could see my awkward strokes—I was able to fix that right away. He would time my swim, when I did four lengths (two laps) of the pool without stopping. I was so slow, especially compared to him. When I asked how I could learn to swim faster, he suggested using the rower to build upper body and shoulder strength since that is what helped him. So, I started rowing 15 minutes daily.
Finally, Jack dropped the big challenge on me last week. "Let's swim 20 lengths of the pool straight through," he says. I'm like, "ARE YOU KIDDING ME?? 20 lengths? I can only do four." I told him how much my arms would hurt and that my shoulders couldn't take it.
That's when Jack said, swimming 20 lengths is not hard because of your arms. It's your breathing. And I've been watching you, timing you, etc. for two months. I think you're ready. He's been a good coach, and I trust him. (After all, he got me to do two half-marathons in the last four months!)
So, I adjusted my goggles, took a deep breath, and started swimming. I counted my strokes: one, two, three, four (then took a breath). Back and forth. Staying calm. He was right—my arms didn't hurt at all. And because I was concentrating on counting my strokes and pacing my breathing, I didn't find myself out of breath.
At the end of 20 lengths of the pool, I stopped, pulled my head out of the water and started talking to Jack about how I could just keep swimming. Wow—I cannot believe that came out of my mouth!
Have you ever told yourself that you couldn't do something? Whether it's related to the pandemic, to your personal or business life—it doesn't matter. I told myself I could only swim two lengths of the pool. Then I could only swim four. And then one day, I received a new challenge and I easily swam 20 lengths of the pool.
I think that it is the same way with life. Perhaps you thought you could never work from home; but then the pandemic happened. Or you had to always have breakfast—then you learned about intermittent fasting and found yourself not eating until noon each day.
I think all of us have self-limiting beliefs or self-imposed limitations. Consider what yours are. What stories do you tell yourself? What things do you not try because that is what you've always done, or what you've never done?
Next time you are telling yourself what you cannot do, I want you to think: two lengths of the pool . . . four lengths of the pool . . . 20 lengths of the pool . . . the goals are limitless!
Karen