Los Alamitos, CA – It's back-to-busy season! American's fall schedules are powering back up after the summer slowdown and Frieda's Branded Produce is ready to fuel the day with nutritious, fun and flavorful solutions.
"We all know breakfast is the most important meal of the day, but we also know consumer's morning routines can become monotonous" says Cindy Sherman, Senior Director of Marketing Insights & Innovation at Frieda's. "In a recent study, we learned that 52 percent of shoppers believe that produce packaging with recipes and instructions encourages them to try something new. Inspire shoppers this fall with vibrant new breakfast displays; inviting colorful, healthy and delicious produce to take over the mundane morning routine."
Frieda's produce items introduce both sweet and savory flavors to breakfast menus and produce department, leveling up consumer's morning options. Frieda's Stokes Purple® sweet potatoes provide a game changing twist of color and flavor to the infamous avocado toast, where connoisseurs are trading up from bread to vitamin packed purple sweet potatoes as the base. Create an avocado toast destination in your produce department by cross-merchandising Stokes Purple® near avocados, Watermelon Radish, sprouts and other power packed toppings.
Smoothies, puddings, and yogurt bowls have taken the breakfast game up a notch, starring in mouthwatering Instagram feeds. Frieda's Honey Dragons® blended with the rambunctious sweetness of Rambas™ Rambutans, deliver a taste of the tropics to your morning power bowl or pudding. Skip the weekday mess and prep these recipes in larger batches over the weekend, saving time and energy.
"Breakfast sets the tone for the day, but weekday mornings can be hectic," shared Sherman, also a mother of two.
"On the weekends we enjoy making big batch breakfast meals that we grab-n-go throughout the week," says Cindy.
Looking for more ideas to make your produce department the ultimate breakfast destination? Call your Frieda's account manager today for more product ideas and in-store marketing support that will keep your shoppers inspired all busy-season long.
Source: C+R 1,000 person study, 2022
About Frieda's Inc.
Frieda's Branded Produce has been inspiring new food experiences for friends, families and food lovers everywhere since 1962. From kiwifruit and dragon fruit to Stokes Purple® sweet potatoes and habanero peppers, Frieda's has introduced more than 200 unique fruits and vegetables to the U.S. marketplace. Founded by produce industry trailblazer Dr. Frieda Rapoport Caplan, subject of the 2015 documentary "Fear No Fruit," the family company is owned and operated by Frieda's daughters, Karen Caplan and Jackie Caplan Wiggins, in Orange County, California. Find Frieda's on Facebook, @FriedasProduce and Friedas.com. Inspire. Taste. Love.
When is the last time you wrote a handwritten thank-you note? 
In this day of texts and emails, it's so easy to send someone a quick text after you have a meal together, or perhaps you send an email after a client meeting. Of course, I do those things, too.
However, I am a big believer in the power of handwritten notes. This year, I have a personal goal of sending more personal, handwritten notes than I did last year. And last year I wrote 511 (yes, you read that correctly, five hundred and eleven—more than one a day)! Why would I do such a thing … and why would I track it?
I have found that making the time to pen a handwritten note makes me recall the person I am writing to. I recall the memory and the feeling about them. Whether it is a birthday card to a special friend, or a thank-you note for a special gift or experience, I love pausing to think about that person.
For example, I was at a produce industry show a few weeks ago and had the chance to chat with someone I had never met before at a cocktail party. He is a supermarket executive at a well-known company. We chatted for about 20 minutes, and I learned that he was just starting to play golf (like me), and he happened to share his middle name (which most people do not know). When I got back to my office, I could have easily sent him an email saying that I enjoyed chatting with him.
Instead, I went home, ordered an extra copy of a small book on golf that I am reading, and (after it arrived) I penned him a handwritten note. I squeezed in his middle name on the card (I thought he would chuckle), shared why I was sending him the book and then dropped it in the mail.
Just a few days later I received a text from him! It included a photo of the book cover, many smiley faces and this comment, "I can tell you listened to me" … and he wrote his middle name.
It's my hope that each time he grabs that book or plays a round of golf, that he reminisces on our great conversation. This is the kind of personal connection that can't be replicated through email.
So, why do I track the number of handwritten notes I send? For two reasons: First, I set a goal and the only way to achieve a goal is to track your progress. Second, filling in my "HWN" (handwritten note) number causes me to think of who else I could or should write a note to. (I recap my goals each month, so each week I glance at my calendar to see what actions I've taken. This provides a great reminder.)
Finally, you're probably wondering how I wrote so many letters last year. When you track a personal goal, it can often become a fun, internal competition with yourself, however this goal empowered me to communicate with others in an authentic way and had surprising results. For example, when I wanted to reach out to a friend who was going through a rough patch in her life, I realized that sending a text was one thing, but I could make an even more positive impact by hand-writing a personal note, or picking out a "thinking of you" card and writing a short-but-sweet message. In fact, one friend confided in me that when she receives a note from me, it completely cheers her up.
So, the next time you are thinking of a friend, family member or business colleague, grab a pen, dash off a quick note, and bring a smile to their face. 
Do you have any hand-written note stories? I'd love to hear them!
Karen
I know estrogen might seem like an usual topic for my blog, but stick with me on this one. Because I am guessing that more than 50% of the readers of this blog are women. And the rest of the readers are somehow related to, working with or living with a woman. So, the topic is pretty relevant to everyone.
So, last week my doctor recommended the book Estrogen Matters to me.
At some time in a woman's life, she will have the opportunity to decide whether or not to take estrogen—whether it's making the choice to take birth control pills (which contain estrogen) or to take estrogen later in life when she begins to go through menopause.
Like many baby boomers, I was on birth control pills for more than 30 years (from college until my early 50s). But when I started to go through menopause, my doctor suggested that I take hormone replacement therapy (HRT—a combination of estrogen AND progesterone). My doctor (at that time it was a male doctor) assured me that it was safe, that it would keep my moods even, eliminate those pesky hot flashes, and help keep my skin soft and "young looking."
But each year when I went to see my doctor, I would ask him if I should continue taking my HRT. Was it safe? Especially after my sister Jackie was diagnosed with breast cancer 11 years ago, my doctor and I had many conversations. I was aware of the Women's Health Initiative (WHI) study that took place more than 20 years ago, and some of the results were interpreted to imply that taking estrogen could increase the risk for breast cancer.
My male doctor retired a few years ago, and my new doctor (a woman this time) and I continued these discussions each year. She assured me that the research showed that, in fact, the benefits of taking estrogen after menopause were significant. Especially for heart and brain health. Plus, it helps keep your skin looking young (and that is something I really appreciate).
But about six months ago, one of my annual health tests had a somewhat unusual result. And I got scared. I decided that I should stop taking my HRT. My doctor told me it was my choice, but warned me of the side effects: most notably, frequent and extreme hot flashes and insomnia. And some extra muscle aches and pains.
And that's what I have been experiencing for the last six months: raging hot flashes several times a day and insomnia many times a week.
So last week, when I went back to see a different doctor and mentioned that I stopped my HRT a few months ago, she told me she would not have recommended that to me. She gently suggested I read the book, Estrogen Matters: Why Taking Hormones in Menopause Can Improve Women's Well-Being and Lengthen Their Lives—Without Raising the Risk of Breast Cancer. On my way home that day, I downloaded the book on Audible and started listening to it.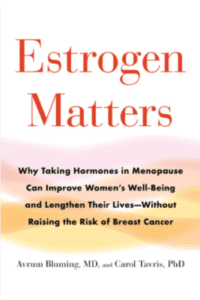 I could not stop listening to the book, narrated by two authors: Avrum Bluming, MD, and Carol Tavis, PhD. I appreciated the detailed and balanced research that Dr. Tavis included, and it was compelling to hear Dr. Bluming give personal examples of his debates with other physicians.
The two scientifically proven benefits of estrogen that got my attention the most may inspire you to get the book and read it for yourself. Estrogen is proven to maintain and improve:
1) brain health (think memory loss and Alzheimer's prevention), and
2) heart health (think stroke and heart attacks)
Those two things alone (brain and heart health)—which are always top of mind as we get into our 50s, 60s and 70s—made it an easy decision for me to go back on my hormone replacement therapy. I've already re-ordered my prescriptions and can't wait for them to arrive.
If you have an interest in improving women's well-being and lengthening their lives, either for yourself or a loved one, get this book. It's an easy read, and it's great to have the history and the facts about why estrogen matters.
Karen