It was great to spend the Thanksgiving weekend with family and friends. As per usual, we had a household debacle … this time, instead of the turkey not cooking fast enough in the oven, my dishwasher stopped working the morning of our big meal. And then the guest toilet stopped working after dinner.
These are first-world problems. And I know we were not the only people to have hiccups during the day—two of my friends texted me that their ovens stopped working—so they ended up barbecuing their turkeys! Ingenious!
Now that Thanksgiving weekend is over, what's top of mind? Cyber Monday? Giving Tuesday? Shopping for holiday gifts?
How about none of the above?
What if you took some time between now and Christmas to think about next year—2023? What do you want to do, or accomplish, in the new year?
Travel?
Foster more personal or professional development?
Build on your health and fitness?
Form stronger personal connections with friends and family?
The time between the two big holidays is the PERFECT time to reflect on this past year and to look forward to the new year. Many of us have the "woulda, coulda, shouldas" about this year.
"I should have gone on a vacation to Spain … I saw so many of my friends post photos on Facebook and Instagram … makes me wish I went there."
"I could have made sure to call my parents or grandparents more frequently …"
"If I'd gone to the gym more often, I would be in better shape by now."
One of my coworkers set a goal for himself in 2021 to become a certified SCUBA diver in 2022. He mapped out the trips he would take and what classes were required (and when). Just last week told me he is now a certified instructor! And this a busy guy, even without this new hobby! The key was that last year he thought ahead, identified those things that were important to him, and created a plan of how to accomplish those goals. I'm sure he had the goals written down and put dates on the calendar to make sure he hit his target.
Everyone has their own goals and priorities. It may not be traveling to Spain or learning to SCUBA dive. However, I've learned that it pays off to make the time to start a list of those things that you want to accomplish—and then spend a few minutes each day or week adding to the list. Pretty soon you have a significant list of goals, including some "bucket list" items.
More than 10 years ago, I wrote out my first bucket list. It really wasn't that hard, as I was at a weekend business retreat and our facilitator set aside about an hour for us to work on it. I have a lot of travel on my list (Spain, India, Morocco, Macchu Pichu, to name a few). I set a few business goals (revenue, profits, client targets, how much to donate to charity). I also added some health goals (run a half marathon, lower my resting heart rate, and sleep at least 7 hours a night).
When I found that bucket list buried on my desk when I moved 3 years ago, I realized that I would be better served to keep my bucket list more visible. Looking at it 7 years after writing it didn't seem like I really wanted to accomplish the things on my list. If you're looking for some ideas for a bucket list, you can do an internet search for "Bucket list" or try this one.
So now, I actually carry it around with me in my daily planning calendar. I review it each month's end to see how I am tracking against my goals. And now that we are in the home stretch for the year, I am getting kind of excited to think about what I want to accomplish next year.
How about you? Next time you are trying to figure out what gift to buy a friend or partner, how about shifting to what gift you want to gift yourself in the new year? For every hour you spend surfing the web for gift ideas, how about investing an hour thinking about what's important to you—and what you need to do to accomplish those things?
Just thinking about the new year—and what potential there is do some fun things in 2023—makes me smile.
How about you? I would love to learn what's on YOUR bucket list for 2023.
Karen
It's hard to believe that next week is already Thanksgiving. Last year when my family celebrated Thanksgiving we had an epic fail. Literally, the turkey never cooked! We are not sure what happened, but our oven never got hot enough to cook the turkey! So, we ate lots of appetizers and vegetables, and finally, a few hours later, when we got the oven heated up, we had (dry) turkey … to go with our pumpkin pie!
But honestly, that whole experience really demonstrated what I love most about Thanksgiving—and that is having my entire extended family and many close friends in our home, cooking and eating together. We can laugh about it (that we had a turkeyless Thanksgiving) now, but it really bonded us all.
This year, as we are planning our gathering for next weekend (we hold our family gathering on the Saturday after Thanksgiving), I realize what I am most grateful for are the special contributions each person makes to our all-day experience.
Part of our tradition is that my girls and I do most of the cooking and spend the entire morning cutting, chopping, cooking, and cleaning together. It is a special bonding experience for us that really brings us together as a family.
My daughter Sophia (who is gluten-free, soy-free, and dairy-free) makes "Sophia-friendly" deviled eggs and mashed potatoes. My daughter Alex makes her special roasted carrots and tomato pudding (like bread pudding but smothered in yummy fresh-cooked tomatoes). She lovingly makes two separate versions: one with gluten-free bread and non-dairy cheese, and another one with regular bread and cheese. There are plenty of food allergies in my family, so we accommodate all of them with no guilt!
I decided this year NOT to take a chance on cooking the turkey and am ordering pre-cooked turkey from our local supermarket. My specialties are an amazing green salad, roasted brussels sprouts, and steamed fresh haricots verts (thin green beans) with a shallot butter. And of course, I will be roasting cubed sweet potatoes, red and gold beets, and Stokes Purple® sweet potatoes.
My niece Heather and her husband Noah stop at Costco to purchase pumpkin and apple pies. My sister Jackie and a few of my friends pitch in by doing the dishes and clean up.
And of course, it is the one time of year that I make our signature Stokes Purple® Sweet Potato Pie. That purple-tinged pie, with homemade whipped cream, has become a family favorite!
Oh, and did I mention the wine we will be enjoying? That's my partner Jack's specialty. He brings out some of his special red wines for all of us to enjoy.
So, as you are gathering with your family and friends next week, I hope you will think about what a special memory you are creating. It is not about the flavor of the turkey. Or how stuffed you feel at the end of the day. Or how good the desserts are. It's really about the memories you are creating together. Hopefully, you will not have the "fail" that we had last year with our turkey debacle, but even if you do, count it as a memory in the making.
And in case you are in the mood to try making a Purple Sweet Potato pie for your family gathering, please enjoy this recipe. It's become our family favorite.
 Warm wishes for an enjoyable Thanksgiving and Friendsgiving holiday weekend!
Karen
Los Alamitos, CA (November 2022) – This holiday season Frieda's has teamed up with the innovative recipe nut brand, Diamond of California to create a cross-promotion that brings inspiration to tables around the country. Diamond's nut products provide a fresh, great-tasting compliment for every meal occasion. When paired with Frieda's shallots and organic Stokes Purple® sweet potatoes, Diamond of California's Nut Coatings and ready-to-use Nut Pie Crusts deliver delicious cross-promotion opportunities.
In order to expand awareness of the collaboration, Frieda's and Diamond Foods have teamed up with plant-based blogger, ShortGirlTallOrder, a self-made baker who inspires over 86k followers on social media with her vegan comfort food recipes. The colorful, healthy, and delicious campaign will deliver a series of tasty recipes throughout social channels.
"I believe eating plant-based food can be enjoyable for everyone. Eating plants doesn't have to be hard and it certainly shouldn't be boring", shares Megan Horowitch, creator behind SGTO. "I want to inspire others to eat the foods they feel good about and give them the confidence to create these recipes at home."
The content creation partnership is a natural fit, as the Frieda's motto is "normal is boring." Megan has created mouthwatering recipes that deliver the perfect balance of sweet and savory, like her Vegan Purple Sweet Potato Streusel Pie and Crispy Delicata Squash with Caramelized Shallot Dip.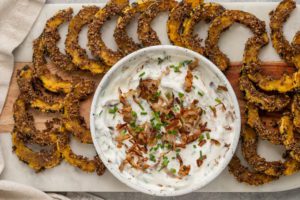 Cross-merchandising is key. Recipe ingredients like Diamond's ready-to-use chopped nuts and pie crusts are the perfect complements to Frieda's Stokes Purple® sweet potato holiday display, encouraging an extra ring at the register and a full-stop dessert solution for shoppers.
Contact your Frieda's account manager today for help planning your holiday ads and pre-booking supply.
About Frieda's Inc.
Frieda's Branded Produce has been inspiring new food experiences for friends, families and food lovers everywhere since 1962. From kiwifruit and dragon fruit to Stokes Purple® sweet potatoes and habanero peppers, Frieda's has introduced more than 200 unique fruits and vegetables to the U.S. marketplace. Founded by produce industry trailblazer Dr. Frieda Rapoport Caplan, subject of the 2015 documentary "Fear No Fruit," the family company is owned and operated by Frieda's daughters, Karen Caplan and Jackie Caplan Wiggins, in Orange County, California. Find Frieda's on Facebook, @FriedasProduce and Friedas.com. Inspire. Taste. Love.
Last week, I attended a leadership conference in Las Vegas with more than 500 women from the U.S. and those representing more than 25 countries around the world. This was the International Women's Forum's annual Leadership Conference, and one of the many highlights are "behind the scenes local tours" that you can sign up for.
Because I signed up for my tour several months ago, I didn't really remember what I chose. But on my badge was the word "Switch." When I arrived at the loading area for the busses, my tour guide's sign said, "Inside the Internet." Whaaat?
First let me go back a few years to show why location matters here. In 2006, when I was a director of the Los Angeles branch of the Federal Reserve Bank, I remember one of our monthly meetings was held in Las Vegas. Nevada is part of the 12th District of the Fed (as is California, Arizona, Alaska, Hawaii, Idaho, Oregon, Utah, Washington, plus American Samoa, Guam and the Commonwealth of the Northern Mariana Islands). During that meeting, speakers from Nevada presented to us and shared that Nevada historically is free of all natural disasters (earthquakes, floods, tornadoes, etc.) and thus is a place where many companies securely store their offsite data.
So, when we arrived at SWITCH headquarters several miles from the Las Vegas Strip, it all started to make sense.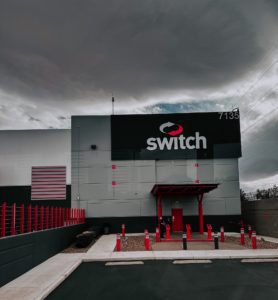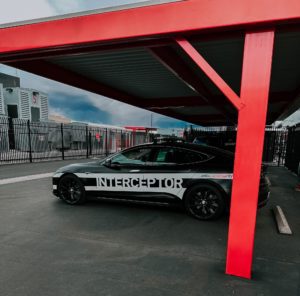 Not only did we have to surrender our drivers' license IDs when we entered the building, but there were no pictures allowed. (I took these few photos with permission from security.)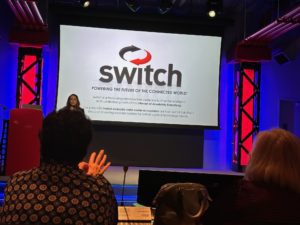 We were given an overview by one of the most confident and knowledgeable people I've ever heard present—Missy Young, Chief Information Officer of SWITCH. She is an 18-year employee and started working for founder, Rob Roy, shortly after he founded the company in 2000. When Switch Communications started it was mainly a government and military contractor, but the company started to target Fortune 1000 companies about a decade later. They have 5 Exascale, industry leading telecommunications solutions and next-generation technology data centers in the United States, plus two more coming on board in Milan, Italy and Thailand.
Rob currently owns multiple patents and trademarks and is truly brilliant. The company is currently public but it has plans to go private again soon. I didn't get to meet Rob, but you can tell by the branding inside and outside the company, the uber high-level security, and the quality and passion of their team that he is an industry icon and inventor.
Check out this 3-minute video tour of the Las Vegas data center.
The way it's set up is that SWITCH provides the power grid and the concrete buildings, as well as back up to power the data for companies around the world. Each client company provides its own services and equipment and is assigned fenced cabinets in areas of the various buildings. SWITCH never accesses anyone's data. Each client company is responsible for all the maintenance and installation of their own equipment. SWITCH is the data warehouse and power source.
While we were touring one of buildings in Las Vegas, I turned to our tour guide, who happened to be a member of the sales team. I asked her, "Is this the easiest sales job ever?" She smiled at me and said "yes!" I asked her that because in the data security business, I cannot imagine there is another company on the planet that guarantees a 100% power uptime 24/7/365, plus security on par with the Pentagon, with triple backup systems. (In the video, the blue, red and grey-colored boxes are each a part of the power system grid with two of them always operational while the third one is being serviced.)
Fun fact: Every one of the staff was dressed in mostly black, with a bit of red. So I asked, is there a uniform? I was told that everyone who works for SWITCH always wears at least 51% black, and the rest of their outfit can be denim or grey with a "touch" of red (just like their buildings, their vehicles, and their website!).
As we were leaving SWITCH in Las Vegas, I asked if they give public tours. I was told if conventions are held in Las Vegas that tours of SWITCH are often available. They have resumed tours after a two-year COVID-induced pause. I would encourage anyone who has an interest in offsite data storage and security—or simply technology innovation in general—to find a way to tour SWITCH. They can't mention all the names of their clients (without permission), but SWITCH runs Amazon. Enough said.
As we were leaving, Missy said to our group: And now you can tell everyone that you have been "inside the internet." Literally.
Karen