Los Alamitos, CA (September 2021) –  Stokes Purple® sweet potatoes are back in season, and it's the ideal time to showcase these colorful tubers. Frieda's makes it easy with eye-catching, stand-alone shippers that help consumers realize they can easily add color and flair to their holiday meal.
Research shows that rich-hued purple vegetables are in demand, and pie is hotter than ever. A recent survey reveals that half of consumers plan to serve sweet potato pie this Thanksgiving, and more than one-third of consumers specifically said that they plan to make Stokes Purple® sweet potato pie with maple whipped cream. Surprisingly, men showed a bias for this versus women, and the purple pie over-indexes in popularity with consumers ages 18-44. 1
Why, you might ask? It might have something to do with the mixed sentiment of the holidays this year.  Consumers want to celebrate but are still cautious to do so, so they're looking for small ways to dial up the mood this Thanksgiving. In fact, 20% of consumers agreed that Thanksgiving would feel more festive if the food were more colorful (and this was as high as 25% amongst those with children). Additionally, 64% of consumers agreed that they wanted to make a beautiful dessert that adds color to the table, especially amongst consumers ages 25-34. 1
What better way to add display space for Stokes Purple sweet potatoes than an exclusive shipper, available only from Frieda's? The eye-catching display showcases a camera phone-friendly ingredient list and QR code for the full recipe.
"Shopper interest in Stokes just keeps going up. Previously thought to be a specialty potato, our research shows that all demographics are buying Stokes year-round, and Thanksgiving is a great opportunity to gain trial in all stores," says Alex Berkley, Frieda's director of sales.  "Our tastebud-tantalizing signage will leave your shoppers craving our signature Stokes Purple® sweet potato pie."
Organic and conventional Stokes Purple® sweet potatoes are available now through May in 15-lb. and 40-lb. cartons. Every potato is labeled to reduce front-end checker error. An organic 12/3-lb. bag option is also available.
Call your Frieda's account manager today for help in planning your ads now and pre-booking supply.
1 C+R 1,000 person study, August 2021
About Frieda's Inc.
Frieda's Specialty Produce has been inspiring new food experiences for friends, families, and food lovers everywhere since 1962. From kiwifruit and dragon fruit, to Stokes Purple® sweet potatoes and habanero peppers, Frieda's has introduced more than 200 unique fruits and vegetables to the U.S. marketplace. Founded by produce industry trailblazer Dr. Frieda Rapoport Caplan, subject of the 2015 documentary "Fear No Fruit," the family company is owned and operated by Frieda's daughters, Karen Caplan and Jackie Caplan Wiggins, in Orange County, California. Find Frieda's on Facebook, @FriedasProduce, and Friedas.com. Inspire. Taste. Love.
Los Alamitos, CA (February 2021) — The lull between the Super Bowl and Easter often leaves grocery stores and shoppers looking for a bit of retail excitement—making it the perfect time to leverage that treasure hunt mentality and introduce new tropical favorites like dragon fruit.
Dragon fruit is no longer just for summer, in fact, 42% of shoppers said they would like to buy dragon fruit year-round1. With this in mind, Frieda's has created attention-getting, limited-edition ElastiTags® that showcase the different varieties of dragon fruit, including Honey Dragon™ and Snow Dragon™. These tags make it easier for shoppers to know what the fruit will look and taste like on the inside and they give consumers a reason to try both varieties.
"Promoting multiple varieties through inviting, bountiful displays is key right now, as shoppers are visiting stores less but stocking up when they do shop," says Cindy Sherman, director of marketing innovation & insights at Frieda's. In fact, a recent survey from Deloitte Consulting found that 54% of shoppers said they are visiting stores less frequently than before, with most only going to the store once every two weeks2.
Merchandise the two varieties together, alongside citrus favorites like sumo mandarins and pixie tangerines, to increase dollar ring. Or, add some excitement to your tropicals table with an eye-catching display of dragon fruit, jackfruit and pineapples for a vibrant and fun display.
Frieda's has strong supply of these two dragon fruit varieties from Ecuador and they will be available until the end of April.
Contact your Frieda's account representative today for merchandising suggestions, including our colorful 3-tier shipper, that maximize your sales per square foot.
Source:
1 C&R 1,000 person study, February 2020
2  Deloitte Fresh Food Consumer Survey, 2020
Home for the holidays? Us too!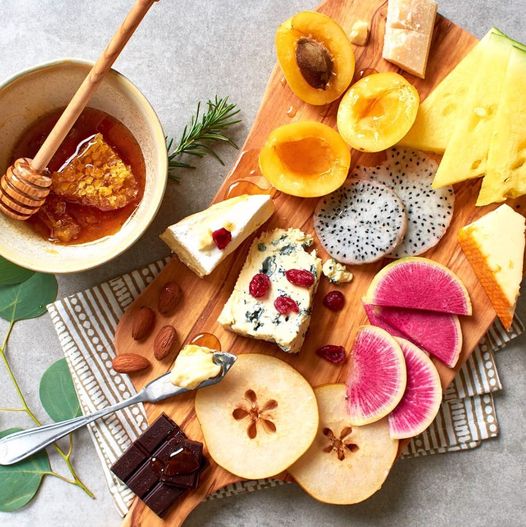 With Thanksgiving just a few weeks away, you're probably wondering what the holidays will look like this year—so are we! Celebrating the holidays may look quite a bit different, but that doesn't mean they can't be just as special—in fact, there has never been a better time to throw out the old (traditions) and ring in the new! Read on to find bold, stress-free, and responsible ways to add your own unique spin to the holidays.
See You on the Other Side (of the Screen)
If there's one thing we've embraced this year, it's simplicity. While nothing compares to seeing your friends' smiling faces in person, a virtual Thanksgiving may just be the next best thing. Not only do you get to invite as many people you want, but it's also the perfect way to catch up with people who you wouldn't ordinarily be able to see over the holidays … minus all the stress!
Invite your friends, pick a date, choose your favorite virtual platform, set up an online doc with a meal plan and grocery list for everyone to see, and then on the chosen day, prep and cook together, if you have the time, or set a time for everyone to log in and enjoy together (virtually, of course). A great way to get ahead of menu planning is by researching what's local and seasonal and take it from there. This year, the rules just don't count.
We recommend shaking up the classics and giving them a vibrant upgrade, like this Hearty Stokes Purple® sweet potato and cipolline onion breadless stuffing, or a Creamy Stokes Purple® sweet potato soup which not only keeps the menu light and easy, but is also bright and festive!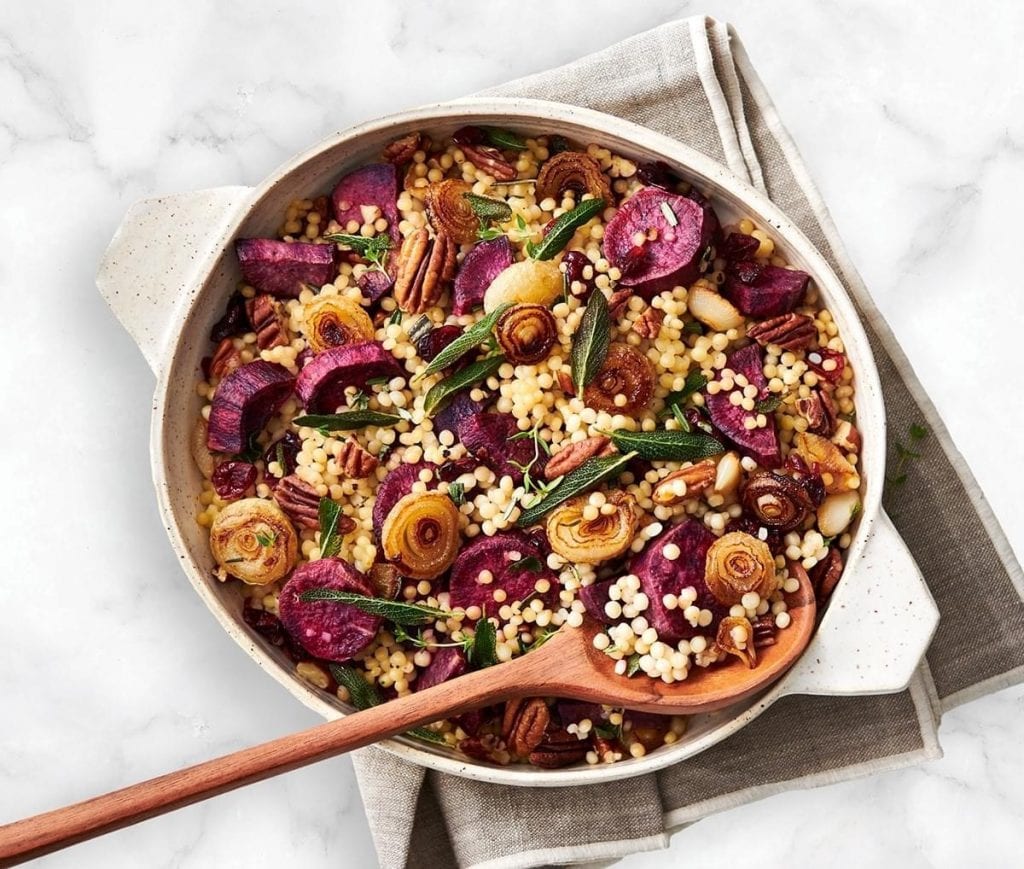 And what are the holidays without a little liquid celebration? Try a citrusy Kumquat Ginger Smash or the heady Passion Fruit Mojito, and the fortifying Rainbow Carrot, Turmeric, Ginger, and Blood Orange Juice—delicious with or without alcohol!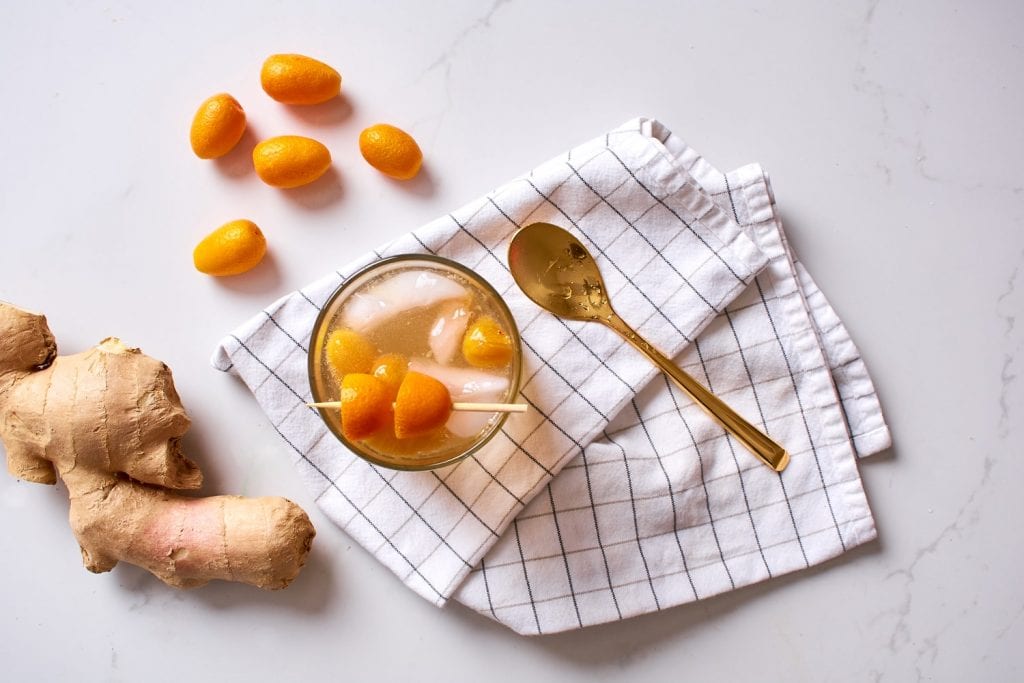 (Socially Distanced) Sugar Rush
If a full menu sounds like too much, why not keep it simple and skip straight to dessert? Host your very own virtual bake off, and while there may not be any Great British Bake Off grand-prize winner, where there's pie, everyone's a winner. We highly recommend the no-sweat, easy-peasy Frieda's Stokes Purple® sweet potato pie with fluffy maple whipped cream for a fun, modern twist on a classic Thanksgiving favorite.
Not a pie person? Try these Stokes Purple® sweet potato dark chocolate coconut cups, which are a great way to exercise portion control and restraint (even though you may not want to!). Plus, they pack a nutritional punch with Vitamin C, fiber and antioxidants, which is something we all could use right about now. Not convinced? Read all about the nutritional punch these purple sweet potatoes pack here.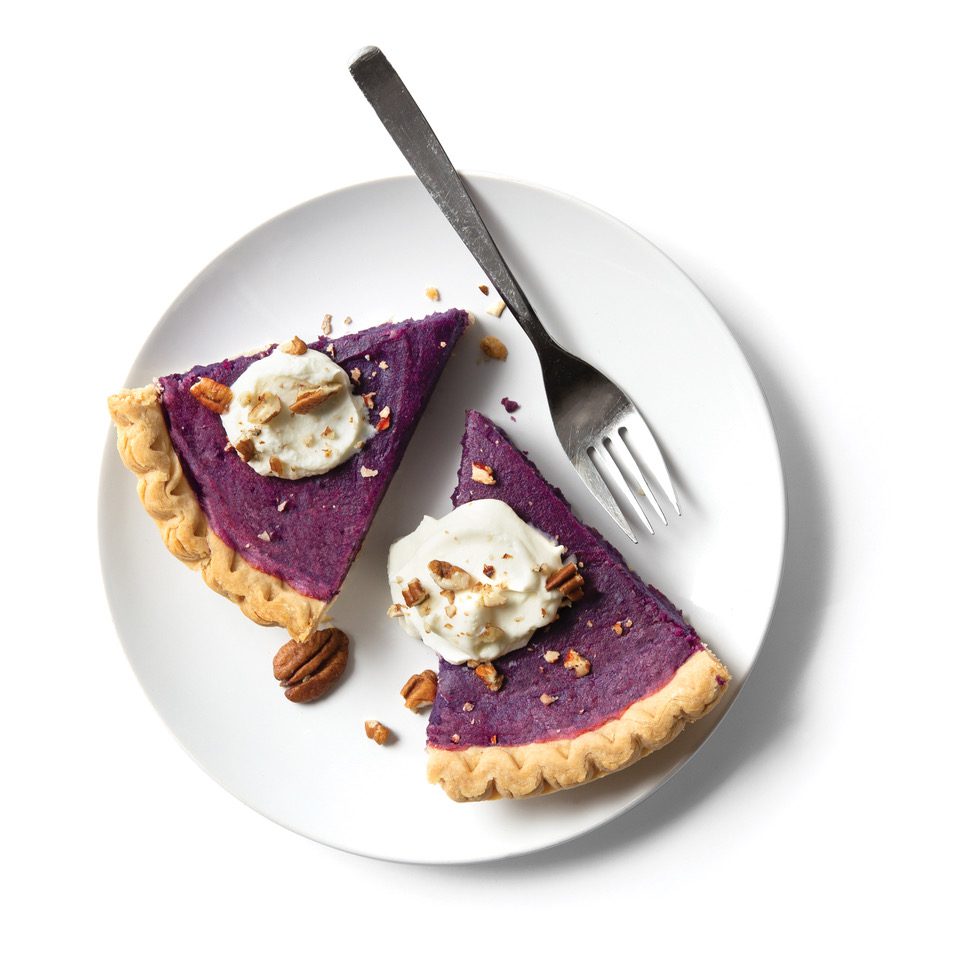 The Great Friendsgiving Drop-Off
Still want a big meal without all the leftovers and hard work? A door drop-off is just what you need. Divide up the menu and have all your friends cook one (or several) of their favorite dishes, divide up the portions, and drop them off at each other's door—the perfect way to get your fill of sweet, savory, and of course easy!
Looking for inspiration? Try these Hasselback Stokes purple® sweet potato with ginger turmeric glaze, easy to make and transport! Pro tip: Make a double batch of the glaze and save the leftover for spreading on toast or adding zippy flavor to roasted vegetables. If you're looking for something a little more comforting, try making a batch of these Stokes Purple® sweet potato biscuits with maple butter glaze, a deliciously cozy and easily transportable dish to drop off to friends and family. They're perfect to pair with your Thanksgiving spread or enjoy in the morning before the big feast begins.
Would it even be 2020 if we didn't mention the year's biggest vegetarian food trend … the cauliflower? This multicolored cruciferous veggie is not only delicious, but also extremely versatile and easy to cook, especially our Whole roasted colored cauliflower with salsa verde or the incredibly breathtaking (tasting?) Whole roasted purple cauliflower with a romesco sauce…*chefs kiss*
Pro tip: If you decide to make the turkey, make sure you take into account food allergies and restrictions.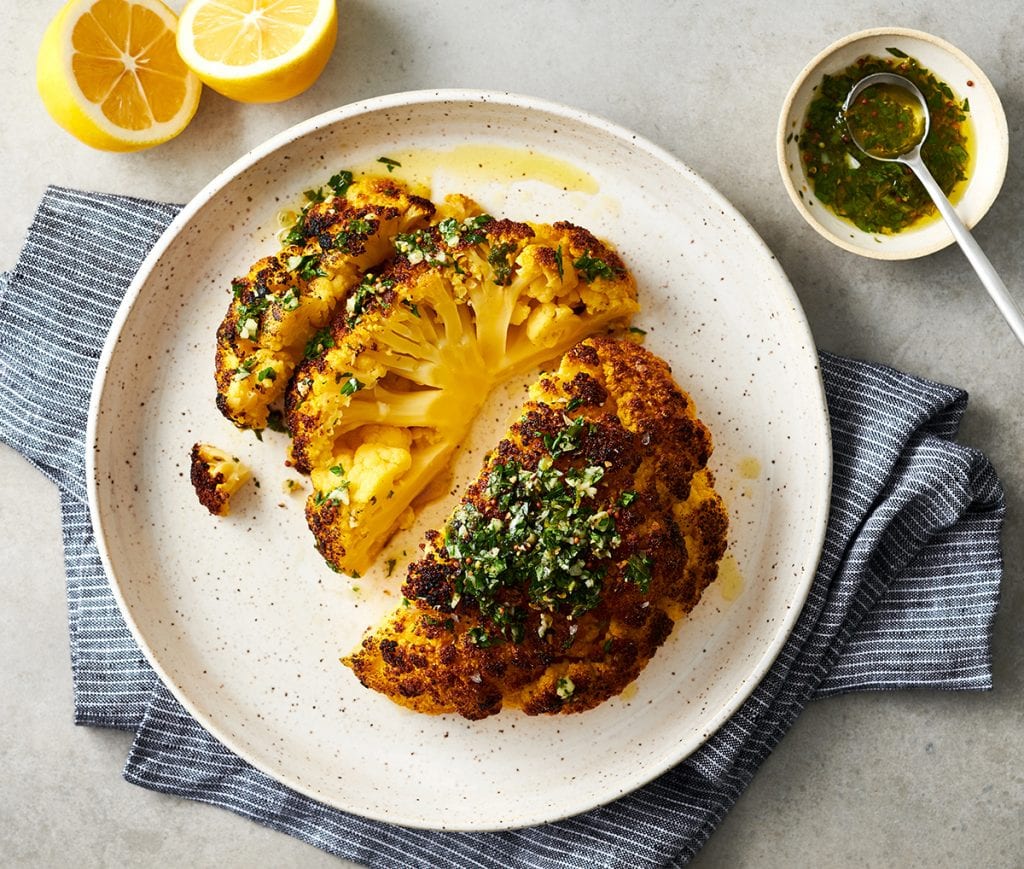 Charcuterie Board Banksy
Kick your virtual happy hour up a notch and add an element of creativity with a fun charcuterie board contest. A charcuterie board is typically filled with cured meats, cheeses, veggies, dried fruit, nuts, and crackers, but since we've done away with the rules, add whatever you want!
Start by defining a theme—rainbows, desserts or good old Thanksgiving foods are a few easy options- appoint a judge (preferably one who can't be bought with yummy treats) and then get ready to get competitive! If you've got your eye on the prize, then amp up the drama with fresh dragon fruit, kiwi berries, finger limes, kumquats, rambutan and watermelon radishes to not only set your board apart, but also add bright and festive pops of color.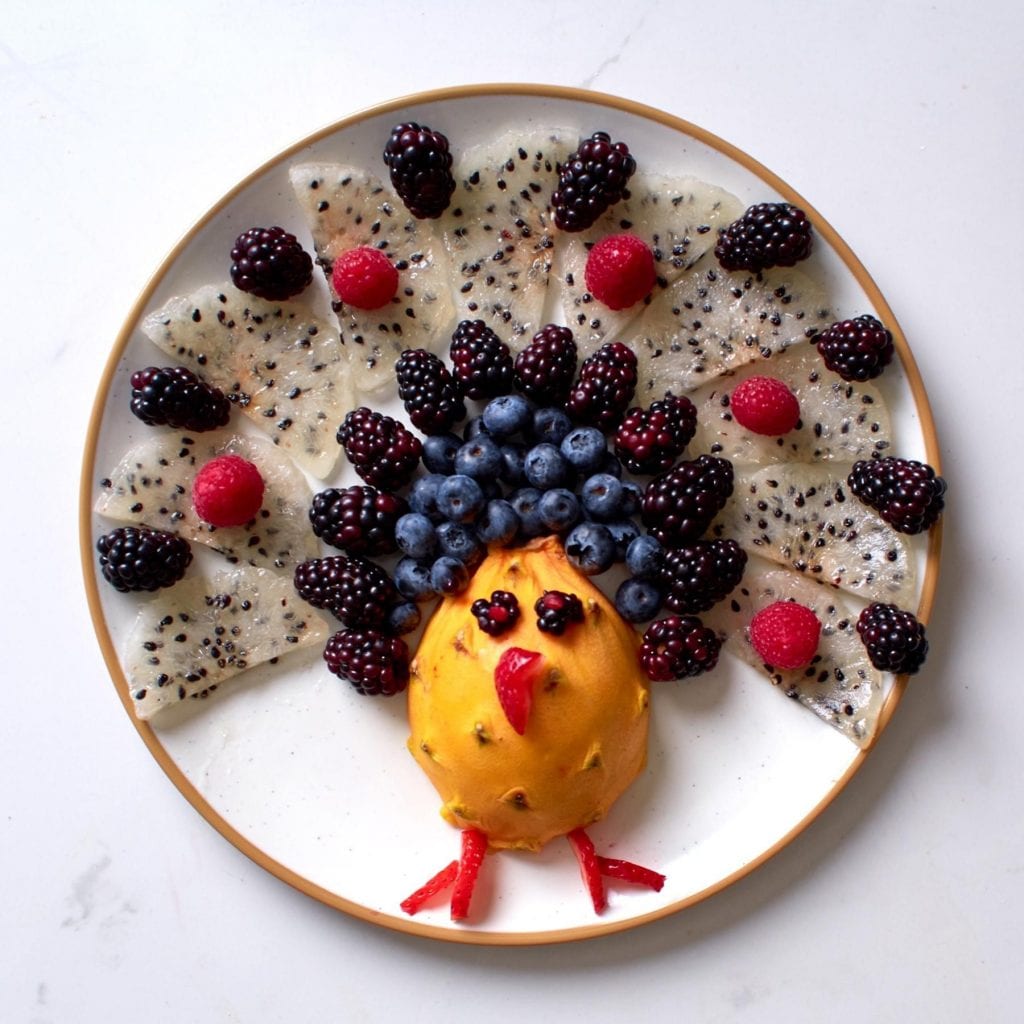 So Close, But Just Far Enough
If nothing can replace the feeling of actually being together, host a small and socially distanced gathering in your backyard with a potluck style spread. Set up an outdoor projector, watch some movies and have a small fire going, and let your guests graze on hummus and crudités, assorted skewers, Stokes Purple® sweet potato crostini with goat cheese, slices of our Winter Citrus Tart that hits all the right notes of sweet and tart, and cozy up with a mug of Golden Milk Turmeric Chai, or a nourishing Ginger and Turmeric Sipping Broth that feels like a hug in a mug.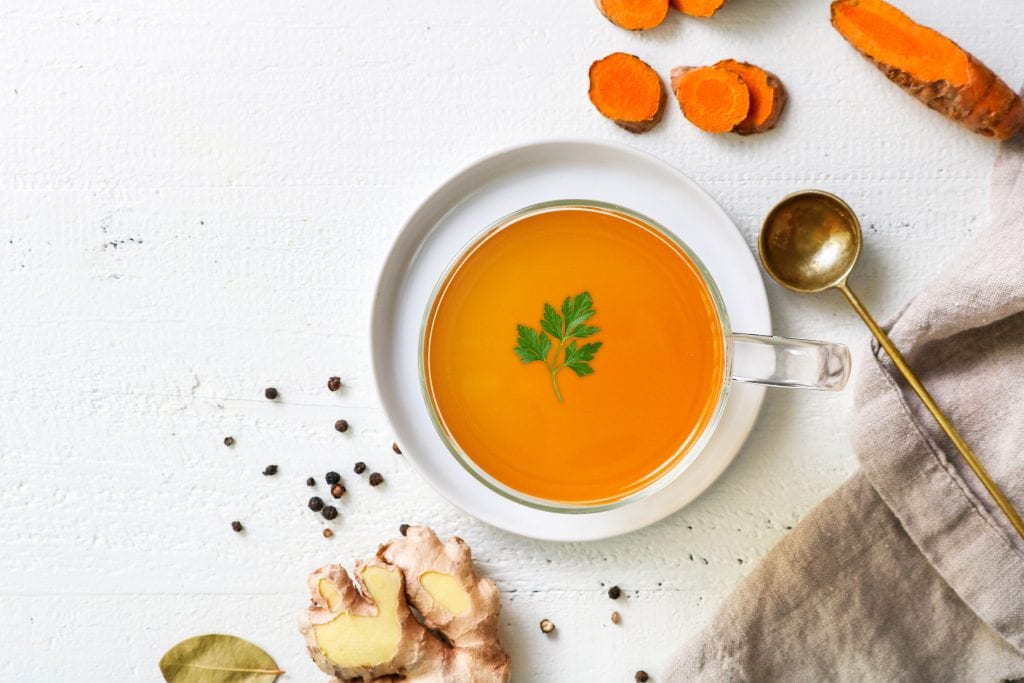 Sure, this might not feel like your typical Friendsgiving dinner, sharing drinks and dishes—and the occasional drama—but it's still worth celebrating. The celebrations may require putting in a little more effort than years past, but don't let that stop you from reaching out—whether that's 6 feet or 600 miles apart.
Wishing you all a safe, yummy, and inspiring Holiday season!