Gosh, it must have been 30 years ago when we were still on the Los Angeles Wholesale Produce Market. I would come to work at 4 o'clock in the morning – my mom, Frieda, had already been there since 2 a.m.
(The produce industry has always been an early-morning business. Years ago, the produce would arrive at the market directly from farmers at about midnight. We would take orders from our supermarket buyers in the wee hours of the morning and would deliver it to their warehouses in the late morning. Then the produce would be shipped to local supermarkets in the afternoon for sale to shoppers the next day.)
I'll never forget the day the first few boxes of these teeny tiny grapes arrived. They were from our good friend, Allan Corrin from Reedley, California. The outside of those wooden lugs displayed the name "Zante Currants."
They were tiny grapes about the size of your smallest fingernail. To eat them, you had to put the whole bunch in your mouth, and gently pull off the grapes with your teeth. Sweet, crisp, refreshing. Not only were they very sweet, they were fun to eat!
My mom and Allan worked together to create a more exciting name for these mini grapes. Why not call them "Champagne Grapes"? After all, they had a natural sparkle. And when clipped into small bunches, they were an attractive addition to glasses of bubbly champagne.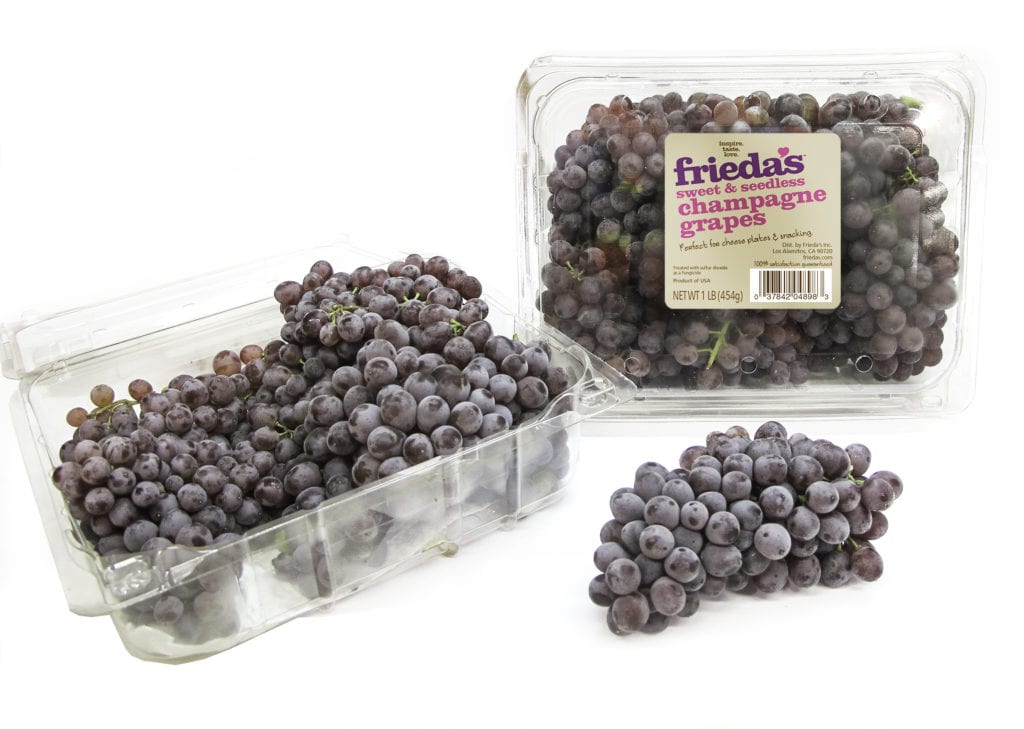 Now, more than 30 years later, there are several grape growers, from both Arizona and California, who grow these unique little grapes. The Arizona season just started (hot weather allows the grapes to sweeten up earlier), and in about a month, you will see California-grown Champagne Grapes available in your produce departments.
For convenience, many growers now pack the Champagne Grapes in plastic clamshell containers (containing about one pound of fruit). This makes it easier to pack and ship them, without the grapes getting crushed from handling.
If you are having a summer party or doing a cheese platter for an event, these are the perfect grape. And of course, if you have kids, you simply must try these mini-sized grapes. They are truly kid-friendly (and you won't have to cut them in half).
July and August are great times to try the many varieties of summer fruits. Champagne Grapes are only available in our summer time (no Southern Hemisphere supplies), so don't miss them! If you don't see them in your produce department, go find your produce manager and ask him/her to order them for you.
On a side note, our good friend Allan Corrin passed away in May of 2007, and left a legacy of innovation in the grape and tree fruit industry. I had the good fortune to have lunch with the ever-smiling, blue-eyed Allan back in 2005 at his favorite restaurant in Reedley. He was 78 when we dined and he took great pride in touring me through his experimental farm, filled with delicious new varieties of grapes and plums.
Allan would be happy to know that his beloved Champagne Grapes are now being sold to supermarkets across the United States!
Enjoy!
Karen