Betsy and I left her house and were on our way to the gym to do our Bootcamp workout.
During our short drive to the gym, we usually recap our days for each other (she's an Executive Recruiter) and then talk about what we're having for dinner. She informed me that she was making one of her favorite vegetables, "Corn on the Cob."
Thank goodness I wasn't the one driving when she told me that she put the corn in a pot of boiling water and hoped it would be done in 30-40 minutes when her husband got home. I was shocked that she was cooking the corn for so long.
She was a little surprised when I told her that I know a few corn growers who eat it raw – right after they pick it! It is super sweet and absolutely delicious.
I shared with her that to get the best flavor from corn on the cob, this is how you select it and cook it:
Buy corn that looks fresh, those that do not have dark or soft spots on the outside husk
Buy corn on the same day as you plan to eat it (the sweet flavor of corn starts to decline the moment it is picked, so the faster you eat it the sweeter it will taste).
Before boiling corn, remove husks and strings. Place ears in plenty of boiling, lightly salted water.
Cook for 3-5 minutes — That's It!
To grill corn…
Leave husks on, and soak corn in cold water for about an hour before grilling. (Soaking it hydrates the husks, which kind of protects the corn and allows it to steam on the grill).
Grill the corn, in husk, turning frequently (so it doesn't burn).
Cooking time will depend on your personal preference – anywhere from 15-20 minutes.
Here is a tasty recipe for grilled corn, Grilled-Corn-with-Chive-Butter
In recent years, there have been some fabulous developments in corn breeding and we now have corn that retains its sweet flavor (and doesn't turn starchy so fast). In addition to Yellow Corn, there are varieties of White Corn and even "Bi-Color" Corn (which has both white and yellow kernels on the same cob!)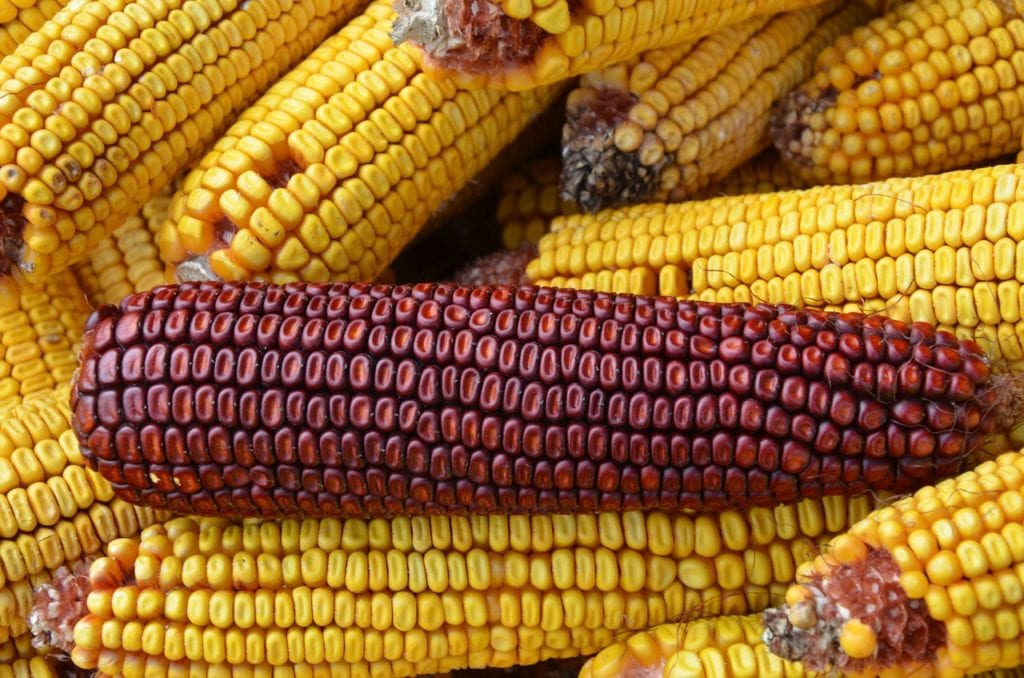 One of the newest innovations is Fresh Red Corn (in photo). It's available during the summer months and is grown in Northern California. It's not available in supermarkets everywhere, as it is considered a specialty item. But, you may see it in your local market and wonder what it is and how it got to be red. Red corn is actually an heirloom variety (from centuries ago) and its popularity has grown as consumers seem fascinated with new colors of familiar foods (think of all the different colored bell peppers we have now…instead of just green). From my taste experience, the Red Corn has a starchier flavor than regular sweet corn.
So, as you are making plans for your Labor Day barbecues – consider picking up some fresh corn at your local supermarket…and grilling it next to the burgers, chicken and hot dogs.
Delicious! Enjoy!
Karen
Got this as a forward? Reading online? Click here to subscribe to this blog via email.