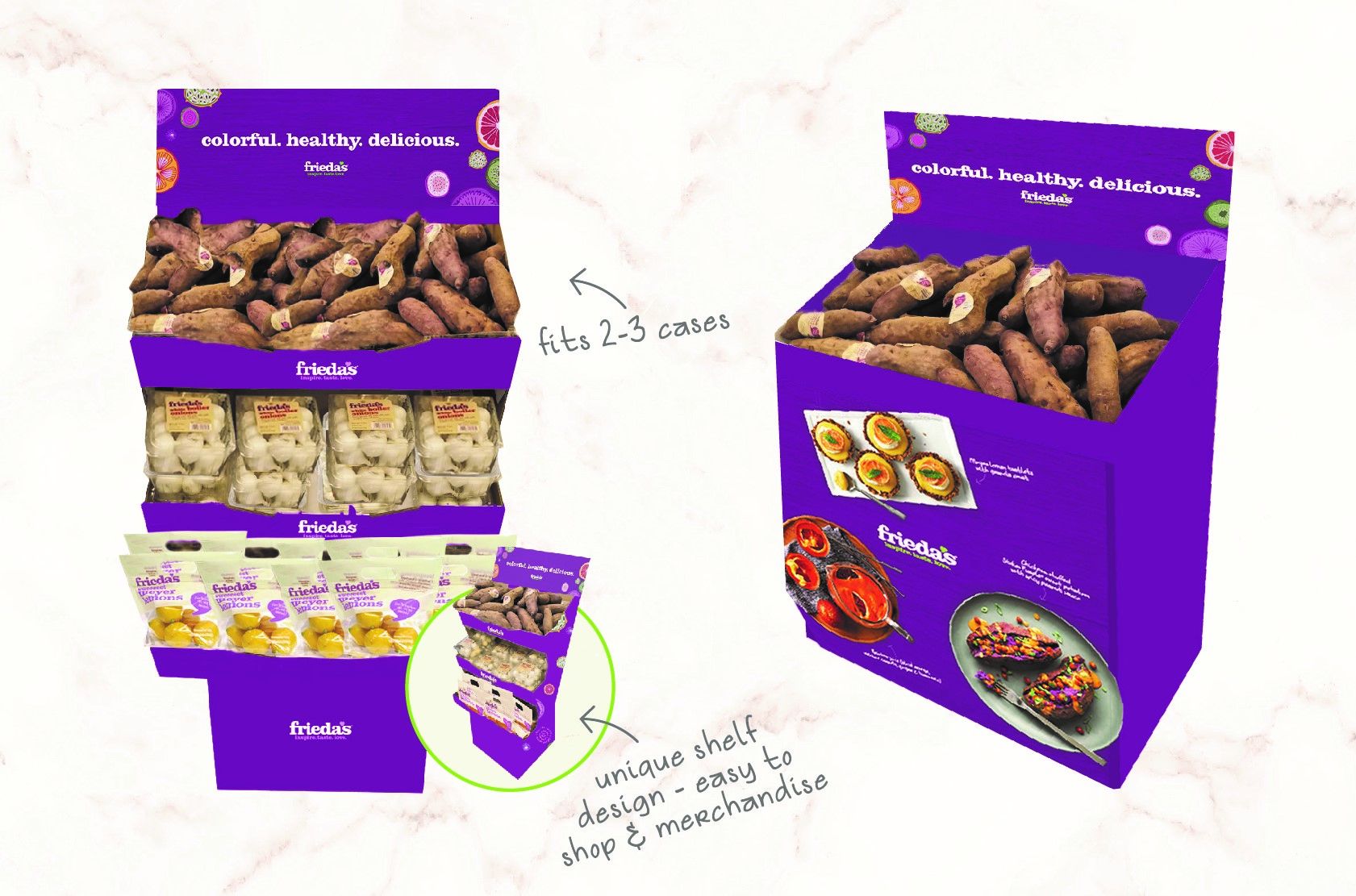 Los Alamitos, CA (January 2020) – Did you know that 73% of shoppers will choose a grocery store because it has more variety in its fresh produce offerings than other retailers1? Make room for the assortment your customers are looking for with Frieda's new three-tiered display shipper and bin display shipper.
"We are kicking off the New Year with two newly designed shippers," says Alex Berkley, director of sales at Frieda's. "The three-tiered shipper lets produce managers display a range of items at once, while our beautiful bin display was made for merchandising one or two items. Both shippers were designed with the retailer in mind, helping them to have flexibility and to allow stores to maximize sales per square foot all year long, while also providing cooking inspiration for shoppers."
Fill your display shippers with items like Stokes Purple® sweet potatoes, Frieda's branded grab-in-go citrus pouches and eye-catching tropical items like dragon fruit and passion fruit.
To add incremental shelf space to your stores, contact Frieda's today! Shippers will be offered free of charge with minimum purchases.
Source:
C+R Research, 2019.
About Frieda's Inc.
Frieda's Specialty Produce has been inspiring new food experiences for friends, families and food lovers everywhere since 1962. From kiwifruit and dragon fruit to Stokes Purple® sweet potatoes and habanero peppers, Frieda's has introduced more than 200 unique fruits and vegetables to the U.S. marketplace. Founded by produce industry trailblazer Dr. Frieda Rapoport Caplan, subject of the 2015 documentary "Fear No Fruit," the family company is owned and operated by Frieda's daughters, Karen Caplan and Jackie Caplan Wiggins, in Orange County, California. Find Frieda's on Facebook, @FriedasProduce and Friedas.com. Inspire. Taste. Love.