At the end of each year, a lot of people make monetary donations to charitable organizations.
Some make donations because they are passionate about the cause.
Others do it because they are looking for an end of the year tax deduction.
For me, personally, I am not motivated by the tax deduction—I'm always driven by the cause. As you know, I'm passionate about eliminating hunger, so I donate to food banks and organizations that support them. I'm also passionate about mentoring people (young people, women, business owners), so the way I donate is to accept quite a few speaking engagements that pay it forward during the year.
But there is something I have always wanted to do.
And that is to donate blood through the American Red Cross.
My interest in it started when my good friend Jack Daly, one of the top-rated sales and motivational speakers in the world, started posting on Facebook whenever he donated blood or platelets. I have to admit that even though I consider myself a driven and competitive person, I don't hold a candle to Jack. On his bucket list are things like: run a marathon in all 50 states and on every continent; play the top 100 golf courses; and visit all the presidential libraries. Oh, did I mention that Jack is 67 years old? If you want to see what he accomplished this year, check out this recent post on his Facebook page.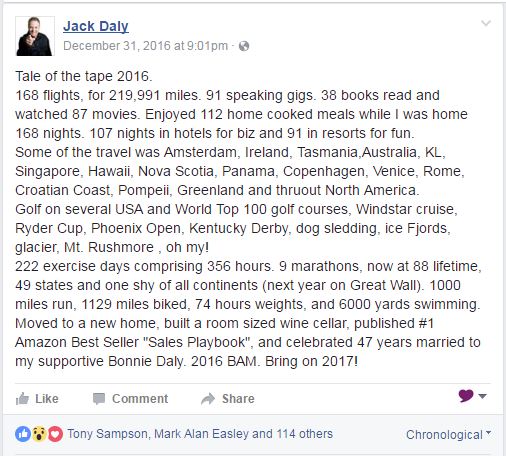 Tale of the tape 2016.
168 flights, for 219,991 miles. 91 speaking gigs. 38 books read and watched 87 movies. Enjoyed 112 home cooked meals while I was home 168 nights. 107 nights in hotels for biz and 91 in resorts for fun.
Some of the travel was Amsterdam, Ireland, Tasmania,Australia, KL, Singapore, Hawaii, Nova Scotia, Panama, Copenhagen, Venice, Rome, Croatian Coast, Pompeii, Greenland and thruout North America.
Golf on several USA and World Top 100 golf courses, Windstar cruise, Ryder Cup, Phoenix Open, Kentucky Derby, dog sledding, ice Fjords, glacier, Mt. Rushmore , oh my!
222 exercise days comprising 356 hours. 9 marathons, now at 88 lifetime, 49 states and one shy of all continents (next year on Great Wall). 1000 miles run, 1129 miles biked, 74 hours weights, and 6000 yards swimming.
Moved to a new home, built a room sized wine cellar, published #1 Amazon Best Seller "Sales Playbook", and celebrated 47 years married to my supportive Bonnie Daly. 2016 BAM. Bring on 2017!
So, every time Jack donated blood, he would write something like, "I saved this many lives this week by giving blood." And I thought, if Jack can find time to donate blood, then I certainly can.
For some reason, I had never done it before 2016, but I made an appointment at my local Red Cross early last year. The whole process (which includes an extensive survey about your health and recent travel, plus a quick skin prick to confirm that your iron levels are high enough) took 45 minutes. But the exhilaration I felt lasted for hours.
Like Jack, I decided to take a photo of myself giving blood and post it on Facebook. And who do you think was the first person who commented? Jack (John) Daly!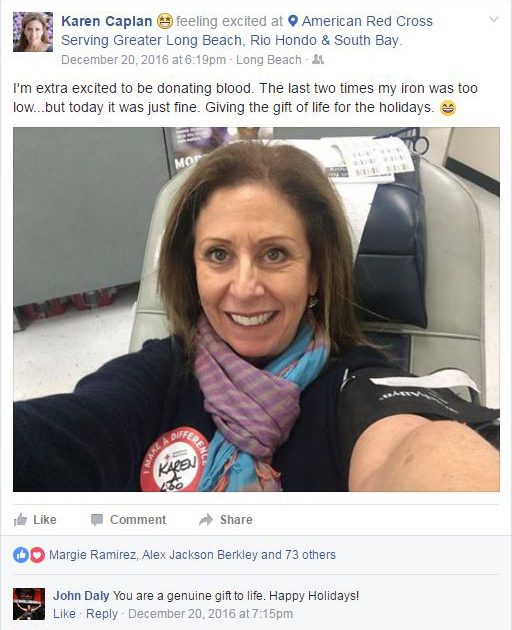 Karen: I'm extra excited to be donating blood. The last two times my iron was too low…but today it was just fine. Giving the gift of life for the holidays. ?

John Daly: You are a genuine gift to life. Happy Holidays!
So, as you are contemplating how you can make a difference during the new year, I encourage you to consider giving the ultimate gift.
Happy New Year!
Karen
Save
Save
Save