Have you ever met someone (in business) who was just so nice that you wanted to work with them?
Well, that's how we got into the "ready-to-eat" crepe business. You know, those delicate, very thin, slightly sweet "pancakes" that are just perfect with sliced strawberries and fresh whipped cream? (Yum, I'm getting hungry just writing those words.)
Well, back in 1986, this French guy, Herve LeBayon was introduced to us by another supplier. Herve (pronounced "air-vay") was from Brittany, France, and moved to the United States because he wanted to be a capitalist! (Yeah, America!)
Herve barely spoke English (his wife translated for him), but he was absolutely passionate about introducing his authentic French crepes to the U.S. He had heard about our company, and how we were in the business of introducing new foods to Americans.
As I listened to Herve speak (my French skills from college came in handy), I began to envision small displays of these ready-to-eat crepe packages next to the fresh strawberries in supermarket produce departments.
After months of perfecting the recipe and designing the packaging, we launched Frieda's French Style Crepes at a big supermarket convention. It was the hit of the show! I remember that we had stocked up our warehouse with 10,000 cases before the show, so we wouldn't run out when all the orders came rolling in! It was quite the hit.
Now every year as the spring berry season approaches, we start to get orders from supermarkets across the country that want to display them next to their fresh strawberries, blueberries and raspberries.
And, in case you didn't know, crepes are pretty hot these days. Crepe pans are selling like hotcakes (sorry for the pun) in cooking stores. Crepe restaurants and street food creperies are popping up left and right. In Orange County, a new food truck specializing in crepes just began operating. (You can even follow them on Twitter to see where the crepe truck is stopping next.)
Want to try the authentic crepe preparation that was Herve's inspiration? Start with Frieda's French Style Crepes at room temperature. Brush one crepe with a small amount of melted butter and dust lightly with granulated sugar. Squeeze on a small amount of fresh lemon or orange juice, fold over, and enjoy! Bon Appetit!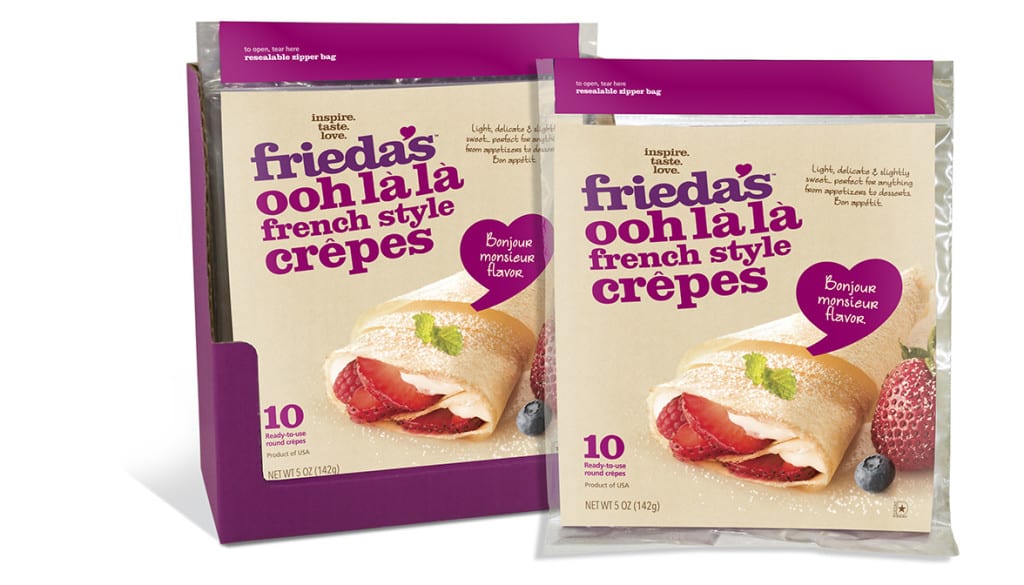 Karen