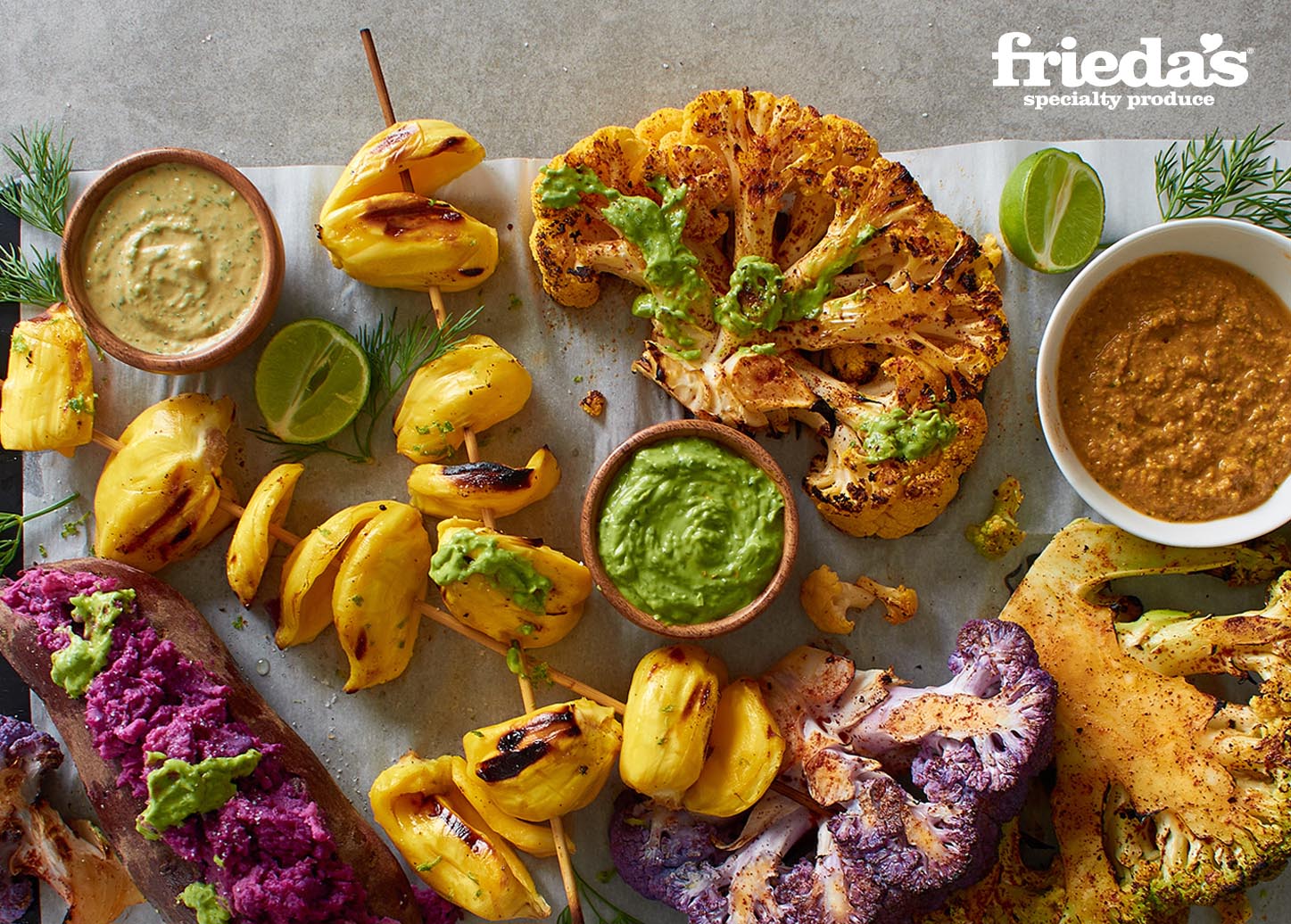 Los Alamitos, CA (June 2019) – Summer is all about grilling and, surprisingly, research shows that potatoes are the #2 favorite vegetable to grill after corn*. "When you combine that with the fact that 68% of shoppers want to add more vegetables to their summer tables**, it is a no brainer that shoppers would be looking for ways to grill & serve sweet potatoes, specifically Stokes Purple® Sweet potatoes. Their firmer texture and balanced sweetness make them the ideal potato for grilling and summer sides" says Cindy Sherman, Director of Marketing for Frieda's Specialty Produce.
With this in mind, Frieda's culinary experts collaborated to create grilling & picnic-friendly recipes inspired by Stokes Purple® sweet potatoes and other summer favorites. "We wanted to take shopper favorites and put a grilling twist on them, just in time for summer", says Sherman. "We had fun making summer time S'MORES more colorful by adding a schmear of purple sweet potato on the graham cracker, or cooked a Stokes Purple® Sweet potato right on the grill (wrapped in foil) as part of our exploration. Grilling these unique products develops richer, brighter flavors, making them a great addition to any summer BBQ", says Sherman. The Frieda's team also developed a vegan (no mayonnaise) Stokes Purple® sweet potato salad that is perfect for an outdoor picnic.
Some of the favorites include grilled stokes purple® sweet potatoes, grilled cauliflower steaks with romesco sauce and honey lime jackfruit skewers.  All of the recipes can be found in the new recipe portal at https://www.friedas.com/.
Call your Frieda's account manager today for signage solutions and recipe cards that inspire your shopper's summer gatherings!
*Category Partners, 2018
**C+R research, 2019
About Frieda's Inc.
Frieda's Specialty Produce has been inspiring new food experiences for friends, families, and food lovers everywhere since 1962. From kiwifruit and dragon fruit to Stokes Purple® sweet potatoes and habanero peppers, Frieda's has introduced more than 200 unique fruits and vegetables to the U.S. marketplace. Founded by produce industry trailblazer Dr. Frieda Rapoport Caplan, subject of the 2015 documentary "Fear No Fruit," the family company is owned and operated by Frieda's daughters, Karen Caplan and Jackie Caplan Wiggins, in Orange County, California. Find Frieda's on Facebook, @FriedasProduce, and Friedas.com. Inspire. Taste. Love.