I created my bucket list about 10 years ago. It has over 50 items on it. A lot of travel is on that list.
So, when my longtime friend, Paula Lambert, founder of the Mozzarella Company in Dallas, invited me to join her on a seven-day culinary tour of Tuscany, I had to pause. I asked myself, "What am I waiting for?" I checked my calendar and found that the end of September fit my schedule perfectly. I took a deep breath and mailed her a deposit check. That was almost a year ago.
Because of my busy work life, I didn't give it a lot of thought until a few weeks before I left. It turned out I would be traveling with eight other people; I would only know my travel guide Paula. I decided to extend my stay in the Florence area to meet up with close friends who would be there. And I found a friend to help me plan what to pack.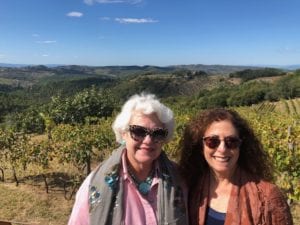 After seven days with complete strangers, two days with friends, and five days alone, I reflected on the trip while flying home. One thing I discovered, somewhat unexpectedly, is that it's not that hard to travel alone. I do it all the time for business. Turns out it was quite fun to be on my own. I could set my own pace and it allowed me to meet some interesting strangers, who are now friends! And although I used to be one of those people who travel at an aggressive pace—you know, like five countries in six days—I now have a new philosophy on travel: Go deep into an area to get to know the people, the food, the environs, and the culture.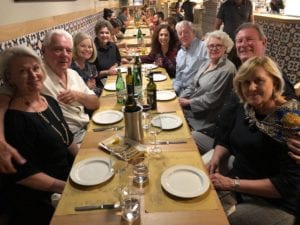 Here are some of the lessons I learned while in Tuscany:
The approach to and pace of life there are everything you have imagined. A friend calls it the "melodic pace of Tuscany." In old Florence, pedestrians walk in the streets, but drivers do not honk at them. No impatience there. It really struck me that it's OK not to be in a super rush to do everything. I also experienced the infamous Italian three-hour lunch. No rush to order. No rush to get your check. Complete and total appreciation of the food, the wine, the people you are with, and the view. I definitely need to allow more time when I am dining with friends.
Olive oil is used in all cooking, on salads, and even as a sauce. Did you know that first press Italian olive oil is pressed each year around November and has a shelf life of only 18 months? Or that you should never buy olive oil in plastic or without a use-by date? In the Tuscany region where I stayed, many people bragged about how many liters they consume each year! They purchase a large metal tin of oil, transfer each week's portion to a glass bottle, then store both the tin and the bottles in a cool, dark place. I have a new appreciation for the taste and health benefits of olive oil.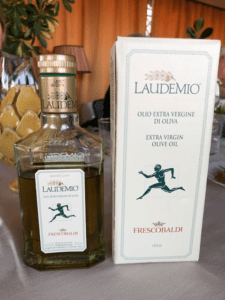 Each geographic region of Italy is quite different. I stayed in the Chianti region and traveled between and around Florence and Siena. Pecorino cheese is popular there, as is a special pork from the famous Cintas Senese pigs that forage there. I had the good fortune to spend a few hours with Raymond Lamothe (who is credited with reviving these pigs from extinction) and his companion Anarita; they showed us where the pigs grow and where the meat is cured and aged. Each region has unique pasta; its preferred fish, poultry, and meats; cheese, based on whether cows, goats, or sheep are prevalent; and typical meal preferences.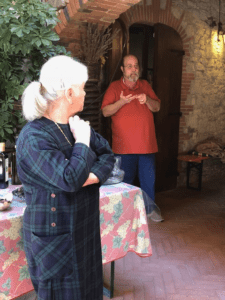 The big deal about Chianti wine is that Chianti Classico is usually made from 100 percent Sangiovese grapes grown in the Chianti region, under the strict regulation of and inspection by the DOCG (Denominazione di Origine Controllata e Garantita). A winemaker explained, "The cheap red wine served out of bottles with a stray woven cover (called a "fiasco")" is quite different. You can tell Chianti Classico by the black rooster logo on the bottle. I have always liked a lighter red wine, like the Sangiovese, and now this wine is one of my favorites! At Renzo Marinai

, an organic winery, we heard classical Mozart music playing. The winery's owner had done a lot of research and found that the rhythm of the music helps the wine ferment and age in a different way (the same research has a similar, calming effect on humans). So it plays 24 hours a day for the benefit of the wine as it ages in the barrels. All I could do was smile because my mother, Frieda, plays classical music 24 hours a day in her home and office. I think this must be one of her keys to a long life; she is 95 and going strong.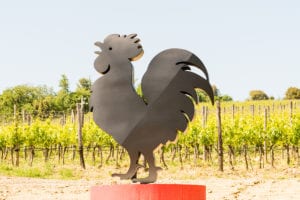 Italy's roads are unique. We went from freeways to highways to two-lane roads, to gravel and rock-covered trails. All in 30 minutes. It was a complete adventure to drive through the Tuscany countryside. I recall how challenging the Road to Hana was on Maui. That was nothing compared to driving between Panzano, San Gimignano, and Certaldo, and from Siena to Lamole. Our professional guides and drivers were a father and son, Albano and Giacomo. They navigated the roads perfectly.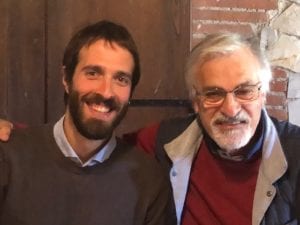 It's been two weeks since I returned, yet the slower pace of Tuscany is still with me. I've noticed that I am not so impatient when I am waiting in a supermarket line. I take the L.A. traffic in stride. And when I dine with friends, I am not anxiously awaiting our next course or our check; last night, dinner with three friends lasted four hours.
Although I was ready to come home after two weeks in Tuscany, I am already thinking about my next trip. Perhaps Sicily or Sardinia?
Ciao!
Karen