When you read the name Kobe, there is no doubt that you know I'm referring to the late, great basketball legend Kobe Bryant. It still stuns me that it was 2 years ago this week that his private helicopter crashed into the hills of Calabasas, Calif., killing him, his 13-year-old daughter Gianna, and seven others.
Recently, I learned quite a bit about Kobe, after reading a book by his longtime coach Tim Grover. Tim's book, Relentless is the story of how Tim, the son of Indian immigrant parents, leveraged his own drive and determination and convinced Michael Jordan—and eventually Kobe Bryant—that he could help them be better on the court. The only caveat? They had to do exactly what Tim told them to do. He guaranteed he would get results.
The key to Tim's success as a strength and conditioning coach to Kobe Bryant, along with Michael Jordan, Dwayne Wade, and hundreds of other relentless competitors in sports, business, and every walk of life, was his brutal honesty and his own belief in himself as a coach.
As I read the book, I realized that Tim Grover's coaching was not just physical coaching on the court; his coaching abilities were equally focused as a mental coach.
Kobe said it best:
"Tim Grover is the master of mental toughness. This book is the blueprint for discovering what you are capable of achieving, getting results you never imagined, reaching the highest level of success—and then going even higher." —Kobe Bryant
It's so interesting to me that there is no athlete in the world who would be where they are without a coach. But if you are not an athlete (and perhaps you are not a basketball fan), you might wonder why this book should be of interest to you.
Most sports teams are run better than businesses. How do they do it? They have a coach, they practice, and they have a playbook. You might think that Kobe Bryant, Michael Jordan, Tiger Woods, and Serena Williams have "natural talent" and that's the way they got to where they are in their sports careers. But the fact is, they were relentless in their pursuit of their dream and used every tool imaginable to help them get there.
How about you? Do you have a dream? Whether it is professional or personal, what are you doing to achieve it? Do you have a coach? Do you practice? Is there a playbook that you know about, but are hesitant to follow (often because you want to do it "your way")?
After listening to this book by Tim Grover, I was so impressed by how he characterized the most elite athletes he works with (he calls them "Cleaners"), and the secrets to their success and the behind-the-scenes reality of training them, that I have vowed to listen to this book once a month. That is 12 times this year.
Ever wonder how to be a superstar in your own life? Perhaps you might want to read or listen to Tim Grover's Relentless. There are some amazing lessons there.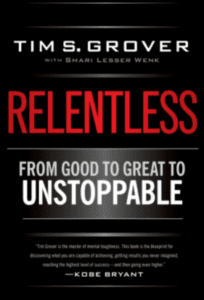 Karen
President Abraham Lincoln is famous for many quotes, one of which is:
"Give me six hours to chop down a tree and I will spend the first four sharpening the ax."
What does that mean in a world where most of us are not chopping down trees? Well, for me it reminds me of the importance of keeping my skills sharp. How many times do you find yourself working hard at something, and deep inside you are thinking: "There has to be a better, faster way?" Or you might have noticed that things have changed in your business, and you are wondering why you don't have the success that you used to.
I can relate this most easily to sales. What makes the best salesperson in the world? It's not necessarily the most aggressive person, or the most persistent, but it's likely the person who invests their own time in always improving their skills. It might be technical selling skills, it might be learning a better way to ask questions, it might be learning more about the industry in which you operate, or researching more about your own products, your competitors' products, or what's important to your customers.
I have found that many salespeople seem satisfied with their many years of experience as their main qualification or perceived competitive advantage. But, based on my experience, the most successful people in sales are not necessarily the ones who have been at it the longest.
Think about it—that would be like a Human Resources manager in 2022 saying, "I've been doing recruiting for 20 years and I know what works." Anyone who has followed the news in the last year, and all the coverage of "the great resignation," knows that if there is one area that has changed dramatically, it is in the area of recruiting and retaining talent.
The same applies in every field.
No matter what you do professionally, it would be dangerous to think that what got you there in your career would be the main driver in getting you to where you want to go in the future. All of us need to think of ways to "sharpen our ax." Does that mean taking professional development courses? Enrolling in continuing education in your field? Going back to school for a certificate in an area of specialization? Or listening to podcasts, reading books, and talking to others who have progressed in their careers (and then asking them questions about what they did differently)?
The next time you are considering how you spend your time (on anything), think about preparation—in everything you do. Before you apply for a job, do research on the company. Before you call a customer, check out their LinkedIn profile or google them for recent articles.
It could even be as simple as taking inventory of what you have before you go shopping and making a list of what you need. Then go shopping.
Sharpening your ax is about doing enough preparation BEFORE you to the work, so that the job takes less time and goes smoothly. I know that sometimes it hard to have the discipline to make time to do the preparation beforehand.
What new skills do you wish you had? Is there a way to acquire those skills easily? What would it mean to you to have those skills?
Remember, keep your ax sharpened.
Karen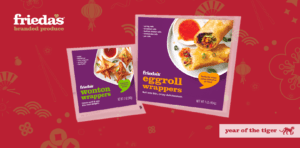 Los Alamitos, CA (January 2022) – It's once again time for getting back to school and back to work, which leads shoppers back to saying "What's for dinner tonight?" Many shoppers have come down with a bad case of food fatigue. In fact, 45% of consumers are trying to find new ways to add more flair and excitement to their meals1 (C+R Research, May 2020).
Eggroll and wonton wrappers are the perfect antidote for food fatigue. With Lunar New Year starting on February 1st and lasting for 7 days, now's the time to enliven your vegetarian set and incorporate Frieda's new wrapper collection into your planograms.
Frieda's wrapper collection has undergone a graphic refresh, with mouthwatering graphics and bold colors. Our new wrapper designs further prove why Frieda's branded items result in 25% higher dollar sales per store compared to the leading competitor2.
"Give your shoppers a reason to break in their holiday-gifted air-fryers by cross-merchandising wrappers with mushrooms, cabbage and tofu.  You'll inspire new favorites like baked rainbow vegetable eggrolls or mushroom and tofu wontons" says Alex Jackson, Director of Sales at Frieda's. "You can also stuff them with sweet fillings like peanut butter and bananas and each package features a recipe, along with additional cooking suggestions like buffalo chicken rolls and crab Rangoon," continues Jackson.
Call your Frieda's account manager today to inquire about our wrapper collection.
Source:
1 C+R Research, 1000 person study, May 2020
2 Compared to top-branded specialty produce competitor, based on market basket of 9 items as measured by Average Weekly Dollars per Store Selling, IRI Total US MULO 52 Weeks Ending 10/03/21
About Frieda's Inc.
Frieda's Specialty Produce has been inspiring new food experiences for friends, families and food lovers everywhere since 1962. From kiwifruit and dragon fruit to Stokes Purple® sweet potatoes and habanero peppers, Frieda's has introduced more than 200 unique fruits and vegetables to the U.S. marketplace. Founded by produce industry trailblazer Dr. Frieda Rapoport Caplan, subject of the 2015 documentary "Fear No Fruit," the family company is owned and operated by Frieda's daughters, Karen Caplan and Jackie Caplan Wiggins, in Orange County, California. Find Frieda's on Facebook, @FriedasProduce and Friedas.com. Inspire. Taste. Love.
As we look back on 2021, we might be thinking about the delta variant of COVID, masking, toilet paper shortages, and working from home.
But for me, as I look back, I have to start with the goals I set for myself in December of 2020. I had some pretty aggressive goals around fitness, traveling, entertaining, and reading books (along with a few other things).
I started my annual goal-setting process in late 2019, so I have now been through two annual cycles. What I've learned is that written goal setting produces significant progress and accomplishment. Setting goals that are realistic with a tad bit of a stretch—and then tracking them daily—requires a lot of discipline, but for me it has been transformative.
I've accomplished so much more than I ever imagined possible. In our annual New Year's card that we send to family, friends, and business colleagues, I've never received so many follow-up emails with comments like "I don't know anyone who packs as much 'living' into life as you do!"
So here is a small "tale of the tape" as they say, of how I did against my goals:
Goal                                                    Completed
Sleep 7+ hours                                7.92 avg hours
Work out 208 days a year            299 days (181 rowing days, 194 Peloton rides, plus walk/runs –I try to do at                                                                 least 2 types a day)
Golf 36 rounds (3/month)             76 rounds (*Golf handicap dropped 3.3 strokes)
Meditate every day                       363 days (missed 2)
Donate blood 6 times                   Donated 4 times
Run 2 half marathons                   Completed 2 half marathons + a 10K
Average 8,000 steps a day          3,852,322 steps (avg 10,554 a day)
Read 52 books                               Read 90 books
Write 250 handwritten notes     Sent 511 handwritten notes
Family/Personal Goals
Saw my grandson Eli 31 times
Had dinners with family 29 times
Had 52 dress-up dinners with Jack and/or friends
Bucket List Items
Visited 2 Presidential Libraries (Nixon and Reagan)
Visited Athens, Greece (where I ran a 10K)
Visited all 5 National Parks in Utah
So how did you do against your goals? It's possible that your goals were just in your mind and you didn't write them down. What about giving it a try this year? Write them down! It's not too late to set some goals for yourself.
I set goals in a few areas: physical (which includes exercise and sleep), social (dinners, connecting with friends and family), travel (trips), personal development (reading), and caring (giving blood, writing thank-you notes, and staying connected with friends and family). There is a balance of fun and challenge.
I purchase an "At-A-Glance" monthly calendar and track my goals daily. At the end of each month, I recap what I've done in the back of the calendar, so I can see how I am progressing. Many months, as I am tallying up my exercise or my sleep, I realize I didn't do as well as I had wanted … so I can "course correct" for the following month. I weigh myself daily (to keep myself honest) and during that last week of the month, it's amazing how much more disciplined I am with my food and exercise! Some months I lost a few pounds and sometimes my number was higher, but overall I lost 3 pounds during the year, which made me happy.
I plan to make 2022 my best year ever and have a long list of places to go and people to see. What about you? What do you want to accomplish this year?
Enjoy!
Karen
When I first heard the quote "Is the upside worth the downside?" I was struck by what a great piece of advice it offers.
Think about it. When you are evaluating whether to do something, you ask yourself, "Are the benefits I will gain MORE than what I am likely to lose?"
In fact, as I look back on the last week, I can tell you it was the single biggest help in making three significant decisions:
We had made plans to travel to Virginia many months ago to visit family for the holidays, which meant we would have been traveling last Monday through Thursday. With the Omicron variant starting to surge, and my partner Jack's cancer infusion coming up on Monday January 3, we decided two days before Christmas to cancel/delay our trip. The upside (seeing family) was not worth the downside (risking getting COVID, and having to miss his cancer treatment).
For New Year's Eve, we had made reservations at our favorite local restaurant—an early dinner by ourselves. Because it was so cold outside, we chose to make our reservations for inside the restaurant. But, when we woke up on New Year's Eve, we decided to cancel the reservations and stay home alone and have a home-cooked meal and a very nice bottle of wine. Again, the upside (going out to celebrate the New Year) was not worth the downside (being exposed to a bunch of unmasked people in an enclosed, small restaurant). We sent a video to close friends and family in place of being able to gather in person — you can view it on Jack's Facebook page here.
Last week at my office, we were interviewing many candidates for a variety of open positions. Our practice is to have at least three or four people interview every serious candidate, and then we meet afterward to debrief and discuss the candidate. We had an excellent candidate for a certain position and this person received fairly high marks from all after the individual interviews. However, because we ask for plusses and minuses and make the time for a robust discussion of each candidate, quite a few "red flags" came up in the discussion. And although this candidate had the qualifications for the position (and the position has been open for a significant amount of time), in the end, the group agreed that the upside was not worth the downside.
Finally, speaking of New Year's Eve, we got up at 5:00 a.m. that morning and made the one-hour drive to a Southern California landmark—Potato Chip Rock in Ramona—and hiked two miles to the top of the mountain. The whole point of hiking up there is to jump out to stand on "the Chip" and take photos. There was not a crowd that morning (probably because it was sub-50 degrees), so the conditions were perfect. But, as Jack got ready to scale the last rock for the photo, his foot kept slipping due to the recent rains. After a few tries, he proclaimed, "The upside (being on the chip) is NOT worth the downside (slipping and falling)." So, we took this photo from another, less treacherous rock.
As you move into the new year, and have both personal and professional decisions to make, I hope you will pause and consider: Is the upside worth the downside?  Perhaps it will be about attending a social gathering, taking a new job, changing your physical workout routine, or going to bed early to get more rest, vs. watching your favorite show. Or another decision or habit.  It is a great exercise to ask yourself that question.
Hope you did something fun to welcome in the new year. Cheers to a fantastic 2022!
Karen
Ideas for Delectable and Drool-Worthy Displays
Los Alamitos, CA (January 2022) – Consumers this winter are facing the seasonal blahs coupled with the effects of the global pandemic. Give them a reason to embrace staying in by inspiring them to get a little creative in the kitchen. This Valentine's Day is the perfect time to get shoppers inspired about the creative possibilities of crepes—a blank canvas, if you will, just waiting to be discovered. Whether planning a sweet treat for a loved one or whipping up festive food for Galentine's Day, crepes are a fun way to add excitement and fill in the gap in between New Year's healthy eating and St. Patrick's Day festivities.
To help make your store a creativity destination, encourage shoppers to make a delicious Valentine's Day breakfast at home by cross-merchandising crepes by the egg case to inspire shoppers to create crepes filled with scrambled eggs, sliced apples and cheddar cheese, as the ultimate sweet & savory way to start your day (after all leisurely breakfasts are trending for 2022).
Or merchandise Frieda's French-style crepes along with tropicals such as bananas and pineapples, since February is a great time for desserts that cue a "tropical escape." Think Bananas Foster or Pineapple Upside-Down crepes. Drooling yet? If not, expand your berry patch by showcasing crepes, whipped cream, Nutella and hazelnuts with signage showing Frieda's Strawberry & Chocolate Hazelnut Crepe Cake.
Call your Frieda's account manager today to help make your store the creative crepe destination, inside of the produce department and beyond.
About Frieda's Inc.
Frieda's Specialty Produce has been inspiring new food experiences for friends, families and food lovers everywhere since 1962. From kiwifruit and dragon fruit, to Stokes Purple® sweet potatoes and habanero peppers, Frieda's has introduced more than 200 unique fruits and vegetables to the U.S. marketplace. Founded by produce industry trailblazer Dr. Frieda Rapoport Caplan, the family company is owned and operated by Frieda's daughters, Karen Caplan and Jackie Caplan Wiggins, in Orange County, California. Find Frieda's on Facebook, @FriedasProduce and Friedas.com. Inspire. Taste. Love.