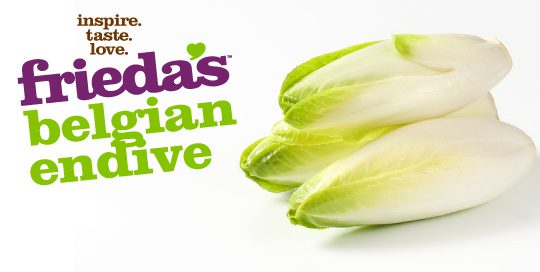 Overview
What is a Belgian Endive?
Belgian Endive (on-deef, not en-dive!) is a type of chicory and grown in complete darkness to avoid turning green. The leaves are very tender with a mild, bitter flavor.
How to Eat
Use fresh in salads or separate leaves and fill the ends with dip. May also be cooked by steaming, braising, or adding to soups.
Health Benefits
How to Choose
Choose heads with smooth white ribs and no wilted leaves.
How to Store
Store refrigerated up to one week.
When are they in season?
Where are they grown?
Product of Belgium, Chile, Holland, New Zealand, and U.S.A.
Recipes
Snap and Crisp Endive Appetizers Ingredients: 2 Heads Frieda's Belgian Endive 3 3-ounce packages Frieda's Sugar Snap® Peas 1 4-ounce package soft herb flavored cheese Half of an 8-ounce package soft cream cheese 1 tablespoon Dijon Mustard Fresh herb sprigs … Continue reading →