Los Alamitos, CA (July 2021) – The famous, flavorful, limited-edition Hatch Chile pepper season has started earlier than predicted. Mother Nature herself is known to be a Hatch "Chile Head" and we are attributing the early start of the season to her.
Frieda's works with certified, authentic growers located in Hatch, New Mexico—yes, there is a certification! Frieda's received the first few shipments last week, with supply anticipated to pick up after the middle of July. The season is expected to continue through the end of September.
"We can't wait to get our new Hatch Chile pouches into the hands of consumers," says Cindy Sherman, Director of Marketing, Innovation & Insights. "When we set out to redesign the pouch, we wanted it to feel friendly and inviting to bring more "Hatchlings" (shoppers new to Hatch Chiles) into the fold."
The limited-time availability of this special zesty pepper plays into the phenomenon of FOMO— fear of missing out. Research by Eventbrite suggests that when faced with an exclusive item being consumed by their peers, over 60% of millennials will experience FOMO and head to stores to purchase an item. And remember, an entire community of Chile Heads waits all year to buy fresh Hatch Chiles so they can roast them and freeze them for year-round use.
Frieda's offers Hatch Chiles in a branded 25-pound case, which can be used for side-stack displays, and in 1- and 2-pound retail pouches in mild, medium, and hot heat levels.
Frieda's works closely with its grower partners to ensure excellent quality and strong supply until the end of the season. Call your Frieda's account manager today to receive samples and learn how to make a Hatch splash in your store this year!
About Frieda's Inc.
Frieda's Specialty Produce has been inspiring new food experiences for friends, families, and food lovers everywhere since 1962. From kiwifruit and dragon fruit, to Stokes Purple® sweet potatoes and habanero peppers, Frieda's has introduced more than 200 unique fruits and vegetables to the U.S. marketplace. Founded by produce industry trailblazer Dr. Frieda Rapoport Caplan, subject of the 2015 documentary "Fear No Fruit," the family company is owned and operated by Frieda's daughters, Karen Caplan and Jackie Caplan Wiggins, in Orange County, California. Find Frieda's on Facebook, @FriedasProduce, and Friedas.com. Inspire. Taste. Love.
Last week we went on a long-planned mini-vacation to northern California. Because our drive to Carmel was a long one (350 miles), we had to borrow a gas-powered car to make the drive (another unintended consequence of purchasing an all-electric car, is that my car's range is only 200 miles before it requires a 12-hour charge).
The trip didn't start as a "vacation" … my partner Jack had three speaking gigs (two virtual and one live) in the Monterey area, and we decided to add a few days to the trip and play several rounds of golf. So we packed up our golf clubs and road trip snacks (Kumquats being my go to) and hit the road!
About four years ago I purchased a set of golf clubs and started taking lessons. I blogged about "The Zen of Golf" and shared some of the lessons I learned. One of the silver linings of COVID in 2020 was that playing golf outdoors was one of the few things that did not stop during the various "lockdowns," so about six months ago, I decided to make the time to get better at golf. Jack and I golf once a week, plus I have taken a few more lessons from our local golf pro.
So now I had the opportunity to step outside my comfort zone (which includes playing only on my home course each week) to play golf at the famed Pebble Beach Golf Links in Carmel, CA. To say I was a bit nervous/excited/apprehensive would be an understatement.
Pebble Beach is one of several courses in the area that is rated quite difficult and, of course, is where the legendary AT&T Pro-am Golf Tournament takes place every year. The grounds are stunningly beautiful with many holes overlooking the gorgeous California coast.
We watched the weather forecast before we left for our road trip. We had planned to play four rounds of golf while we were in Carmel, so it was concerning that rain was in the forecast. I kept a positive attitude the entire time, hoping my positive "weather karma" would help chase away those clouds and showers.
Unfortunately, my weather karma did not work.
When we got in the car on Thursday at noon to drive to Pebble Beach, it was drizzling intermittently. "Maybe it will stop" was what I kept thinking. No such luck. The drizzle continued. And there was no rescheduling our round of golf to another (rain free) day … we were told that it would be impossible to find another tee time on such short notice.
So, I sucked it up and donned four layers of clothing (the temperature was hovering around 50 degrees all day) and a golf hat.
As I look back on that four-and-a-half-hour round of golf, there were many positives:
1. We got to play as a twosome, which is much faster than a foursome.
2. Because of the almost torrential rain, everyone in front of us was playing fast, so there wasn't a lot of waiting between holes.
3. I actually shot par (a three) on Hole #7! Here are a couple of photos, so you can see how small the target green was … and if I had overshot or undershot, I would have been in big trouble! I feel like I have bragging rights for that par 3!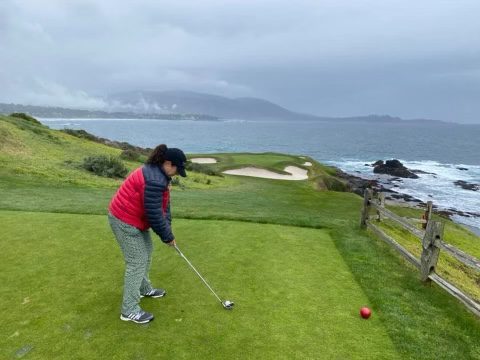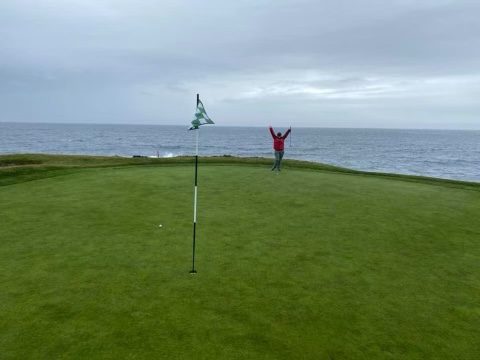 And I learned a few lessons during that round, too:
1. Even though I was soaked to the bone, I was forced to not quit early. Unlike most courses, once you start on Hole #1 at Pebble Beach you do not end up near the clubhouse until you finish Hole #18. In my head, I was thinking we might stop after Hole #9 … but we were so far away from the clubhouse that we had to continue. Has that ever happened to you? You want to quit after starting something, but you can't, as you are far away from your home base. It reminds me of the first time I soloed as a pilot in a Cessna 152 … once I was in the air by myself, I had to stick with it and concentrate, as I could not quit (even though I was super nervous), until I landed the plane.
2. I got better at using the clubs I hate. Like the sand wedge. I used to dread hitting a golf ball and having it land in a sand trap (aka "bunker"). But, I got significantly better that day getting out of a bunker and onto the green because I had lots of practice. Have you noticed that happens to you, too? Maybe you're not great at a certain skill, but as they say, "practice makes progress." We all get better with practice.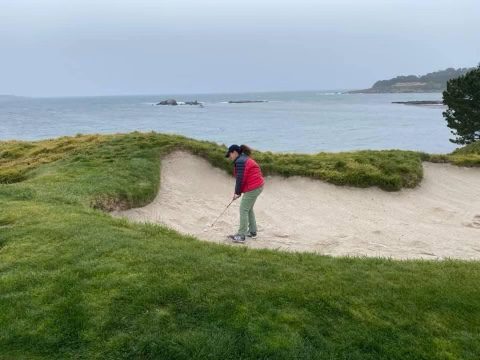 3. Due to the constant drizzle, my hands and clubs got wet. Several times while I was swinging the club, it slipped in my hand, sending the ball in a direction I did not want. What I learned was the importance of having a dry towel handy, a spare glove or two in my bag, and planning my club needs in advance of getting out of the cart. Do you ever show up to a meeting and realize you forgot something important that you need in your presentation? How do you prevent that? You visualize the situation in advance and role play, which allows you to anticipate your needs and how the meeting will go. Of course, I brought lots of extra golf balls with me, but I never thought about packing an extra golf glove in my bag.
Golfing in the rain definitely taught me contingency planning, the importance of regular practice and the benefit of self-determination. It also taught me to appreciate the beauty of a situation, even if it is not exactly what I had expected. The lush green fairways and the pounding waves of the ocean were dramatic and breathtaking. If I had been only worrying about my score, I would have missed all of that.
So next time you are in a situation that is not exactly what you expected or planned for, take a deep breath and find something to appreciate! Your attitude can make all the difference in the world. And, who knows, you may find a silver lining.
Karen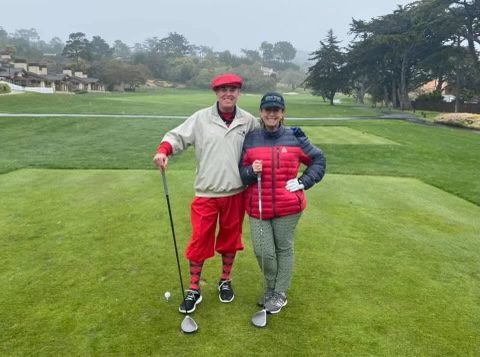 Los Alamitos, CA (March 2021) – International Women's Month, celebrated in March, is the perfect time to spotlight the incredible women who have paved the way for women all over the world. As a proud female and family founded, owned and led business, Frieda's Specialty Produce wanted to do something innovative to recognize women pioneers.
A campaign unveiled across multiple social media platforms features our founder Frieda Rapoport Caplan, Supreme Court Justice Ruth Bader Ginsburg and poet laureate Amanda Gorman. Their iconic styles and personalities were brought to life through produce like colored cauliflower, Stokes Purple® sweet potato, shishito peppers and Snow Dragon™ fruit.
"My mother would have gotten such a kick out of seeing her portrait recreated out of dragon fruit and colored cauliflower," says Karen Caplan, president and CEO of Frieda's Specialty Produce. "It brings such joy to honor her alongside the legendary RBG and the voice of the next generation, Amanda Gorman. We wanted to focus on women who have inspired us, but in true Frieda's fashion do it in a way that makes people smile."
This International Women's month we salute all female trailblazers inside and outside the produce industry, from fearless frontline warriors to the female scientists working on the vaccines and all of the moms in between.
To all the women in our lives, thank you for everything you do!
To view the campaign, please visit our social media pages:
Instagram – www.instagram.com/friedasproduce
Facebook – www.facebook.com/friedasspecialtyproduce
Los Alamitos, CA (February 2021) – Whole Foods Market is celebrating "Women Makers Raising the Bar," highlighting some of the women makers, career changers and industry leaders who inspire and motivate others; and for the second year in a row, Frieda's will be a focal point in the produce department as a proudly female-founded, female-owned and female-led company.
"We're happy to spotlight Frieda's Specialty Produce, a woman-owned and operated produce company," said Erik Brown, executive leader, procurement at Whole Foods Market. "Frieda's is a supplier that is all heart, caring deeply about the companies they supply and the shoppers they inspire."
Nationwide, Whole Foods Market will promote a large selection of Frieda's specialty items, including Snow & Honey™ dragon fruit, jackfruit, mandarinquats, kumquats, pink lemons and much more.
"We are thrilled to be included in this promotion for the second year in a row! In a male-driven industry, our female-first heritage is what lies at the very heart of our company and sets us apart," says Megan Klemz, account manager at Frieda's. "It is truly amazing to work with an organization like Whole Foods Market who has shared values and seeks to inspire their shoppers every day with new food experiences."
Los Alamitos, CA (October 2020) – Immunity will be top of mind this winter. In fact, according to a recent study by Hartman Research, 68% of consumers are either using functional foods or are interested in using functional foods for immunity benefit this year1. Give shoppers easy, delicious ways to dose-up on vitamin C and add variety to their citrus rotation with Frieda's new calamondin and limequat grab-n-go pouches.
Limequats are a hybrid of two favorites—limes and kumquats—characterized by a sweet rind and tart juice. Sweeter than lime and fully edible, this fruit can be used in cocktails and treats like limequat bars. Calamondin, also known as calamansi, are small hybrids of mandarins and kumquats that are perfectly poppable—skin and all! (Think teeny, tiny oranges that are sour & tart, making them ideal as an ingredient when creating a glaze for fish or poultry.) They are very popular throughout Asian and Southeast Asian cuisine for adding that tangy citrus flavor to dishes.
"Shoppers have become accustomed to discovering new citrus favorites every year," says Alex Berkley, director of sales at Frieda's. "First it was blood oranges, then came the Sumo mandarins. Last year shoppers fell in love with our mandarinquats, and this year they'll be coming to the store to see what's new & addictive in citrus."
Frieda's calamondins and limequats are available in 12/8-ounce pouches, with availability after Thanksgiving. Call your Frieda's account manager today to request samples and pre-book.  Supplies won't last!
Source:
1 Functional Food & Beverage Supplements, April 2020, The Hartman Group, total sample (n=2,637)
About Frieda's Inc.
Frieda's Specialty Produce has been inspiring new food experiences for friends, families, and food lovers everywhere since 1962. From kiwifruit and dragon fruit to Stokes Purple® sweet potatoes and habanero peppers, Frieda's has introduced more than 200 unique fruits and vegetables to the U.S. marketplace. Founded by produce industry trailblazer Dr. Frieda Rapoport Caplan, subject of the 2015 documentary "Fear No Fruit," the family company is owned and operated by Frieda's daughters, Karen Caplan and Jackie Caplan Wiggins, in Orange County, California. Find Frieda's on Facebook, Twitter, and Friedas.com. Inspire. Taste. Love.