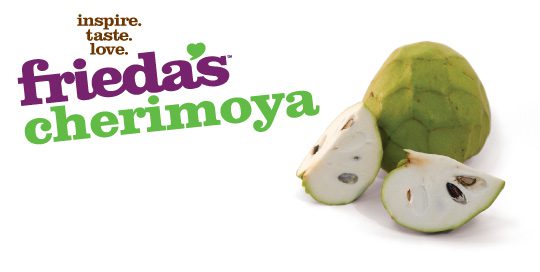 Overview
What is a Cherimoya?
Cherimoyas are native to the mountains of Ecuador and Peru. Early Americans discovered them and introduced them to Europe. Now they are grown in most tropical areas around the world and in Southern California.
Cherimoyas have a wonderfully sweet, custard-like, banana-pineapple flavor when ripe. The inner flesh is soft, moist and creamy-white with large inedible seeds. Its flavor is so good that even Mark Twain referred to the fruit as "deliciousness itself!" They are also known as Custard Apples and are a close relative to Atemoyas.
How to Eat
Slice in half and scoop out flesh with a spoon, or peel and slice into chunks and drizzle with fresh-squeezed orange juice. Add to fruit salads or purée and add to smoothies and desserts.
Watch This Video
Health Benefits
Rich source of vitamin C, supplies potassium, and provides fiber.
How to Choose
Choose blemish and bruise-free fruits.
How to Store
Let ripen at room temperature until it feels like a soft avocado. Once ripe, refrigerate and use within 3 days.
When are they in season?
U.S.A. cherimoya is available November to April/May, and Chile cherimoya is available June/July to October/November.
Where are they grown?
Product of U.S.A. or Chile
Recipes
Spirited Cherimoyas Ingredients: Cider or orange juice. 1 ripe Frieda's Cherimoya, peeled, seeded, and cut into bite-sized chunks 1 to 2 tablespoons orange or cherry liqueur 2 papaya halves or large orange shells, hollowed Fresh mint sprigs  (optional garnish) Steps … Continue reading →