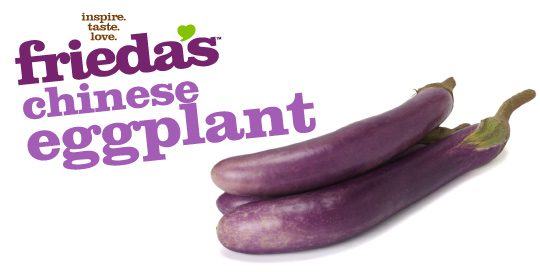 Overview
What is a Chinese Eggplant?
Chinese Eggplant has a slender, elongated shape and smooth, light purple skin. The inner flesh is soft and white with a sweet, delicate flavor.
How to Eat
Prepare Chinese Eggplant like common eggplant; sauté, deep-fry or grill.
Health Benefits
Great source of folic acid and potassium.
How to Choose
Choose firm, glossy-skinned eggplants.
How to Store
Refrigerate in plastic wrap up to 3 days.
When are they in season?
Where are they grown?
Product of Mexico and U.S.A.
Recipes
Eggplant Rellenos Ingredients: 1 Frieda's® Eggplant ½ cup jack cheese ½ cup green chile, diced 6 eggs separated whites & yolks 1 teaspoon salt 2 tablespoons flour ½ cup cooking oil Steps: Cut off ends of eggplant, and cook in … Continue reading →
Skewerd Japanese Eggplant Ingredients: 1 Frieda's Japanese Eggplant 1 bag of Frieda's Pearl Onions 1 pint of cherry tomatoes 1 green bell pepper Teriyaki or soy sauce Steps: Cut Frieda's Japanese Eggplant into 1-inch slices. On bar-b-que skewers, place cubes of … Continue reading →
Images
Not available at the moment.