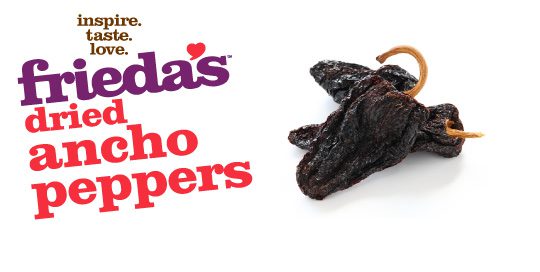 Overview
What is a Dried Ancho Mulato pepper?
Ancho mulato peppers–or mulato peppers, for short–have mild to medium heat with a touch of smoke. They are one of the main ingredients in a Mexican mole (mo-lay) sauce.
Did you know: Ancho mulato and ancho peppers are both the dried form of poblano peppers. The difference is in the time they were picked. Ancho mulato peppers are allowed to ripen longer until dark brown while ancho peppers were picked when they are still red.
How to Eat
Place peppers in a bowl and cover with boiling water. Let sit in hot water up to 1 hour to rehydrate. Drain, then remove stems and seeds, and place chiles in food processor with a small amount of water until they become a smooth paste. Use this chile paste as the base for a variety of sauces. Always handle chiles with caution—never touch your eyes, nose, or mouth directly after handling chiles.
Combine with the dried pasilla chile to make traditional mole sauce.
Health Benefits
Hot peppers are packed with capsaicin, which is being studied for its pain-relieving properties.
How to Choose
Choose semi-flexible pods and store in a cool, dry place.
How to Store
Use within 2 months of purchase for best flavor.
When are they in season?
Where are they grown?
Recipes
Santa Rosa Chicken Mole Ingredients 2 dried pasilla negro peppers or dried ancho peppers 2 dried chipotle peppers 4 to 6 bone-in chicken breasts 2 to 3 tablespoons vegetable oil 1 cup chopped tomato 1/2 cup chopped onion 2 cloves … Continue reading →
Salsa de Tomatillo Ingredients: 2 pounds Frieda's tomatillos 3 Frieda's dried pasilla negro peppers, or 2 Frieda's dried ancho peppers and 2 Frieda's dried chipotle peppers 4 garlic cloves, peeled 1/2 teaspoon salt 1/4 cup cilantro, chopped Steps Remove the … Continue reading →
Ancho Pepper and Garlic Sauce Ingredients: 4 Dried Ancho Peppers, rehydrated according to package directions (save liquid) 1 cup onion, chopped 3 cloves garlic, minced 1 tablespoon vinegar 1 teaspoon fresh oregano, chopped, or 1/4 teaspoon dried oregano, crushed 1/2 … Continue reading →
Save
Save
Save