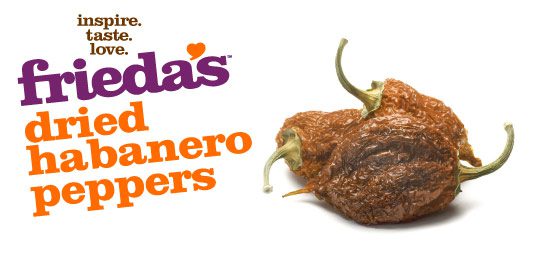 Overview
Description
Habaneros are HOT — 100 times hotter than a jalapeño! Habanero means "from Havana," although there is evidence suggesting its origins in South America date back to 6500 B.C. Habaneros are a popular ingredient in Jamaican and Yucatan cuisines. Dried Habaneros pack a concentrated flavor so use them sparingly. Wear gloves and use caution when handling this chile! Heat is 10+ on the Scoville heat scale.
Quick Usage Ideas
Soak Habaneros in hot water for 20 minutes until softened or blanch for 2 minutes in boiling water. Trim off stems and remove seeds, if desired. Use sparingly in jerk sauces, salsas and chili.
Healthy Highlight
Hot peppers are packed with capsaicin, which is being studied for its pain-relieving properties.
Selection & Storage
Choose dried chiles with a "fresh" dried appearance. Store in a cool, dry place up to 1 year.
Recipes
Habanero Salsa Verde Ingredients: 1 pound Tomatillos, husked and quartered, or Milpero Tomatillos, husked 1/3 cup chopped onion 1 Habanero Chile, seeded and finely minced 2 tablespoons Cilantro, chopped 1 clove garlic, minced Salt to taste Steps: In medium saucepan, … Continue reading →