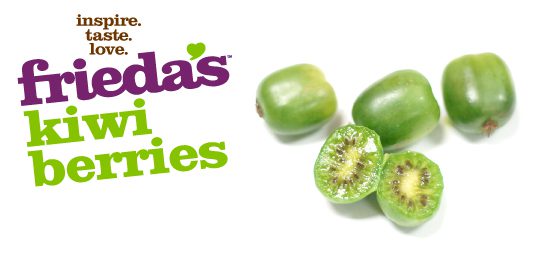 Overview
What is a kiwi berry?
The kiwi berry, is a mini relative of the conventional kiwifruit without the fuzzy skin. Hand picked, this delicious, delicate berry has a super sweet flavor with hints of strawberry and melon and a creamy texture.
How to Eat
This tiny bite sized fruit is perfect as a snack or added whole to fruit salads and cheese plates. Add to smoothies or create jams, jellies and chutneys. Toss into sauces or sautés.
Health Benefits
High in vitamin C and potassium.
How to Choose
How to Store
Keep at room temperature to ripen. Then refrigerate up to 3 days.
When are they in season?
September to October and February to April.
Where are they grown?
U.S.A. kiwi berries are available September to October, and New Zealand and Chile kiwi berries are available February to April.
Recipes
Grilled Chicken Salad with Baby Kiwi Berries Ingredients: 4 (about 1 1/4 pounds) boneless, skinless chicken breast halves Olive or vegetable oil Salt and pepper to taste 7-8 cups baby mesclun mix, or mixed torn lettuce 6-8 kiwi berries, stems removed, … Continue reading →
Tropical Crepes Ingredients: 3 cups prepared assorted tropical fruit (such as Martha's Best papaya, kiwi berries, or guava) 2 tablespoons apricot or peach preserves 2 tablespoons orange brandy or almond liqueur 4-5 Frieda's French Style Crêpes, at room temperature Toppings … Continue reading →
Extra
Instagram Video
Internet Explorer users may not be able to view this video.