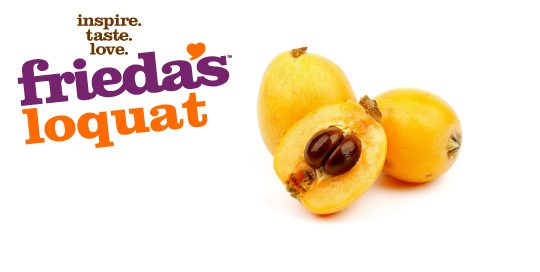 Overview
What is a Loquat?
Loquats originated in China and were later introduced to the United States as Japanese plums. They are about the size of an apricot and slightly pear-shaped with yellow-orange skin. The flesh is creamy to orange color, juicy and tender, and contains one or more large seeds. The flavor is a balance between sweet and acid and is reminiscent of cherries, plums and grapes.
How to Eat
Remove seeds and eat fresh or sliced into fruit salads. May need to be peeled depending on amount of exterior fuzz.
Health Benefits
Great source of vitamin A.
How to Choose
Choose smooth, firm fruits. Loquats may have a brown, freckled surface, but that does not affect the flavor.
How to Store
Ripen at room temperature. Once ripe, refrigerate in a plastic container.
When are they in season?
May and June; limited availability and distribution in the U.S.
Where are they grown?