Last week, I took a trip to Cleveland to attend the Alpha Phi International Convention. (I just missed the 1.3 million people celebrating at the Cleveland Cavaliers victory parade.) My eldest daughter Alex was president of her Alpha Phi sorority when she attended George Mason University in Virginia and her sorority advisor, Jackee, invited us to the convention. Jackee watched Fear No Fruit, the documentary film made last year about my mother Frieda and our family business. She thought it would be inspiring to show the movie at the convention so that more than 500 Alpha Phi members and alumnae could learn about our story. And they wanted Alex and me there for a Q&A session after the screening.
It was so much fun to see the documentary again on the big screen. And it was interesting to hear the audience's questions. First, we were asked about programs to give children and the poor access to more fresh produce. We were able to talk about the Let's Move Salad Bars to Schools program, plus how the enormous national network of food banks across the country provides access to fresh produce to so many people.
Alex was asked if she has been able to apply any leadership lessons she learned as an Alpha Phi now that she is in the business world. (The answer was yes!)
And finally, a question about how to work in a family business. We both had our perspectives to share. (Read my past blog for my reflections on working in a family business.)
After the screening, the entire group took the Lolly Trolley over to the Rock and Roll Hall of Fame for a private event. This was my third visit to the Rock and Roll Hall of Fame, and my longest. My previous visits were always a rush through with only an hour or so to spend. We spent almost three hours touring the museum. We saw costumes and special exhibits from Elvis Presley and the Beatles to Michael Jackson and U2.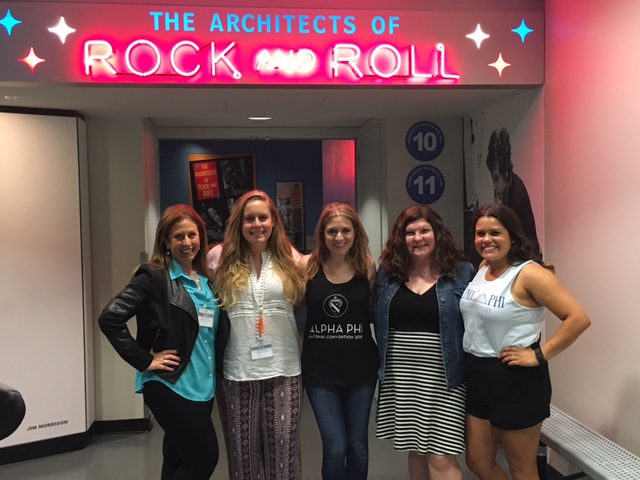 But my favorite part was the time I spent in the Hall of Fame Inductee Gallery, which is a circular theater with three large screens featuring film clips from every artist or group that has been inducted into the Hall of Fame since 1986. There are 312 solo musicians and bands who are Hall of Fame inductees for a total of 749 people and 113 groups. They've been added to the prestigious roster in 30 separate induction ceremonies to date.
As Alex and I sat in the gallery, it was interesting to see whom each of us recognized. We learned that an artist cannot be inducted until the 25th anniversary of their first song, which explains why KISS was inducted in 2014, Neil Diamond in 2011, and The Beatles in 1988 (Paul, George, John, and Ringo were also inducted separately in later years).
One of the 2016 inductees, the rap group NWA, caught my attention. I really didn't appreciate the art of rap music until I saw "Straight Outta Compton" last month. After seeing this movie, I have to say I was inspired and have a new appreciation for rap music, the genesis of the genre, and the stories behind all the great artists.
If you've seen the movie, you know the story behind the famous and very popular headphones, Beats by Dre. What an amazing American success story. If you haven't yet seen the movie, I highly recommend it.
And, if you have a chance to go to Cleveland, I also recommend an afternoon at the Rock and Roll Hall of Fame. It offers something for everyone to see and hear.
Rock on!
Karen