A few weeks ago, I turned on my computer and saw this email from one of our newest sales department employees, Matthew.
My sister teaches 4th grade at a local elementary school, and they are currently working on nutrition. When the students were asked what their favorite fruits/vegetables were, they all responded they have tried every fruit there is. My sister knows I work at Frieda's, so she mentioned a few of our unique items, and the kids had no idea what they were. So, I worked with our warehouse and took her class several items from our sample area, and the kids loved our products. The parents came by later that week to let my sister know how excited their kids were trying new things and how they now wanted their parents to buy them dragon fruit and kumquats!
Attached to the email was this photo: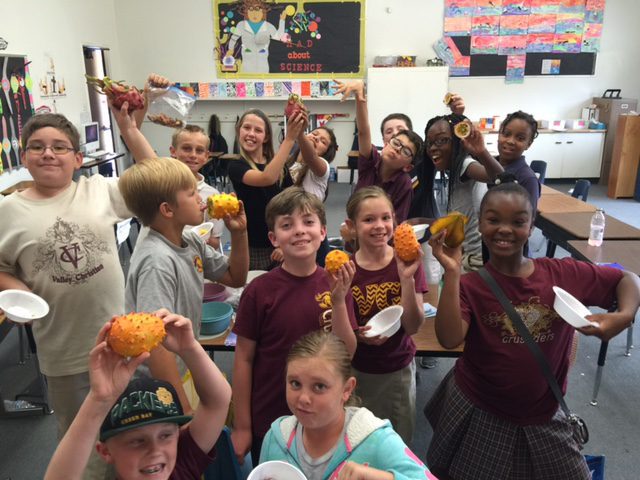 There are so many lessons here.
Kids are open-minded to trying new foods. They don't seem to have the paradigms adults do about experimenting with new shapes, flavors, and textures. Make sure if you have kids, grandkids, or friends with kids to let them try new foods…and if they are healthy and flavorful—even better!
A teacher took a regular lesson plan and made it fun and interactive for her students. We should make sure all teachers have that opportunity.
I love how Matthew showed initiative inside my company. He didn't ask permission. He was excited to share his personal enthusiasm about his career with his family and did something different, all on his own!
Does this happen where you work? When someone has an idea, even if it's outside the box, are they encouraged or discouraged to try it? What's your culture like? Is it one of compliance (follow the rules) or disruption (try things out of left field).
I'm a big believer in disruption, trying new ideas, and encouraging out-of-the-box thinking.
And of course, I get personally excited when I see that our country's youngest shoppers are sampling exotic fruits and veggies, and loving them!
So, next time you see a fruit or veggie you have not yet tried, I hope you will be like these 4th graders and give it a try. Here's a fun idea: next time you have a few friends over, instead of doing a wine tasting, do a fruit and veggie tasting. And you can do a scoring system like the kids did!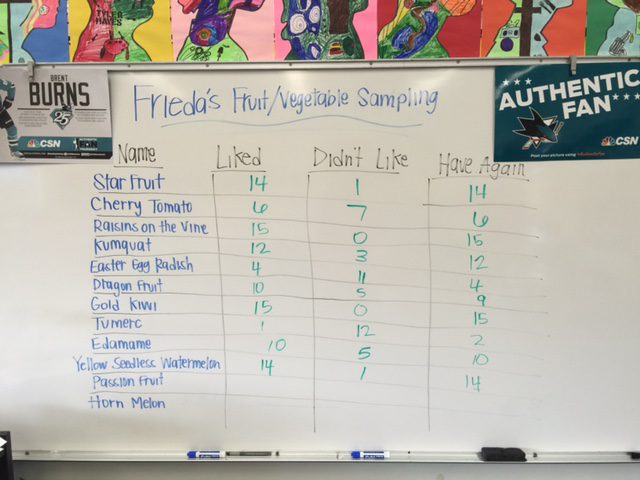 Enjoy!
Karen