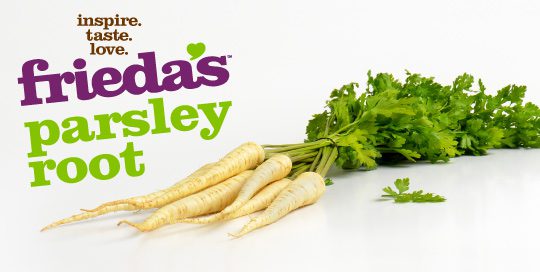 Overview
What is a Parsley Root?
This Old World vegetable is largely used in eastern Europe in soups and stews. It is also known as turnip-rooted parsley. Parsley root is a subspecies of parsley that is grown specifically for its roots. The leaves may be eaten and used like common parsley. The flavor of the roots is a blend of carrots and celery.
How to Eat
Remove tops and keep for flavoring or garnish, if desired. Clean roots with a vegetable brush or peeler. If roots are small, they may be cooked whole or cut, sliced, diced into braises, stews, and soups. Boil or steam and serve with a little butter and salt & pepper. Parsley root is good when puréed with other vegetables such as potatoes and carrots.
Health Benefits
Parsley Root is low in saturated fat and cholesterol.
How to Choose
Choose firm, creamy-beige roots.
How to Store
Refrigerate in plastic wrap up to 1 week.
When are they in season?
Where are they grown?
Recipes
Parsley Root Salad with Lemon Vinaigrette Ingredients: 1 bunch Frieda's Parsley Root, trimmed, peeled if desired, and cut into thin sticks 4 cups salad mix of your choice 1 cup red or yellow sweet bell pepper, cut into thin sticks … Continue reading →
Save
Save