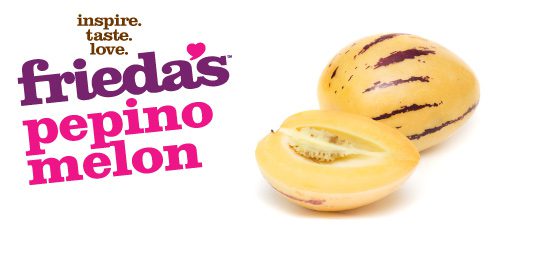 Overview
What is a Pepino Melon?
This oval-shaped, smooth-skinned fruit is native to South America. Also known as Pepino Dulce, or sweet cucumber in Spanish, the Pepino turns from green to yellow as it ripens and develops striking purple stripes when mature. Pepino Melons have a pear-like texture and a mellow cantaloupe-cucumber flavor.
How to Eat
Simply peel and enjoy. Its soft pear-like flesh and mild flavor is the perfect complement to salty prosciutto or sweet fruits.
Watch This Video
Health Benefits
How to Choose
Choose bruise-free fruit.
How to Store
Ripen at room temperature until the purple streaks become quite prominent and the fruit emits a sweet fragrance.
When are they in season?
Where are they grown?
Recipes
Pepino Melon à la Mode Ingredients: 2 Pepino Melons 1/3 cup Triple Sec or orange liqueur 1 tablespoon finely chopped Frieda's Crystallized Ginger Toasted silvered almonds Steps Peel the Pepinos and cut into quarters. Carve out the center seed cavity and … Continue reading →