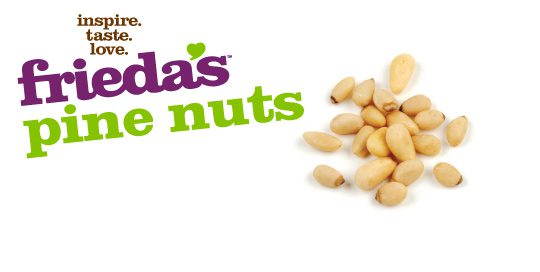 Overview
What are Pine Nuts?
Also known as Pignolias, Pine Nuts are a smooth, semi-soft seed harvested by hand from the pine cones of special pine tree varieties. They have a slightly sweet, nutty flavor, and are one of the main ingredients in basil pesto sauce.
How to Eat
Lightly toast in a dry skillet to enhance flavor before adding to pastas, salads and sauces. Place in a food processor with olive oil, fresh basil, garlic and Parmesan for a traditional pesto sauce. You can even use Pine Nuts in cakes and cookies!
Watch This!
Health Benefits
These low calorie nuts are packed with healthy fatty acids.
How to Store
For freshness, keep Pine Nuts refrigerated in an airtight container. May also be frozen.
When are they in season?
Where are they grown?
Recipes
Crudites with Pesto Mayo Ingredients: 1 bunch fresh Frieda's Basil, torn (1 cup leaves) 1/2 cup fresh parsley sprigs 1/3 cup Frieda's Pine Nuts or walnuts 1/2 cup grated Parmesan or Romano cheese 1 large or 2 small garlic cloves, … Continue reading →
Nutrition