Practice Aloha.
Those words were printed on the back of every server's t-shirt at the highly recommended restaurant, Mala Ocean Tavern, which I had dinner at this week while vacationing on the island of Maui in Hawaii.
I was so intrigued by "Practice Aloha," that I Googled the saying on my iPhone after we sat down for dinner. You can imagine my surprise when the restaurant's home page came up, featuring a book with the title "Practice Aloha." The author's name is what really caught my attention.
That seemed impossible, because 24 years ago, while I was pregnant with my oldest daughter Alex, my husband and I came to Maui and dined at an amazing restaurant called Avalon. The chef was a transplanted native of Los Angeles, who purchased our Chilean baby coconuts, called Coquitos, to make his signature dessert, Caramel Miranda. It was named after the famous actress, Carmen Miranda, who wore a hat covered in fake fruit. Meant to resemble the hat, his dessert was a platter of fresh Hawaiian fruits, a scoop of Hawaiian macadamia nut ice cream and chopped Coquito Nuts sprinkled on top.
That chef was Mark Ellman.
Last I had heard of Mark was when he closed Avalon, and concentrated on another food venture: a chain of Hawaiian taco stands called Maui Tacos.
I quickly stopped our server, and asked her if Mark was the chef/owner and if he was at the restaurant. To my excitement, she said yes, and I quickly pulled out my business card and asked her to please give it to him – that I was a long time friend. She told me he was very busy, but she would pass it along.
I was stunned when Mark came by our table. We hugged and he joined us for most of our dinner. We caught up on 24 years. And he still makes Caramel Miranda with our Coquitos! I recognized many of his signature items from my dinner at Avalon over 20 years ago. He now offers gluten-free flatbread on his menu (my daughter Sophia was thrilled), cures his own olives and imports feta cheese from Greece. Everything on his menu, from the flatbreads, to the seared ahi tuna, to the flourless chocolate torte for dessert, was amazing.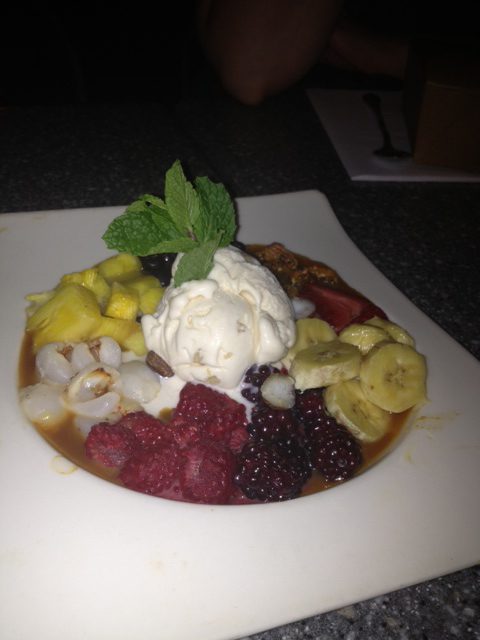 In 2010, Mark published a book call "Practice Aloha – Secrets to Living Life Hawaiian Style," which includes stories, recipes and lyrics from some of Hawaii's favorite celebrity folks. He also has a small cookbook, called "Mala Ocean Tavern Cookbook," featuring many of his fantastic recipes.
We reminisced how he was a founding member of the Hawaiian Regional Cuisine movement back in the 1980s, and organized many fellow Maui chefs to encourage and support small, organic farmers on Maui. Mark told me that when he started in the business, he had to "import" 80 percent of his produce from the mainland. Now, more than 20 years later, he proudly gets more than 80 percent of his produce from local Maui farmers! It was so heartwarming to see how these young and creative chefs, with seemingly competitive restaurants, joined together to better Hawaiian agriculture for all and the economy.
And that's when it dawned on me why all the restaurant staff shirts said "Practice Aloha."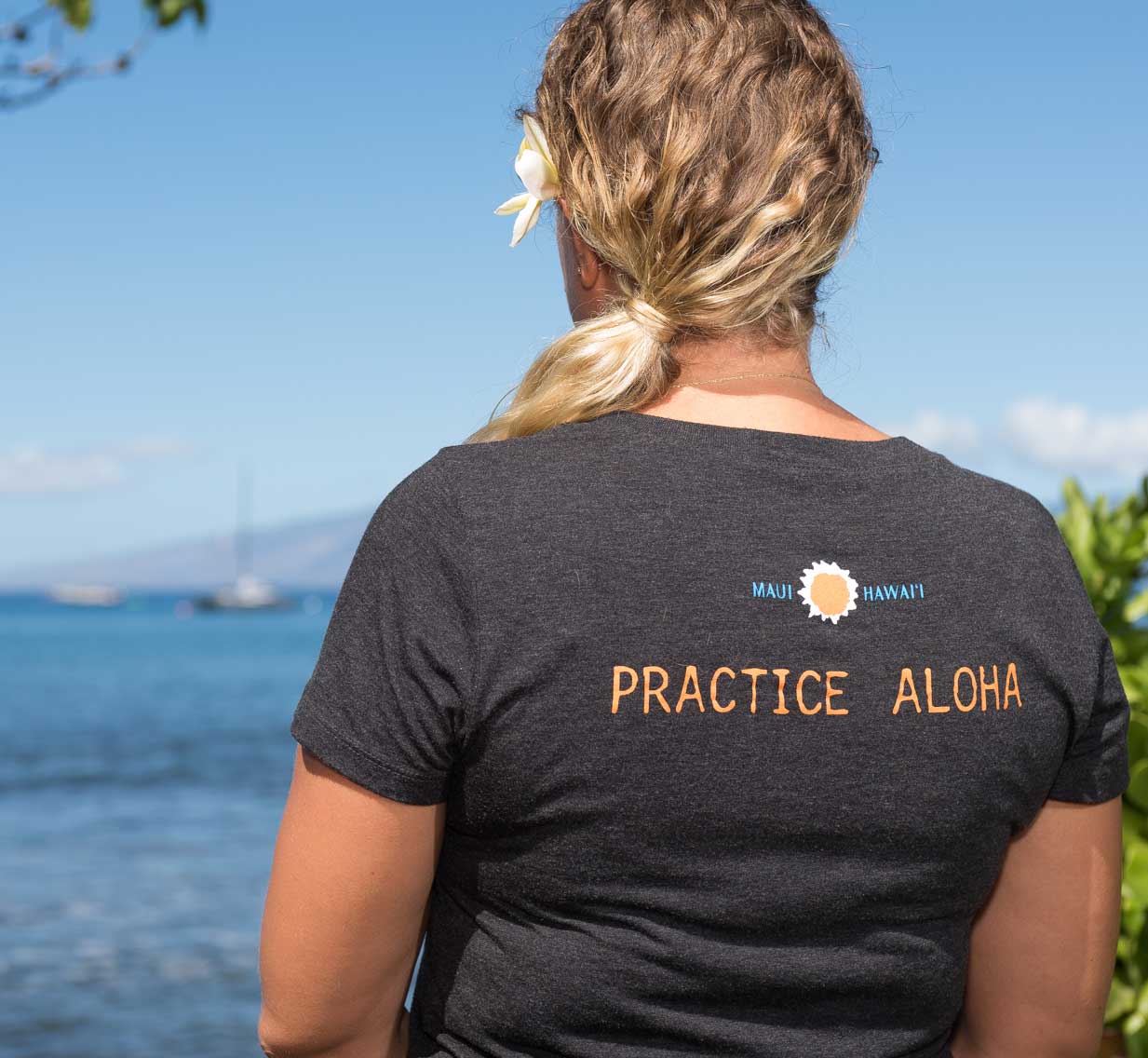 Aloha means to hear what is not said, to see what cannot be seen and to know the unknowable. And did you know that Aloha is actually the law in Hawaii?
I truly felt the Aloha spirit while sitting with Mark and enjoying the sound of waves.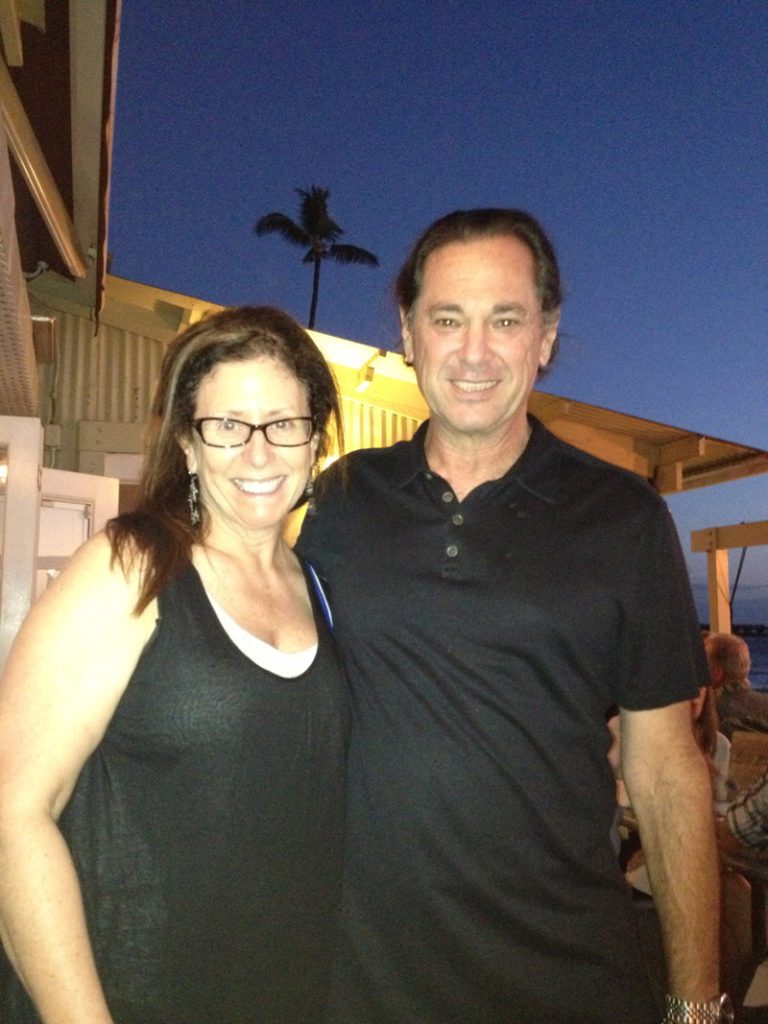 I hope when you are in Maui, that you'll find your way to Mala and get a taste of that true Aloha Spirit!
Mahalo, and Practice Aloha,
Karen
Save