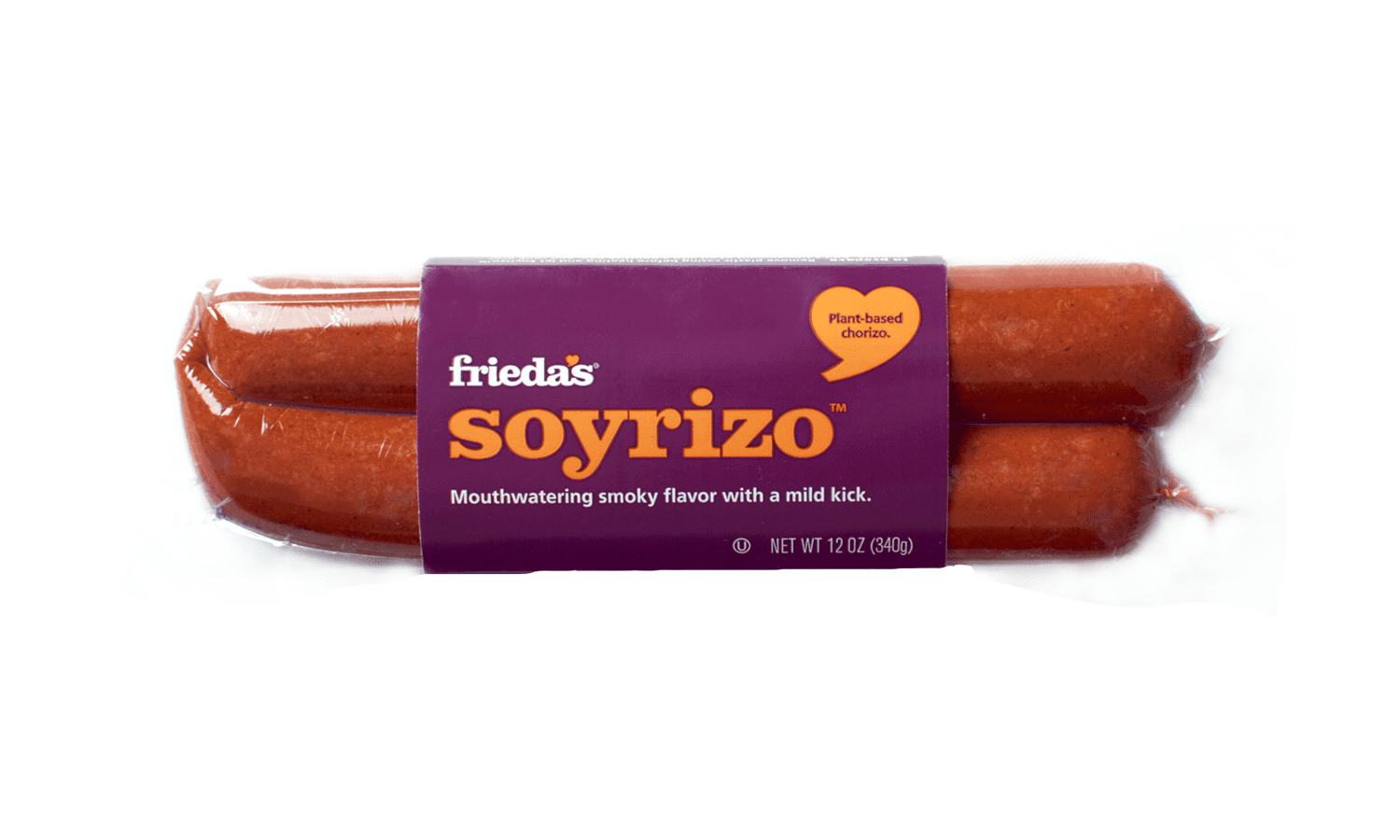 Soyrizo™
Frieda's Soyrizo™ is a pre-cooked, soy-based plant-based meat alternative. It's perfect blend of spices gives Soyrizo™ a truly authentic taste of the Southwest, just like Mexican chorizo! It's so delicious, you won't believe it's not the real thing! Add heated Soyrizo™ to scrambled eggs, chili, potato hashes, tacos, casseroles, or nachos.
Vegan, gluten-free, nitrite-free, non-GMO with no preservatives! Ignite the fiesta in your taste buds.

Serving Size: 2 pieces (55g)
Calories: 90
Total Fat 4.5g

7%

Sat. Fat 0.5g

3%

trans Fat 0g

Polyunsaturated Fat 2g

Monounsaturated Fat 1g

Cholesterol 0mg

Sodium 450mg

19%

Total Carb. 6g

2%

Dietary Fiber 3g 3g

12%

Sugars 2g

Protein 7g
Vitamin A

15%

Vitamin C

2%

Calcium

4%

Iron

8%
trending now
Normal is boring...try one of these unique products for an inspiring new food experience.
[tab:Overview]
How to Eat
Squeeze the Soyrizo™ from the casing and place in a non-stick pan with a tiny amount of oil until warm. (The casing is plastic and not edible.) The more you heat Soyrizo™, the drier it becomes. Mix it with scrambled eggs, hash browns, or use in omelets or chili. Also makes an excellent dip when combined with queso cheese sauce.
Health Benefits
Gluten-free source of vegetarian protein with no cholesterol.
How to Store
Keep refrigerated at all times. May be frozen before opening.
Season
Where produced?
[tab:Recipes]
[associated_posts]
[tab:END]
Save