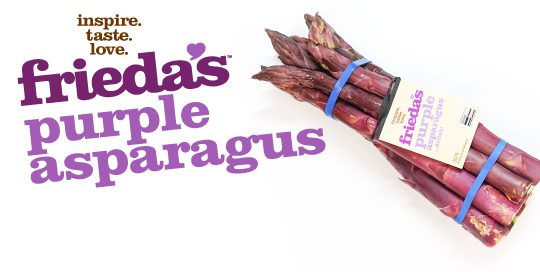 Overview
What is a Purple Asparagus?
Aside from the obvious difference in color, Purple Asparagus contains about 20% more sugar than other varieties. It was developed in Italy and is very large with burgundy spears and a creamy white interior and are tender with a sweet, mild nutty flavor when cooked.
How to Eat
Cut each spear approximately in half. Reserve the woody stems for another use or discard them. Bring a large kettle of salted water to a full rolling boil. Drop in the asparagus spears or bundles, let the water return to a boil, and cook uncovered to the desired doneness. Asparagus can also be cooked in a microwave oven.
Health Benefits
Purple Asparagus is fat free and cholesterol free.
How to Choose
Choose firm, crisp stalks with compact, brightly-colored heads. There should not be any trace of rust or softness. Avoid yellowish asparagus.
How to Store
Store and refrigerate purple asparagus wrapped in a damp cloth and placed in a perforated plastic bag up to 3 days.
Recipes
Penne with Purple Asparagus and Sage Ingredients: 6 ounces (about 2 cups) dry pasta (Penne, Bowtie or Rotini) Salt to taste 1 pound Purple Asparagus 1-1/2 cups chicken or vegetable broth 1/2 cup light cream or half 'n half 1/4 … Continue reading →
Nutrition